Credit Card Addicted Nation: How Americans have Pushed Themselves off the Fiscal Cliff. $931 Billion in Credit Card Debt Outstanding.
Credit cards were developed as a form of convenience and not another stream of household income.  The first major use in the United States started in the 1920s when it was used for the purposes of fueling the expanding auto owner population.  Bank of America created the BankAmericard in 1958 which later became the Visa system.  If we rewind to the start of the decade, let us use January 2000 as the date, Americans had $614 billion in credit card debt.  Today that number now stands at $931 billion.  Now this wouldn't be such an issue if real wages and savings had increased over this timeframe but the reality is, Americans used over $300 billion in credit card debt to maintain a lifestyle beyond their means.  Much of this came in conjunctions with the housing bubble which took three decades to expand.
This has also come from aggressive marketing from credit card companies but also the changing societal landscape.  Just think of online shopping.  Can you imagine someone sending in a check to purchase an item and actually needing to wait?  The instant gratification became a hit when credit cards turned into casino chips.  This boom in debt is massive: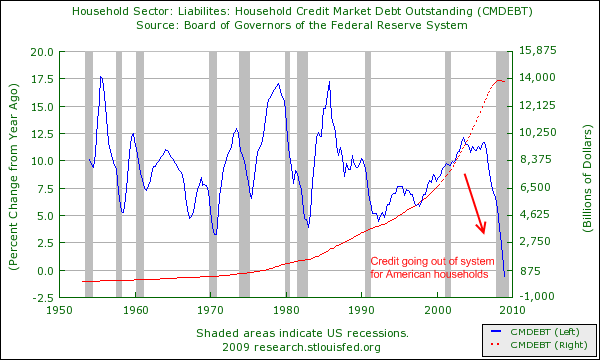 As you can see from the chart, Americans started massively going into debt starting in the 1970s and that has continued for decades.  The blue line above shows Americans are pulling back their usage of debt at the fastest pace in half a century (actually, quicker if we had data that goes beyond the 1950s).  Now this is occurring because the U.S. Treasury and Federal Reserve although bailing out Wall Street and banks, has given banks even more power and money and banks realize that they still have years of bad debt to remedy and are only holding on to funds to fix their balance sheet.  End result?  Credit growth for the average American is halting by force.  As I had mentioned previously credit card companies yanked 8 million credit cards from the system back in February.  Now the problem is many Americans view credit cards as a form of wealth or pseudo-income so having their credit reduced was equivalent to a wage cut.
In fact, if we look at bankruptcy filings we will see that in 2005 filings surged because many people wanted to beat the new bankruptcy legislation that would make it harder for people to file: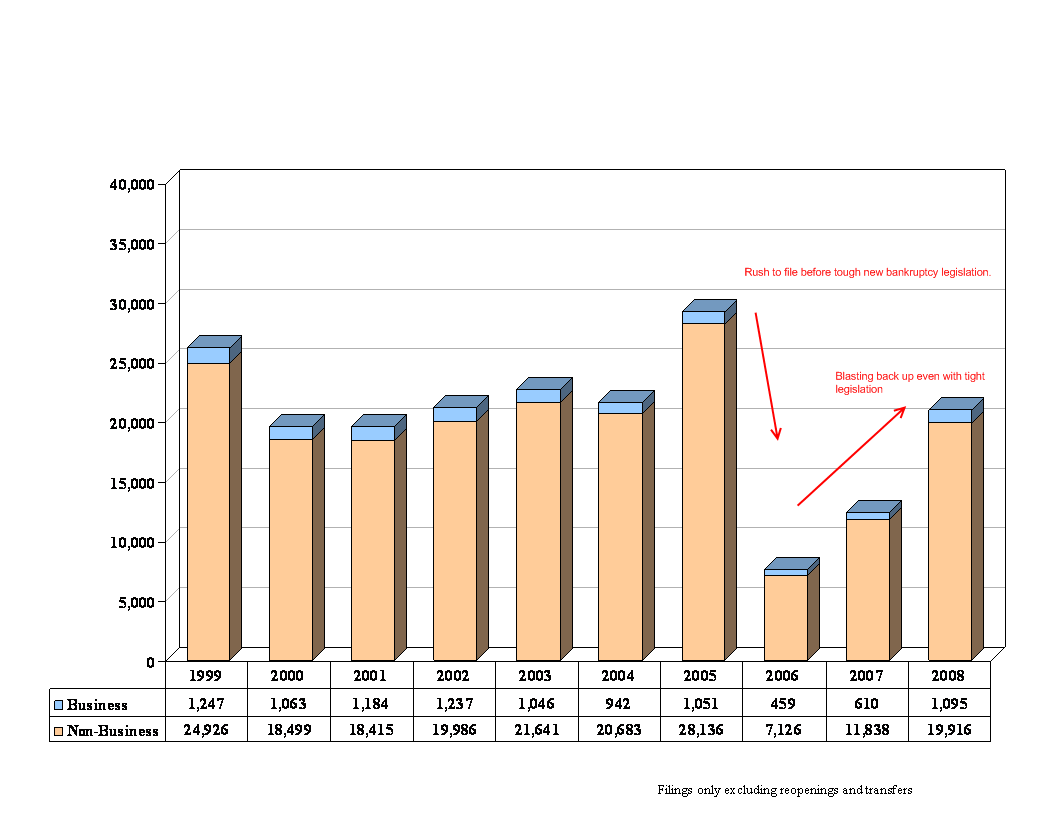 It is interesting to note that we are now approaching those peak levels on top of having the stricter bankruptcy legislation.  Keep in mind 2005 was a supposedly good year.  The housing bubble was still going and pseudo wealth was still flowing like a waterfall.  Yet an enormous part of this decade was fueled by debt and not actual real wealth.  Much of that has been washed away with $13.8 trillion in household wealth disappearing since the recession started and now 26,000,000 Americans are unemployed or underemployed.
Yet the credit card was only the ultimate logical extension of a society fueled by debt.  Like those first cards in the 1920s which were used for auto fuel, the modern day credit card was used to fuel the economy.  Have you ever tried paying for an item over $500 in cash?  If you do or have, it will definitely make you think twice.  Psychologically the impact this has is you see what you are actually paying for in real terms.  It is very different to swipe a card and be done with it.  That is why so many Americans have gotten into massive amounts of debt and have used the credit card to the extreme.  Many card companies are now upping their minimum payments from 2% to 5% a month and this slight increase is causing hire defaults.
In fact, defaults are now at their highest point ever:
"(Reuters)  * Chargeoff rate rises over 10 percent for the first time
* Moody's sees chargeoffs peaking at around 12 percent
* Moody's says bad loans will peak in Q2 2010
NEW YORK, June 24 (Reuters) – The U.S. monthly credit card chargeoff rate surpassed 10 percent and hit a sixth straight record high in May, Moody's Investors Services said on Wednesday, as unemployment grew to a 26-year high.
The chargeoff rate index — which measures credit card loans the banks do not expect to be repaid — rose to 10.62 percent in May from 9.97 percent in April."
Now keep in mind it takes months before a credit card company will charge-off an account.  That is, some of these people have stopped paying back in 2008.  Given our rising unemployment and weak economy, you can expect the rate to rise.  The fact that credit is being sucked out of the system will make many Americans feel like they are quitting a hard narcotic cold turkey.  This is the final straw that breaks the debt based economy.

If you enjoyed this post click here to subscribe to a complete feed and stay up to date with today's challenging market!