Dollar Store Nation: Largest percentage of Americans on food stamps while stock market disconnects from working class Americans.
While the stock market whipsaws like a rollercoaster, many Americans only see one tiny benefit to their bottom line.  The massive drop in oil prices will add a few extra dollars into the wallets of Americans just in time for the holiday shopping season.  Many will only have the budget to shop at dollar stores which are doing fantastically well over the last decade.  What happened over the last decade?  The crash of the middle class.  This is how mid-tier retail stores are having a tough time while places like Tiffany & Co. are doing great targeting the wealthy.  The gap is growing and we now have the largest percentage of Americans on food stamps.  A large part of the growth in the stock market is being driven by slashing wages, cutting benefits, and many Americans are simply winging it for retirement.  The number of dollar stores across the United States is amazing and many are happy to accept food stamp debit cards.
Dollar store nation
The most recognized names in the dollar store game are Dollar General and Family Dollar.  In places like California you have the 99 Cents Only Stores.  But across the nation stores that cater to tight family budgets are doing extremely well.  There are cases of people waiting at the end of the month at Wal-Marts to purchase food once their debit cards are refilled with funds to buy items.  Many families are merely buying food for their family.  For dollar stores this is a core customer group since they have a steady and refillable amount of money coming in each month.
Take a look at how many Americans are on food stamps: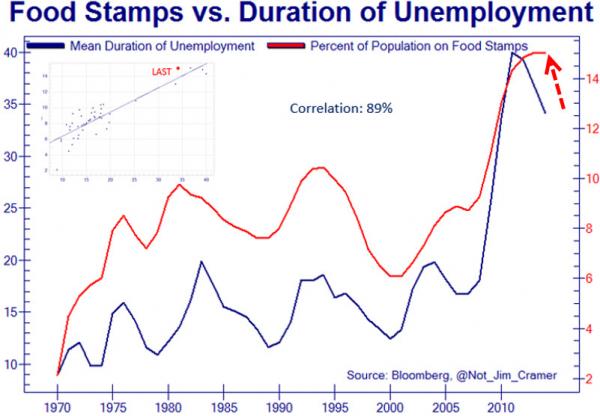 Roughly 15 percent of our population is on food stamps.  This growth started dramatically over a decade ago and this provided an excellent opportunity for dollar stores to grow.  Take a look at the growth: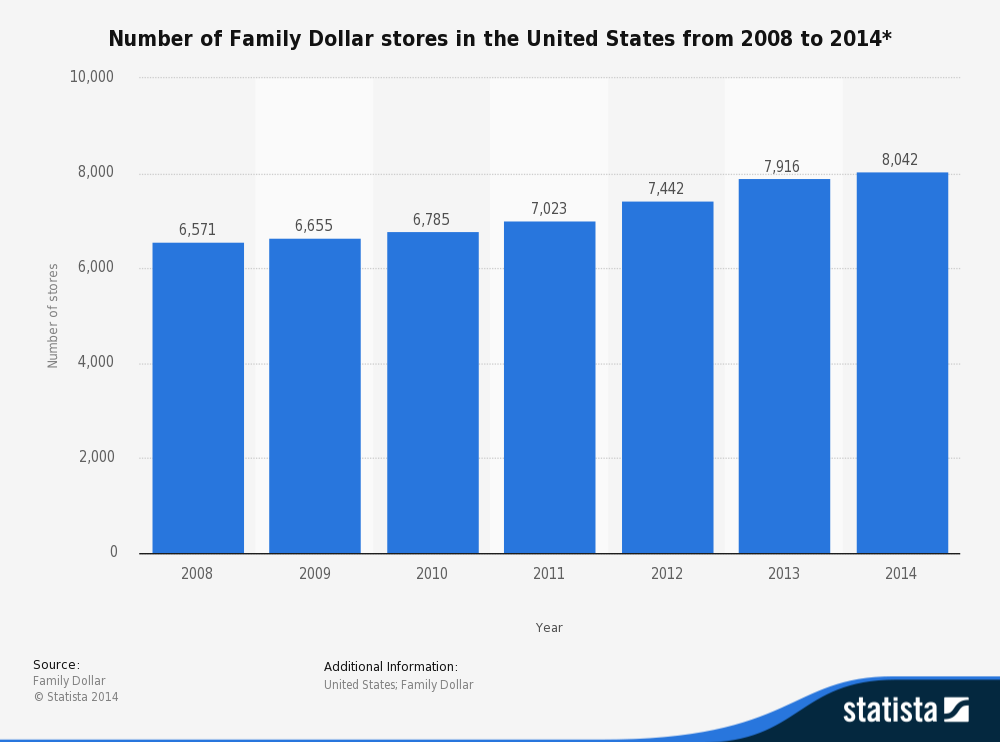 This is a big change. Family Dollar went from 6,500 stores in 2008 to over 8,000 today (a 23 percent growth rate).  This rate of growth is quickly outpacing population growth suggesting that there is now a new core audience of shoppers looking for rock bottom deals.  We have over 46 million Americans receiving food stamps each month.  That is an enormous group and the so-called stock market recovery has done very little to alleviate this.
Dollar stores have also undergone a radical shift over the last decade.  Usually a place to move low priced items that did poorly in other larger outlets, dollar stores now have producers creating items directly for their audience.  You also have a massive number of revenues coming in from food sales suggesting the shift from "want" spending to "need" based spending.  This is rather telling.  It is good news to know that many families are being supported with enough to feed their families each month.  However, it is also scary to think that 46 million Americans would be close to starving if food stamp assistance was not available.
Why is there such a demand for food assistance and dollar stores?  Part of this is coming from the destruction of the middle class and the rise of low wage economics in the U.S.  A large part of the job growth since the Great Recession has come from the low wage service sector.  And dollar stores are outperforming the overall stock market: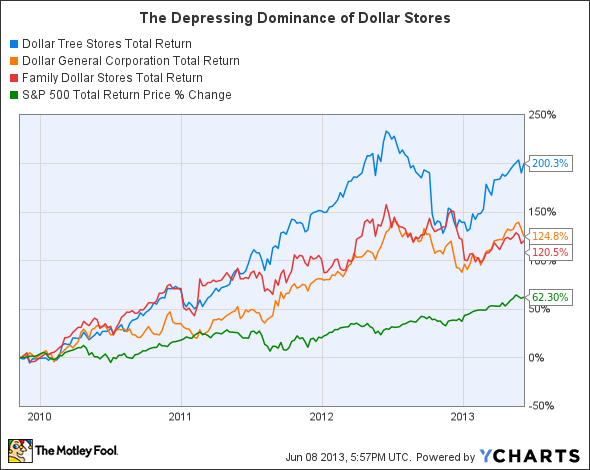 If we pull data for this year, we find a similar trend: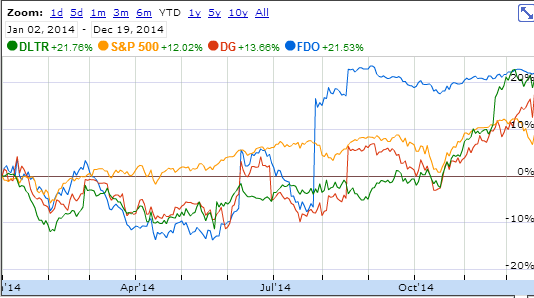 Investing in dollar stores seems like a steady bet given that you have 46 million customers that are likely to continue shopping with you since there are simply no other low cost leaders (we are talking about dollar products in many cases).  In fact, dollar store growth has outpaced Wal-Mart growth which should be telling of our economic growth engine.

If you enjoyed this post click here to subscribe to a complete feed and stay up to date with today's challenging market!