Dow Jones Largest Fall Since April of 2009: Current Rally based on V-Shaped Recovery Hopes and Sustained Spending. Credit Card Mail Offers Fall from 2.1 billion in Q3 of 2006 to 391 million in Q3 of 2009.
The Dow Jones Industrial Average falling 249 points on Friday was a significant turning point in this rally because it came on the back of a 200 point jump just the subsequent day.  On Thursday the GDP numbers were released showing a strong 3.5 percent jump.  Yet digging into the data, 1.6 percent of this growth was based on front loading auto sales (the 30 year average for the auto sector each quarter is between .1 and .2 percent) and massive government spending.  Yet that is what stimulus is for.  On Friday however, consumer spending and income fell leading to the reality that without the government, the average American is tapped out and is unable to juice up those credit cards anymore.
Let us first take a look at the biggest down days for the Dow since the rally started in early March:

This was the biggest drop since April of 2009.  That is significant.  It took us nearly six months to have a down day of over 249 points.  And if you really think about it, the news wasn't all that bad.  In fact, the GDP numbers should have kept things going.  But again, the reality is setting in that there will be no V-shaped recovery and 27 million unemployed and underemployed Americans benefit little from the current stock market rally. Most don't get their monthly money from the stock market but an actual W-2 job.
This rally has also seen a significant number of up days: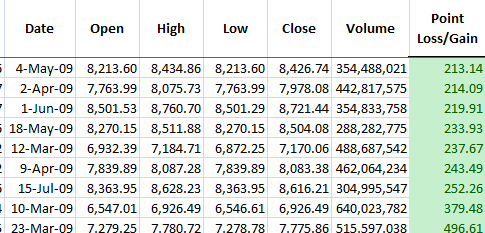 Since the rally, we have yet to see a 300 point down day.  We have seen a nearly 500 point gain right after the low point was reached in early March and a 379 point rally the next day.  So nearly 900 points were made up in two days off the low bounce.
The Dow peaked in this rally at 10,081 and we currently stand at 9,712.  It will be interesting to see what happens next week with the BLS job report coming out.  The market expects a 9.9 percent official rate but there is a strong possibility of going over 10 percent.  You can expect a 10 percent unemployment rate to psychologically change the feel of the market.  Hard to believe in a rally when the unemployment rate (official) is at 10 percent.  Yet even now, we hear more and more people using the U-6 rate in official figures and that is already at 17 percent.
What we saw on Friday is a real true test of this rally.  Is this for real or simply a juicing of the markets by Wall Street and the government?  The figures coming out on Friday are starting to believe this rally is simply based on fumes.  An adrenaline shot from the government and Wall Street won't sustain an economy since many average Americans are already tapped out on spending.
Notice how you are receiving less and less of those credit card offers in the mail?  There is a reason for this: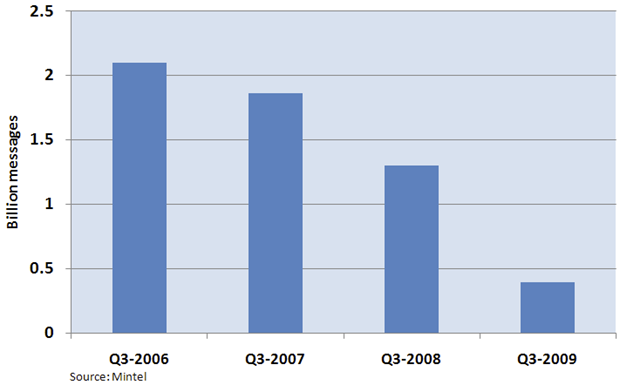 Source:  Paul Kedrosky
Direct mail credit card offers peaked in Q3 of 2006 with approximately 2.1 billion being sent out.  In Q3 of 2009 only 391 million have been sent out.  In other words, credit card companies definitely don't believe in the recovery and they certainly don't believe in the American consumer.  On top of this drop, credit card companies are now jacking up fees on good standing customers, adding annual fees for inactivity, and basically acting like your local loan shark.  At times they are even charging 79.99 percent interest rates that would make Tony Soprano blush.  If we really look at the data, the economy is doing anything but recovering.  Actually, it is recovering but for those on Wall Street and the banks.  The average American is merely subsidizing their party.  By the way, the banks are largely the reason for the decade long housing bubble.
If you really want to see how much insiders believe in this rally, let us look at some details from last week.  Insiders for the week with data from Thomson Reuters bought 8.2 million dollars worth of stock during last week.  How much was sold?  184 million dollars.  This pattern has been occurring the entire rally.  Now wouldn't you think insiders would have a better sense of the true nature of this economic recovery?
Next week will be important and the jobs report number may go over 10 percent because many people hearing this good news, are now back looking for work but very few jobs are out there.  In other words, they will move from the shadows of the 2 million workers that have given up into the actual official pool.

If you enjoyed this post click here to subscribe to a complete feed and stay up to date with today's challenging market!