FDIC: Punishing Savers: How the United States Encourages Irresponsible Financial Management. Federal Deposit Insurance Corporation.
The FDIC insurers deposits at most institutions up to $100,000 for individual accounts. Many people haven't put this to the test until the recent collapse and takeover of IndyMac Bank based out of Southern California. The bank when taken over had $32 billion in assets and $19 billion in deposits. $1 billion in these deposits was over the $100,000 limit.
The FDIC has a war chest of slightly over $53 billion to bailout these institutions with IndyMac expecting to come at a price tag of $4 to $8 billion. The reason for this article's title is that in the United States, there are easy and simple ways to encourage saving money yet the government has purposefully created a system where the majority of people will end up with very little. How so? Well for one the FDIC with the implicit guarantee of $100,000 creates a false hope of stashing money with insolvent institutions. For example, just a few weeks before being taken over IndyMac was offering CDs with a rate over 4%. This is simply beyond what many solid institutions are offering. Yet they are able to offer this amount to shore up liquidity and savers, even those knowing the bank is on the verge of collapse rush in for the high yield knowing the FDIC will backstop their money.
What this does is encourages a feeding frenzy at the last minute before the institutions takes its last breath. Instead of depositors running away they see the high yield and dash in to load up. Now what if you as a saver knew your money had no backstop? Would you flush your money into this bank simply because of a higher yield rate?
One way for Americans to save their money is with U.S. Treasury I-Bonds. Now during boom times, these investments were seen as a low-yield play with not much upside. The I-Bond has two components; a fixed component and one that tracks the CPI. The overall theme of the I-Bond was to protect your principal from inflation and provide a slightly better return. Pretty good deal right? Well during the fiasco with IndyMac the FDIC took them over while they were pushing higher rates while I-Bonds have gone the opposite direction: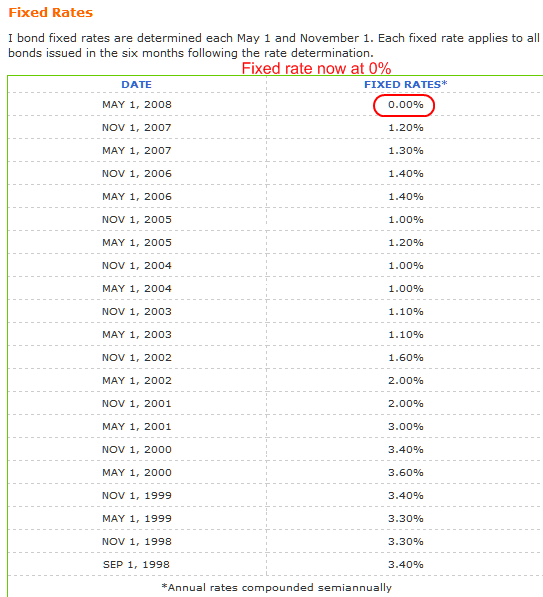 So the fixed rate on these I-Bonds have progressively gone lower and lower. Of course as anyone will learn in economics class, lowering your rate will actually push demand away from the investment. In addition, it used to be the case that people were able to invest up to $30,000 a year in I-Bonds but now, the U.S. Treasury in their infinite wisdom has dropped the maximum per year to $5,000: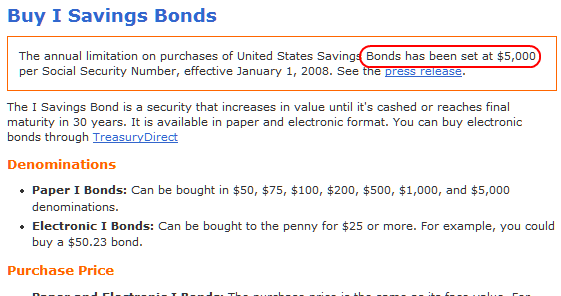 Now if the United States really wanted people to be saving wouldn't they market these more to the general public? Nope. Instead, they are trying to uphold problematic institutions like Fannie Mae and Freddie Mac which continue the debt spiral we are in.
The reason these I-Bonds are valuable is that at least your principal is secure. And as shoddy as the CPI is, you know that you will never lose your initial funds. But now with the fixed rate stripped out and only a $5,000 cap per year, this is a limited investment for investors. Also, their online accessibility isn't as savvy as say an ING Direct account where you can easily access your account. In fact, you now have to use a key card to enter! So first, you have to enter your account (which isn't memorized) and then, you have to use a plastic card to enter! ING and Emigrant Direct use other more accessible security features so you can enter into your account.
They say these are security features but I assure you these features only keep people from logging in and making say a $200 deposit when funds come in. This is the problem with the way things are going. Those that want to save and save prudently are being completely punished and are forced to put their money into what, the stock market? How's that going for people? Some will be happy simply tracking inflation and now with major bank failures, these securities should be marketed as a way of bolstering the balance sheet of the United States. Yet the fact of the matter is the United States doesn't want you to save. The way they set things up is simply punishing savers.
Is it any wonder why the U.S. Dollar keeps falling lower and lower?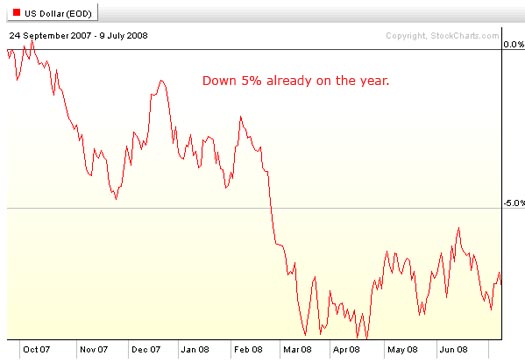 If you enjoyed this post click here to subscribe to a complete feed and stay up to date with today's challenging market!