Zillow: Concentric Circles of Pain. Examining how the Epi-Center of Housing is Collapsing and the Future of Real Estate Tools.
Zillow once again is showing why it is two steps ahead of those in the housing industry. First, they manage to aggregate an incredible amount of data including tax records and previous sales prices all in one simple to use website. That is the primary function that set things off. Zillow integrates modern mapping technology, real estate tax records, previous sale information, and puts it all under one simple to use search site.
Next, they started offering sellers the opportunity to sell their homes directly on the site. This to a certain extent allowed sellers to become "appraiser/agent" and shifted the power of knowledge into their hands. Of course, this is a direct threat to those in the industry because of the nature of how things work in real estate and the fee structure. Those most threatened are also those that get the biggest pie in the real estate transaction.
Then recently Zillow went after the mortgage quote market by doing something completely novel, allowing the potential borrower to anonymously request quotes making lenders compete for borrowers. You would think this model existed previously but it did not. Places like LendingTree which provide a similar function require potential borrowers to disclose detailed information (i.e., address, income, etc) before receiving any quotes. The power was still with the lenders. In this case, the power has shifted to borrowers since you do not disclose any of your information except basics on your income (self reported), property location, price, and budget information. These are self reported and any lender worth your time will spend two minutes looking at your data to give you a rough estimate.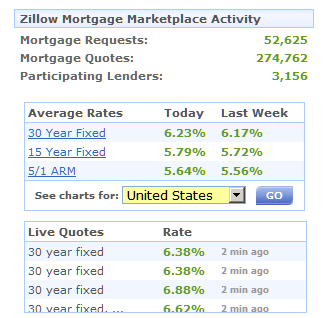 When Zillow first came on the scene, not many people thought it would last. First, proprietary information like the MLS gave power to a select group of people. This is a problem in real estate where previous sales data and recent comps make all the difference of how to value a property. Yet sites like Zillow shifted a lot of the power to buyers. Now, you can quickly enter the property into the system and see tax information and previous sales data. Why is this crucial? Well imagine buying a home that sold in 2005 for $500,000. The current market median price is $400,000. With this knowledge, the seller needs to justify at least to you why the home is worth that $100,000 more. Maybe it has major upgrades or special features. You can see how this becomes power.
Zillow has gained a competitive edge now given the current housing market. People are now looking carefully at their real estate purchases. People like free information and they have voted with the traffic now seen on the site. Think of how Google trounced Yahoo! over the throne of internet search engine king. Yahoo! wasn't too clear on their ranking algorithm, sometimes placing top ad payers higher, or even some erroneous pages that had "real estate" written ten thousand times on a Geocities page. I'm sure many of you remember that. Yet Google's PageRank technology changed that. They figured that pages should be ranked by other websites linking to you. If a very popular site like CNN linked to you, your PageRank would jump proportionally to the power of the linker. If you had a blogger with 1 hit per day linking to you, it did nothing in terms of your ranking power. This idea of letting the market determine what is popular sent Google to the number 1 search engine on the net and they have the simplest homepage that hasn't changed much since day one. Free, accurate, and easy.
Yet make no mistake, this is not a free lunch. Just like Google, they figured out a way to leverage their enormous traffic with Adwords. People realize that everyone needs to make a living. Google figured out a way to place ads (like the one's on this site and others) that contextually match the content. So for example, that is why you see many financial ads on this site. People have come to expect that business, blogs, news, and other sites will have ads. I think Zillow is trying to figure out how to leverage this traffic.
They are also showing a new method of examining real estate. For example, they recently provided some concentric circles showing how housing prices change from urban hubs. Take a look at this novel way of looking at real estate with Los Angeles: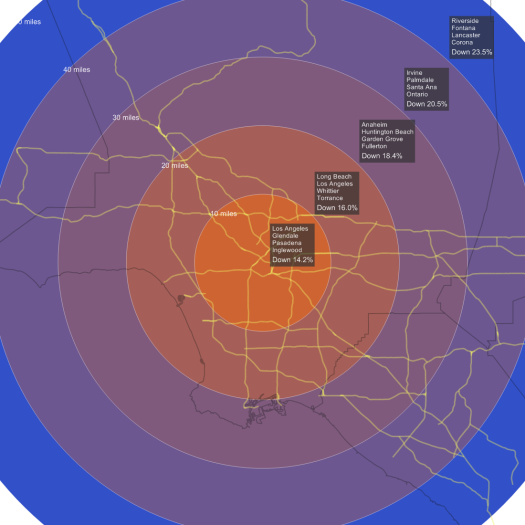 *Source: Zillow.com
As you can see from the above image, as you head out from the center of the county, prices start decreasing. The farther out you go the more pricing pressure you see. This is particularly telling for the Southern California housing market. I wrote an article discussing the pricing pressure that fuel was having on counties in the Inland Empire. Many bought out in these areas because it was too expensive to live in the city and still wanted to own a home. So income wise, they have less of a cushion to combat higher fuel prices unlike those nearer to the city who probably don't use as much. An odd catch-22 here.
Without a doubt, even the center of the hub is feeling pain. No one is immune here in California.
But let us look at another area that actually has an opposite looking circle, that of the Detroit area: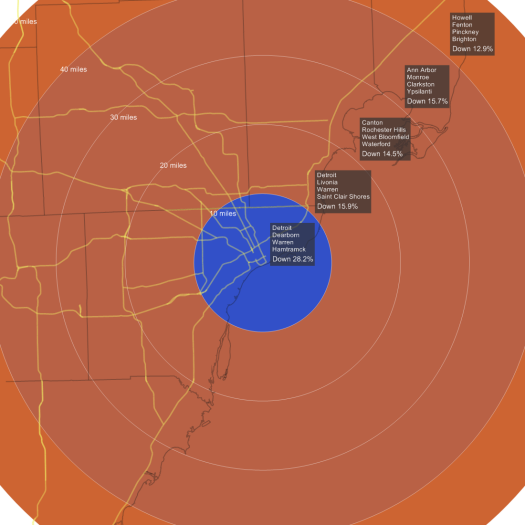 *Source: Zillow.com
With the Detroit market, there is actually a premium to be further away from the city hub. Detroit has had problems for many years stemming from crime and the destruction of the U.S. auto industry. In this case, the model of Los Angeles does not hold true. Less densely populated areas away from the center actually carry a premium whereas Los Angeles, being closer to the city carries a higher value.
Zillow is really offering a novel way of looking at real estate. Combine this with a free online real estate search site like ZipRealty and you have all the information you need to be an educated real estate buyer.

If you enjoyed this post click here to subscribe to a complete feed and stay up to date with today's challenging market!