Importing lower wages as 75% of Silicon Valley's tech workers are foreign-born: How tech manipulates the H-1B visa program for cheap labor.
We tend to believe that the tech industry operates in a very progressive atmosphere as far as how they vote.  This might be the case for workers but for owners, they are ultra-bottom line and this is seen in the way they hire lower wage workers.  We tend to get things mixed up in regards to foreign workers "stealing jobs" when the rhetoric is thrown out in the media.  In reality, most of the H-1B visas, a visa to allow employers to recruit and employ foreign professionals in specialty occupations, is largely dominated by the tech industry.  In fact there are industries in China and India that cater to this market entirely like Tata Consultancy Services.  Yet this pushes wages lower at a high level since these are skilled workers.  For other Americans, the low wage employment train continues to chug along.  Which companies sponsor the highest numbers of H-1B workers?
The H-1B black box
There is a massive demand for H-1B visas around the United States but in particular in Silicon Valley.  Among the total working population, 45 percent of workers are foreign born, but in tech, the numbers are skewed with 75 percent being foreign born and many are here on H-1B visas earning a much lower wage than their American counterparts.
Here is one chart showing the top H-1B applicants and approvals: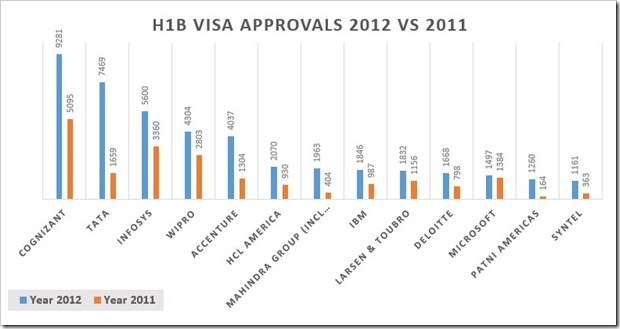 Most of the top applicants work in IT consulting and basically draw a massive amount of revenue from outsourcing IT services.  It would be one thing if the talent wasn't here but of course it is and companies are simply looking to import cheap wages from abroad with a population of workers that are desperate and frankly, don't have the negotiating power of a US Citizen.  They are at the mercy of the company to keep the sponsorship going.
Take examples like the one from Disney:
"(NY Times) Instead, about 250 Disney employees were told in late October that they would be laid off. Many of their jobs were transferred to immigrants on temporary visas for highly skilled technical workers, who were brought in by an outsourcing firm based in India. Over the next three months, some Disney employees were required to train their replacements to do the jobs they had lost.

"I just couldn't believe they could fly people in to sit at our desks and take over our jobs exactly," said one former worker, an American in his 40s who remains unemployed since his last day at Disney on Jan. 30. "It was so humiliating to train somebody else to take over your job. I still can't grasp it."
The work was already being done by Americans but it simply was cheaper to fire them.  But before they were fired, they had to train their replacements.  Does this sound like progressive values?  Of course you have certain conservatives running wanting to bring in more highly skilled foreign workers on the cheap.  So this isn't such a clear cut issue.  Both sides are willing to sellout Americans.  Do we want the best and brightest minds?  Of course.  Assuming this talent is already here and the H-1B is a backdoor for cheap labor.  Otherwise we are only accelerating the race to the bottom even faster and the middle class already has become a working minority.
There is a limit of 85,000 H-1B visas per year with 65,000 for the regular cap and an additional 20,000 for those with advanced degrees. Think demand is waning?  Take a look at this: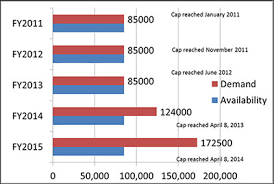 In 2011 and 2012 the cap was reached but it took nearly the entire year to get there.  In 2014 the cap was reached in April.  For 2015 the cap was reached in April as well.  The demand for H-1B spots has turned this into a giant lottery for workers.
And just like America, income inequality is even more pronounced in Silicon Valley:
"(Palo Alto Online)Growth income is not evenly distributed," Hancock noted. High-wage jobs — more than $125,000 annually — account for 25 percent of the .

"Thirty-two percent are low wage, making less than $30,000, which isn't even a living in Silicon Valley," he said.

Forty-three percent of jobs are in the mid-range professions, which are shrinking by 1 percent per year, he said.

"Low-wage earners' wages are stagnating," he added."
And of course this is going to go on as companies seek to game the system and suppress wages.  The new retirement plan is working until you die and these policies will only add pressure on keeping wages suppressed.

If you enjoyed this post click here to subscribe to a complete feed and stay up to date with today's challenging market!