The housing documents mess – Why banks are carelessly rushing foreclosures in Florida and not in California. Mortgage foreclosure deficiency judgments.
In the last few weeks the issue has come to the table that in some states, in particular Florida, banks are rushing through the foreclosure process so quickly that they have mismanaged the paperwork process.  Apparently the same forged paperwork that got people with very little income into highly leveraged properties is now working in reverse.  This is a critical issue because housing is the most vital asset for the average American in their net worth profile.  Banks might like to believe that they can just automate our judicial system but that isn't exactly how it works.  One major issue that isn't being covered is why are banks so eager to foreclose in Florida but not in California?  The answer is because of mortgage foreclosure deficiency judgments.
"(Alperlaw) During the recent real estate boom deficiency judgments were uncommon because increasing real estate values brought home values above note balances of defaulting mortgages. Additionally, lenders could take back "upside down" properties and hold them until the rising market made them whole. Deficiency liability is a problem in a declining market. Up to this point in the real estate crash few of the national mortgage service companies with conventional first mortgages have been pursuing deficiency judgments, especially mortgages on owner occupied homes. There has been an increase in deficiency actions by smaller regional lenders. Many attorneys and other experts speculate that first mortgage deficiency lawsuits will increase in the future as lenders resolve foreclosure backlogs and as they sell their deficiency rights to third party investors and collection firms. Florida law gives mortgage lenders five years to pursue a mortgage deficiency claim.

Second mortgage lenders and private lenders are more likely than first mortgage holders to go after the borrowers by suing for default on the underlying promissory note. There has been a significant increase in second mortgage lawsuits since the beginning of 2009. Banks that made commercial loans to developers or builders almost always file a lawsuit against the individual borrower to enforce and collect upon the promissory note or personal guarantee of a business loan."
Now this is an interesting perspective.  We have now had three major lenders with GMAC, JP Morgan Chase, and Bank of America announcing halts on some foreclosure proceedings.  Yet Wells Fargo has not announced any changes (could it be their $35+ billion in option ARMs in California?).  Here is the big difference.  Banks can rush and foreclose on homes in Florida and possibly go after borrowers at a later date.  For example, if a home was bought in Miami for $350,000 during the peak, ended up in foreclosure, the banks sells it for $250,000 there is a $100,000 gap.  The way the law is written, someone can go after the borrower for this.  The law isn't so clear in a non-recourse state like California.  That is why shadow inventory is off the charts in California.  In Miami home prices have fallen in dramatic fashion: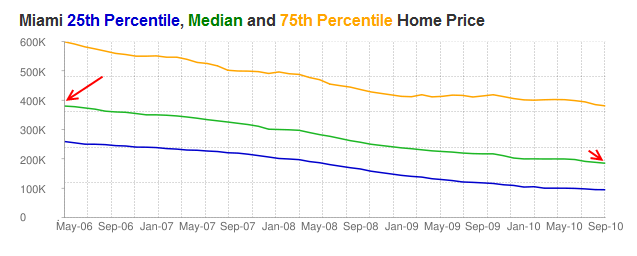 Source:   HousingTracker
This explains why many banks in California have not moved on higher priced homes in the state where borrowers are simply not paying their mortgage.  It can also explain why Wells Fargo isn't announcing any similar halts to foreclosures.  If you take a look at their option ARM portfolio you can understand why Wells Fargo has zero desire in speeding up the foreclosure process in California: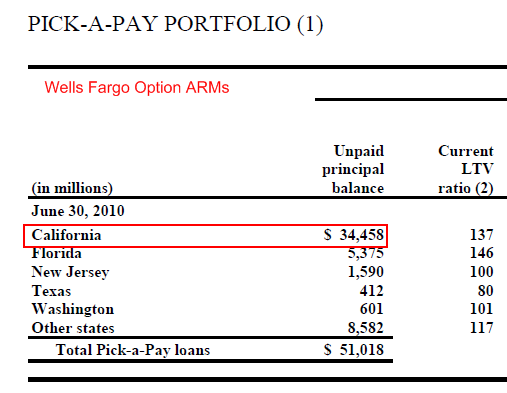 Source:  Wells Fargo 10-Q
Now logically think this out.  California has no issue with robo-signers and massive law firms dedicated to foreclosing on people.  Yet Florida does.  Both benefitted greatly during the housing bubble and both saw bursting markets.  Yet California is slow to foreclose while Florida is itching to get everyone out of their homes.  For a bank like Wells Fargo in California, there is no benefit in taking over a $600,000 option ARM on a home that would sell for $300,000 in today's market.  That is a balance sheet hit of $300,000.  In Florida, they can take the hit now while the mortgage market is practically nationalized and start creating a portfolio of these underwater sales for future money grubbing.  If the bank doesn't want to do the dirty work of going after borrowers, it can sell the right off to other investors.  The contrast between Florida and California is too stark when it comes to the foreclosure process.
The mortgage laws for both states are complicated as you can imagine.  The general notion that California is a "non-recourse" mortgage state might have something to do with how the foreclosure process is currently playing out from the banking industry perspective.  One thing is certain however, this current action will artificially make things look better in the housing market like the early stages of HAMP but anyone who calls this an improvement in the housing market is seriously living in another world:
"(WSJ) Chase and GMAC Mortgage Co. both suspended foreclosure sales in some states to review paperwork and the document-signing process. That means October and November's reports will likely show an artificially low number of foreclosure starts. Some might interpret the falling numbers as improvement.  But "don't get too excited about the market getting better," Mr. Sharga warns.

Provided the paperwork is in order–which Mr. Sharga thinks will be the case in many of the stalled foreclosures–REO actions, or actual foreclosures, will likely spike early next year. "Don't panic and think everything is sinking," he tells Developments."
And of course this doesn't mean that Chase or Bank of America will do anything different in California:
"(NY Times) California's attorney general, Jerry Brown, said that Chase should stop any foreclosures in the state until it proved that it was following the law. Mr. Brown, who is a candidate for governor, earlier made the same demand of GMAC.

In California, lenders generally pursue foreclosures outside of the court system, so they are presumably still proceeding with evictions. Chase declined to say whether it would comply with Mr. Brown's comments."
This is a complicated mess brought to you by the same banks that actually created these horrible mortgage products.  Is it any surprise that they are fumbling foreclosure cases?
Want to see some of the top foreclosure cities?

Source:  RealtyTrac
How is it that the state with the biggest housing bubble (and crash) doesn't have one city in the top 5 here?  Even if we look at total foreclosure filings we can see that Florida is speeding ahead of California:
August data – total foreclosure filings

Florida                  –                              56,877

California             –                              69,143   (17 percent higher)

Florida population           –              18.53 million

California population      –              37 million (50 percent higher)
You can do the math here.  The banking industry has made a living stealing from the taxpayer for the last decade.  It is just stunning to see how far they are going to steal every nickel from the American public even if this means going after Americans years down the road.

If you enjoyed this post click here to subscribe to a complete feed and stay up to date with today's challenging market!