The consequences of bubblenomics: Fed balance sheet increases to $3.5 trillion, negative interest rates since 2009, and part-time employment at record high.
While the Federal Reserve mumbles about tapering back quantitative easing, the balance sheet the Fed is carrying tells us an entirely different story.  The latest report shows that the Fed has grown its balance sheet to a stunning $3.5 trillion.  The ability to travel with an economic blindfold has been a strategy the Fed has been employing since the crisis unfolded in 2007.  What is certain is that this negative interest rate environment has fueled the wild spirits of banking speculation at the expense of the working and middle class.  As we look over the June employment report, we see a big trend towards a low wage America.  The large growth in employment came from part time work.  As the Fed becomes more aggressive with policy, we find ourselves in a modern bubblenomics system of booms and busts and most Americans are one step behind any opportunity for getting ahead.
Fed balance sheet
The Fed might be uttering about tapering QE in the future but for the present, the party is still in full motion: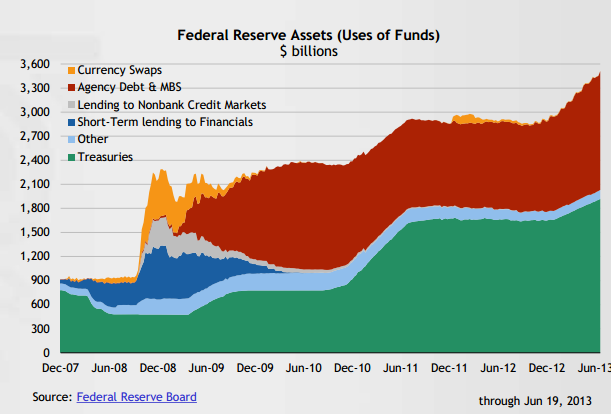 The Fed has increased its balance sheet to a startling $3.5 trillion.  We are well on our way to having a $4 trillion balance sheet.  The Fed tries to quell the public but none of this has ever been tried before.  Keep in mind the Fed was also the same agency that in 2007 mentioned that there was no housing bubble right at the pinnacle of the bubble bursting.  The Fed has created an entirely artificial market of low rates by mispricing risk and banks are exposing this since the biggest benefactors of this environment are the financial institutions with deep ties to the Fed.
Negative rate environment
This negative interest environment is punishing savers.  You want safe Treasury bills to at least keep pace with inflation.  We have changed that in 2009: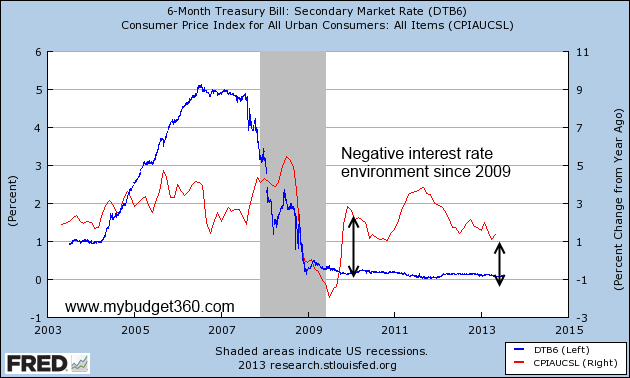 Since 2009 we have been in a negative interest rate environment.  Most Americans are getting close to zero percent on their savings, CDs, and money market accounts.  Treasuries?  Look at the chart above.  However, the stock market has soared but most Americans barely have enough to invest after the necessities are paid for and the stock market has never been a big part of their net worth.
This negative rate environment has spurred the housing market to surge again on the addiction to low rates but a large part of this fever is coming from Wall Street money leveraging the negative rate environment.
Spurring housing bubble
While household wages are back to levels last seen in the 1990s, this is what is occurring with home values: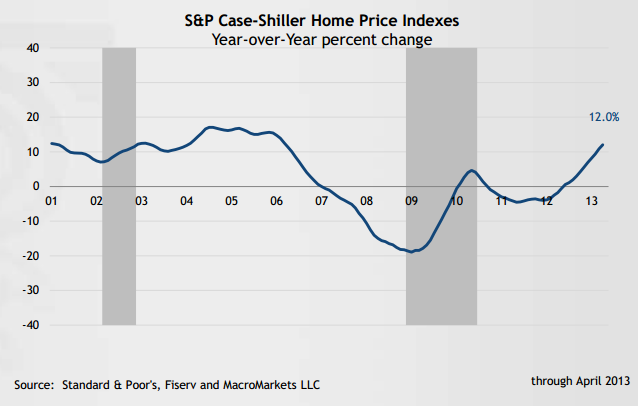 The problem of course is that wages are not keeping up.  This is some kind of Fed hocus pocus where lower rates are simply creating higher amounts of leverage.  As rates rise, something will need to give.  The Fed is increasingly backing itself into a position of perpetual bubblenomics.  That is, shifting from one bubble to another (i.e., tech, housing, student debt, housing again, etc).
Housing values are going up on the low rate environment and speculators are flooding the market trying to find a better yield for their investment.  This isn't exactly a positive for middle class families that have seen a stagnant market when it comes to wage growth.
Quality of jobs
The employment report today shows another solid amount of jobs being added.  But what kind of jobs are these?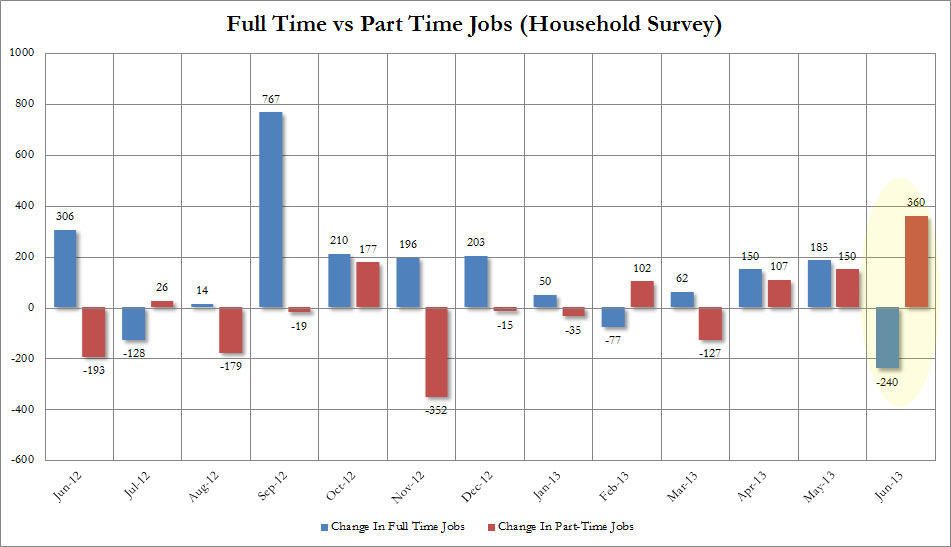 Source:  BLS, ZeroHedge
The press is running as if the jobs report was completely fantastic but we saw a net add of 360,000 jobs (a total of 28,059,000 Americans are now working part-time, a record) but a drop of 240,000 full-time jobs.  This is consistent with the trend of low wage America that has been going on for well over a decade.  Interestingly enough, Japan with a head start on us with QE has a massive part-time workforce.  Is this really the way for economic prosperity for the middle class?  Not exactly but it is certainly the way for bubblenomics.

If you enjoyed this post click here to subscribe to a complete feed and stay up to date with today's challenging market!