The new Gilded Age – The psychology behind the aspirational rich in America and how people allow banks to swindle their financial security away.
A couple of weeks ago a survey of the ultra-rich by Fidelity Investments showed that most of these millionaires did not feel rich unless they had $7.5 million.  Keep in mind that one out of three Americans do not have one penny to their name, not even stashed in the beat up mattress.  It is also the case that the average per capita income in the United States is $25,000 so it must be odd to hear millionaires saying that they don't feel wealthy until they reach the $7.5 million mark.  The top 1 percent already have over 40 percent of all financial wealth in this country but apparently this is not enough.  What the survey found implicitly is the wealthy want even more from an already shrinking pie and they are more than willing to sacrifice the American middle class to achieve their benchmark of wealth.  Why aren't people on streets revolting against inequality that resembles that of the Great Depression?  We didn't have a Gilded Age because the working class enjoyed this period.  So why the continued silence on behalf of the public?  Part of the reason stems from many in America believing that someday they will wake up and have $7.5 million in the bank and they want to make sure the government doesn't touch any of their hard earned money.  Once again, one out of three don't even have a dollar to their name and the average per capita income is $25,000.  Many have bought into the aspirational propaganda and in fact are protecting the same Wall Street investment banks that have robbed their homes, crushed American jobs, and are stripping away the rights that working and middle class Americans have fought for over the last century.  Apparently some are not aware that we are living in a new Gilded Age.  Instead of railroad tycoons we now have the master's of the universe on Wall Street.
The tax math – giving gifts to the rich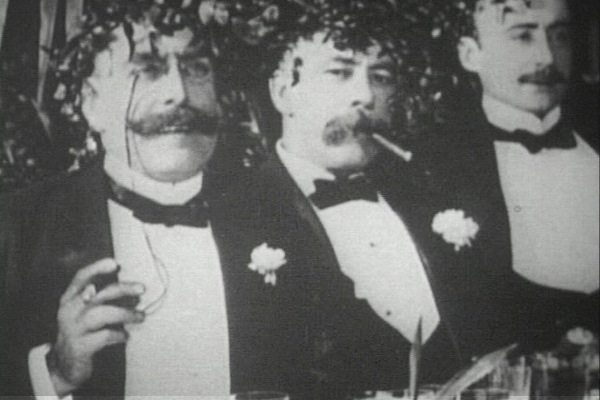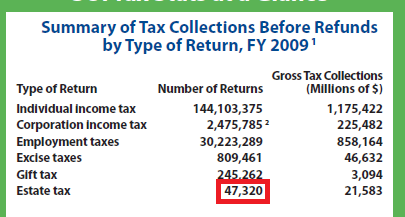 Source:  IRS
A few years ago there was a big battle over the estate tax.  In fact the propaganda machine aptly labeled it the death tax.  Many Americans rallied behind proposals protecting the wealthy class from a tax that will likely never even help them in any way.  In fact in a time of budget deficits, this tax might have helped these same Americans with paved roads at the very least.  As you can see from the above, out of 144,103,375 actual individual tax returns only 47,320 even had the estate tax apply to them.  This saved billions of dollars for a tiny sliver of the population that is already doing very well.  Then again, you don't feel rich until you hit the $7.5 million mark right?
"(Consumerist) While anyone with $1 million in the bank is technically a millionaire, it apparently takes a lot more money than that for the merely rich to feel truly wealthy. According to a survey of the ultra-rich by Fidelity Investments, the real benchmark for being wealthy is $7.5 million.

The Wall Street Journal relays the results of the survey, which quizzed 1,000 people with at least $1 million in investible assets, 42 percent of which said they don't feel wealthy. Those who didn't feel wealthy said it would take an average of $7.5 million to feel rich, and those who did feel wealthy said they first felt rich when they had an average of $1.75 million."
The top 1 percent has never done so well in relative terms.  In fact we would have to go back to the years prior to the Great Depression to find such a glaring divide with income inequality: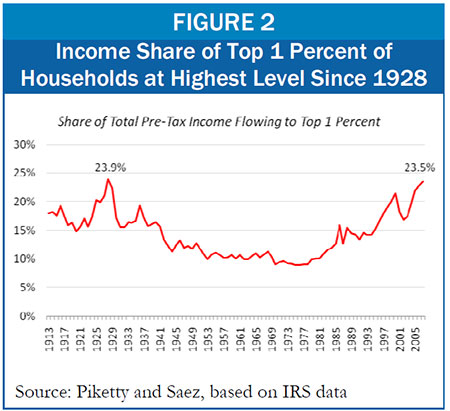 Source:  Center on Budget and Policy Priorities
Yet many Americans continue to vote in policy and politicians that are actually detrimental to their own well being.  Call it being a financial masochist.  It is interesting that one of the new "budget saving" measures includes massive cuts that actually impact the working and middle class like access to schools, infrastructure repair, Medicare, and other programs while sneaking in a cut to lower the top marginal tax rate down to 25 percent!  In other words, let us cut every single program that actually makes an impact on the lives of the working and middle class while lowering the tax burden on the rich!  With only 1 out of 4 Americans with a bachelor's degree, having an education is critical to moving up in life yet this assault will force many more to opt for the student loan debt landmines being set out in our country especially with for-profit schools.  The top marginal tax rate is already incredibly low: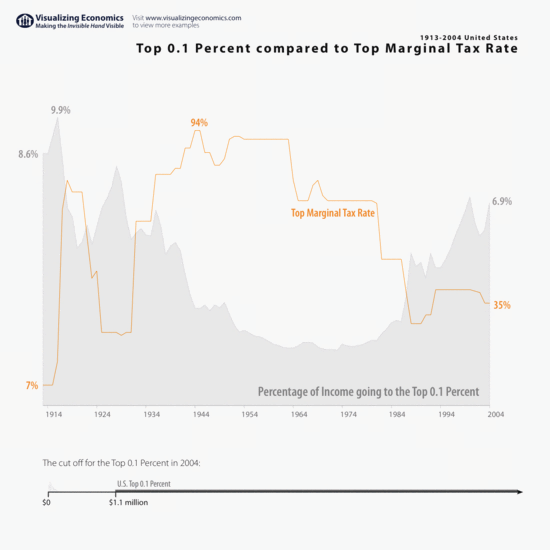 Source:  Visual Economics
And keep in mind that a large portion of the uber-wealthy come from the production-sucking financial sector.  Think of all the hedge fund manager and investment bankers that made money during the housing bubble and those that made billions by betting on the failure of American households.  These are the people getting giant breaks.  It is also the case that since a large portion of the top 1 percent directly benefits from the financial sector, especially the top income earners in this group, it comes as no surprise that the banking bailouts directly went to this group while working and middle class Americans had to suck up the recession: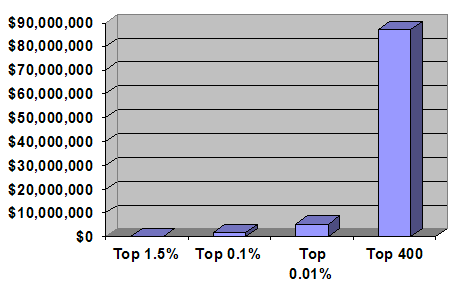 We now have 45,000,000 Americans on food stamps and even though we have recently added more Americans to the employment rolls, we are still over 7,000,000 jobs short from when the recession started.  Many of the new jobs are stripped to the barebones because of course, the propaganda machine wants you to believe that everyone is doing bad.  I mean my goodness, we have some that need $7.5 million to feel wealthy so we have to make sure that workers have to have every possible item stripped from them.  Let us not mention that the stock market is up by 100 percent from the March 2009 low.
I think much of this happens because Americans believe they'll be part of this tiny majority at some point but mathematically we know it is one giant scam.  In our nation Ponzi schemes bloom every day because people like to believe in a free ride.  Right now Wall Street is happy allowing the media and public beat up on the government sector since most politicians are actually hired workers for the financial sector.  Why is that?  Because most of our "representatives" are part of the top 1 percent as well:


Source:  McClatchy
The median net worth of U.S. Senators is $1.7 million and the median net worth of house members is $684,000.  And these are the people that can relate to the 45,000,000 on food stamps?  You think these people have any sense of what it is to live paycheck to paycheck?  Their concern is about raising money as quickly and as efficiently as possible and the only folks with cash are largely connected to the financial sector.  The share of financial sector profits in terms our nation's profitability is outrageous: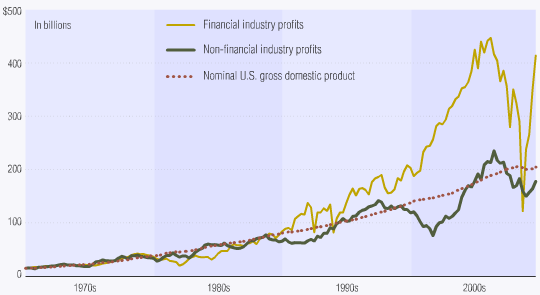 Source:  Trader's Narrative
Keep in mind this is a sector that has relied on the Federal Reserve to bail them out with corporate welfare for the rich.  The Federal Reserve still holds over $2.7 trillion in questionable "assets" to aid the banks.  This is like a family emerging from bankruptcy and suddenly becoming a millionaire within one year.  Is it any wonder why many more Americans are waking up to this new plutocracy running America?  If people turn off the TV and search for the truth they will quickly realize that the sucking sound they hear is the banking sector raiding the wallets of Americans.
Yet why ruin the dream?  After all, $7.5 million doesn't buy what it used to.

If you enjoyed this post click here to subscribe to a complete feed and stay up to date with today's challenging market!