A new record yet again:  95,385,000 Americans not in labor force.  The army of non-working Americans continues to grow.
We continue to live in a country with two very different stories to tell.  In one of the stories, we have a country with a very low unemployment rate and a record in the stock market.  In the other story we live in a place where 95,385,000 Americans are not in the labor force.  This new record was reached in the latest set of data released by the Bureau of Labor and Statistics (BLS).  This is a bigger issue than most would like to admit.  Many older Americans are drawing substantially from the government and we now have a younger American population working in low wage positions.  This is a new record that isn't something to be proud about.
Another record of those not in the labor force
The number of Americans not in the labor force is troubling when you dig deep into the data.  Part of this is being governed by Americans retiring but millions of these people are falling into this category for harder to characterize reasons.
Take a look at the chart: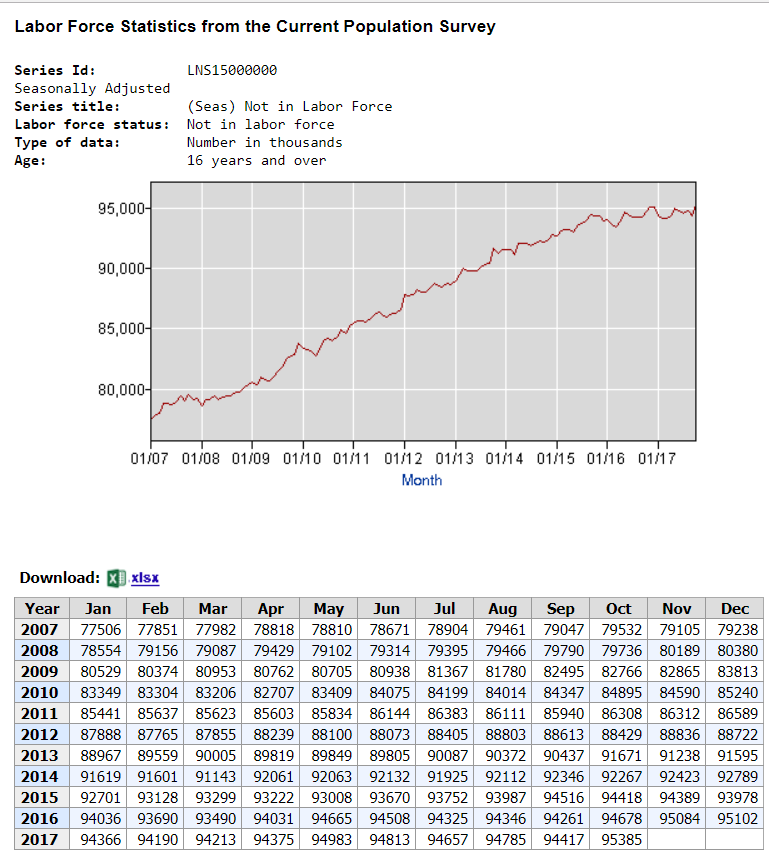 Source:  BLS
What is worth noting first is that since 2007 the number of Americans not in the labor force has increased by a stunning 17.8 million.  This is an incredible number and most of this increase occurred during a time that we were supposedly in a recovery.  This data coincides with the reality that many Americans are too broke to afford a home to purchase.
It is important to have an accurate assessment of those not in the labor force because you can game the unemployment rate by taking those people out.  Take a look at this chart: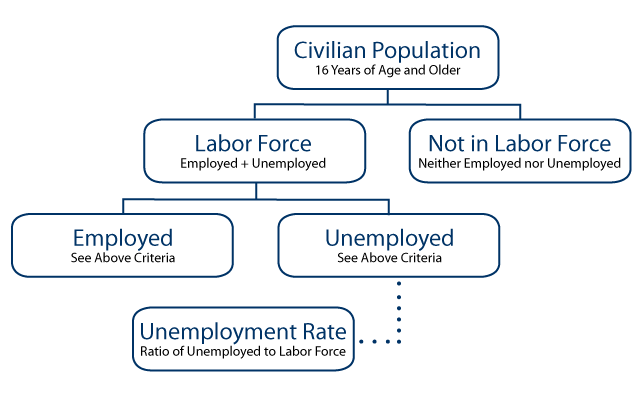 Now of course it makes sense that we take those out that are retired by their own free will but what about those being forced into retirement to cash in on Social Security since their earnings are so low and they need other income?  Most of the elderly depend on Social Security as their primary source of income.  Many are now operating under a new retirement model called working until you die.  So having an incredibly low unemployment rate with a record number of Americans not in the labor force does call for some deeper scrutiny of the numbers.
We are living in a largely rentier system where productive members of the economy are being squeezed out.  The large financial sector is capturing more money from activity that is largely detached from creating new value.  This system of siphoning off money is causing some deep problems and has contributed to destroying the American middle class.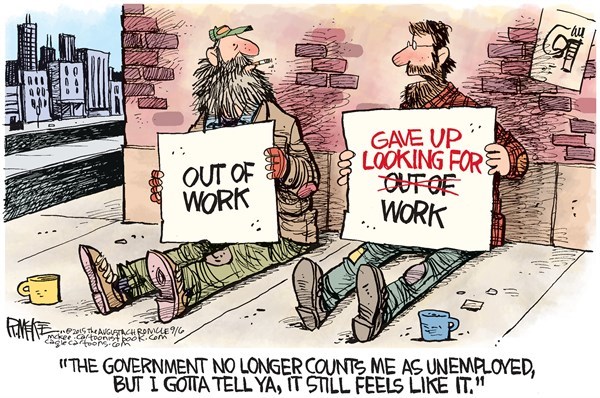 In an era of fake news and fake stats, it is important to look beyond the superficial headlines.  The vast majority of people simply see the low unemployment rate and assume all is great.  Is it great?  We are near a generational low in terms of the homeownership rate since Americans can no longer afford homes at current prices.  Why? Because inflation is real and the standard of living has been hammered by the debt producing system we operate in.
Pay no attention to the record 95 million Americans that are no longer in the labor force.

If you enjoyed this post click here to subscribe to a complete feed and stay up to date with today's challenging market!