Economic goals of young and old pulling in diverging directions: times will only get tougher for young Americans.
Older Americans tend to vote in larger numbers and are more interested in politics than younger Americans.  In the past the older voting cohort was not as large so politicians were cautious about deviating too far for one group alone.  Today, we are having a large number of older Americans living longer into old age.  Social Security has become the default retirement plan for many older Americans.  It should come as no surprise that priorities of the young and the old diverge dramatically.  Younger Americans are interested in education while older Americans are interested in Social Security and military defense.  Yet each group needs each other to accomplish their goals.  The young fight wars and Social Security is paid out via current payroll taxes.  Education requires teachers and those willing to enlighten future generations.  Unfortunately people vote myopically and in many cases, setup systems that are detrimental to their own children.
America is getting older
By 2020 we will have over 54 million Americans 65 years of age or older.  This is a very large percentage of the population.  At the same time, the system will be relying on fewer younger workers for each old retiree on Social Security.  This will simply add additional strain to the system.
First, take a look at the aging of the country: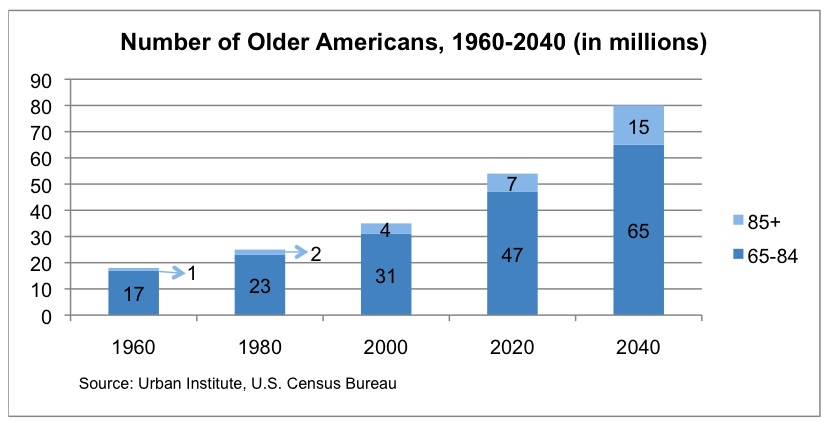 Social Security has become the default retirement plan for many older Americans.  They either missed saving for retirement or just didn't invest to build a nest egg.  In the end it has become the go to option for many current retirees.  Social Security was enacted at a time when not many Americans lived into older age.  It was designed as a basic safety net to keep families from financial destitute.  That was the goal.  It was never intended as the main cornerstone of retirement income for millions.
It should come as no surprise what young and old Americans value: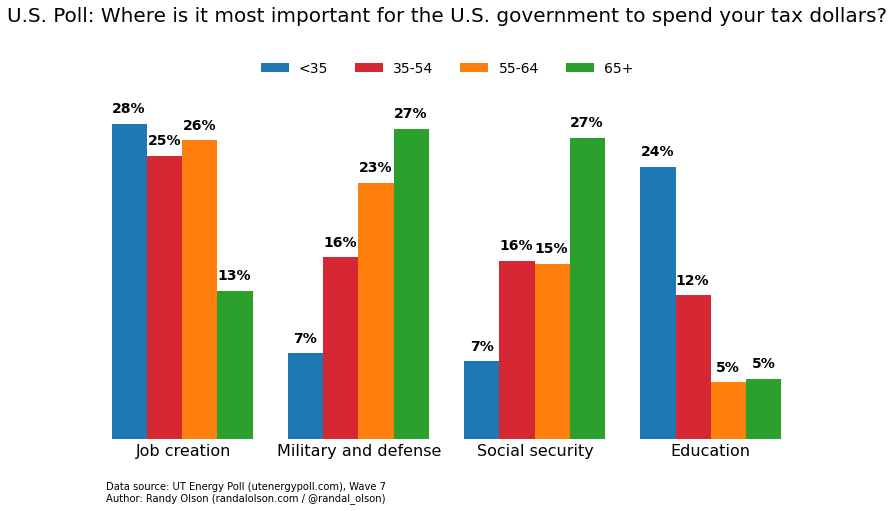 If you wonder why the political atmosphere is so divisive just look at the chart above.  This chart should be called "you only care about issues that immediately impact you."  Younger Americans are largely focused on job creation and education.  Older Americans are focused on military spending and Social Security.  If you only have a set amount of money, in other words a budget, you have to make tough choices when money is running tight.  You do this with your family every month.  And for all intents and purposes, the US is currently running in a soft default since we are running in the red nearly every year.
Demographics are not going to change overnight.  This trend is here to stay for the duration.  But if you have a limited amount of funds, who will win out when it comes to voting?  The young have become disenfranchised after being motivated in 2008.  Unfortunately both sides are seeing the system as it truly is and that is one that simply views money as king.  Both political parties are slight variations of the same thing.  Nothing much changes because that is the design.
Things will need to be confronted instead of being kicked down the road.  The chart above shows a big divided for years to come.  People simply value very different things but with massive budget deficits ahead, tough choices will need to happen.  Old and young need to work together to establish a better future for this country.  But many companies run by older Americans are happy to offer lower wages in order to boost their bottom line.  The impact is being felt throughout the economy and was witnessed in the latest election where Americans were angry with the current state of the nation.  They voted for another change but we are basically changing jerseys on the same player.  The above poll simply points to future battles between age groups.

If you enjoyed this post click here to subscribe to a complete feed and stay up to date with today's challenging market!