Retirees face a perilous financial decade ahead – Over 30 percent of workers have less than $1,000 saved for retirement. Defined-benefit plans down to 20 percent from over 60 percent in 1983.
While financial institutions can rearrange assets and play around with accounting rules modifying reality the progression of age is hitting millions of Americans.  There is no pause button when it comes to growing old.  Recent surveys are highlighting a very challenging road ahead for retirees.  A survey released by the Employee Benefit Research Institute (EBRI) shows a cardinal sin for many Americans.  Many have not saved for retirement.  There are a variety of reasons why this has happened.  Stagnant wages and rising costs to live life have consumed a bigger proportion of disposable income.  The defined-benefit plan is also going the way of the dinosaurs.  The pension, once a cornerstone of retirement for Americans is now becoming a relic of the past.  What happens when you have the biggest cohort of retirees hitting with a nation deeply in debt?
30 percent have less than $1,000 to get through retirement
The data on retirement is rather ominous given the large flood of retirees now entering the system.  The recent survey by the EBRI found some troubling statistics: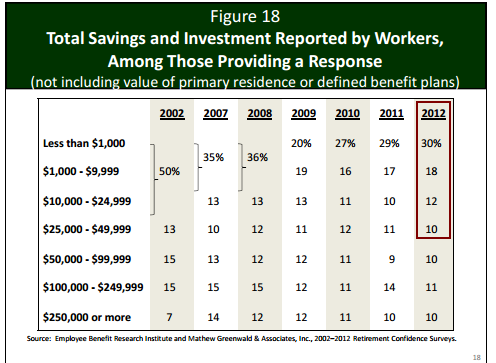 Source:  EBRI
"Many workers report they have virtually no savings and investments. In total, 60 percent of workers report that the total value of their household's savings and investments, excluding the value of their primary home and any defined benefit plans, is less than $25,000."
Given that the per capita wage is $25,000 it is understandable that many Americans have been unable to save for retirement.  As we mentioned before, pension plans have become much rarer in today's work environment.  Employers have largely shifted to 401k plans where saving was largely the worker's responsibility: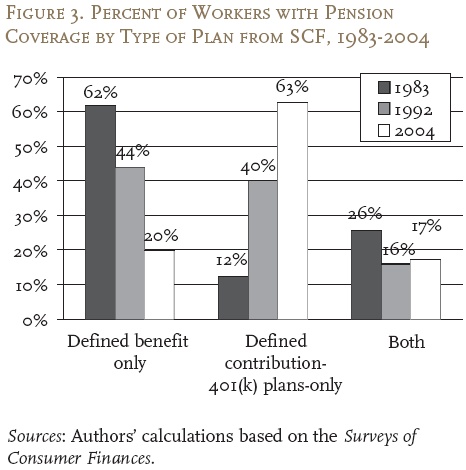 Source:  Surly Trader
In 1983 62 percent of Americans had access to some form of pension through their work.  Today that figure is down to 20 percent and probably less given the above data was pulled in 2004.  Americans have done a poor job saving for retirement and many will be relying on Social Security.  Yet Social Security is not really the biggest challenge from the nation's perspective although it is expensive.  That award will be given to Medicare and the rising costs of healthcare: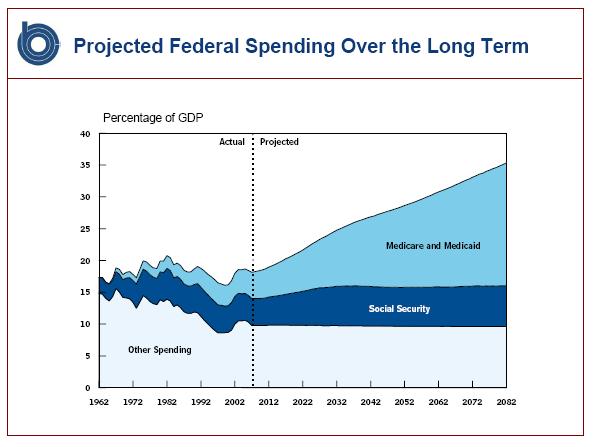 Expect very little to be done in regards to Medicare this year because of the election.  Regardless of political affiliation, the chart above is flat out unsupportable but leave it to our elected officials to kick that can down the road for another day.
Another survey found that the wealthiest generation ever, the baby boomers, did a very poor job saving for retirement overall: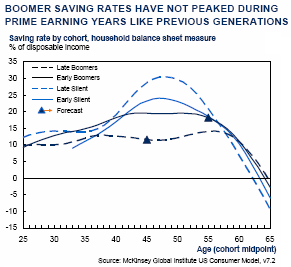 "(WSJ) A new study finds that the baby-boomer generation — the 79 million Americans born between 1945 and 1964 — has broken that rule with a vengeance and are ill prepared for retirement as a result.

The study, by the McKinsey Global Institute, the think-tank arm of the consultants McKinsey & Co., carefully examined the saving behavior of various generations. The "silent" generation, the 52 million Americans born from 1925 to 1944, followed the classic pattern closely, with their household savings rate rising from below 15% in their early 20s to about 30% in their late 40s. But that pattern is almost absent for early boomers, those born 1945 to 1954; their saving rate tops out about 20%; and it's completely absent for late boomers, those born 1955 to 1964, whose saving rate so far has remained stuck at around 10%."
While those in the silent generation, people born with memories of the Great Depression, saving money was a big deal; many of the subsequent generation went down a different road.  Baby boomers as the chart above highlights have done a poor job and many simply relied on debt to purchase into the consumption lifestyle.  This isn't a question of not knowing that you need money to live into retirement.  Most understand that they need a sizeable portion for retirement: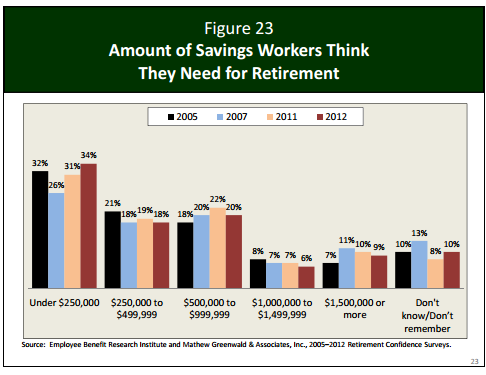 This is a perfect example of understanding reality but actions do not go together.  Roughly 60 percent of Americans realize they need $250,000 or more to live into retirement.  Yet 60 percent of Americans have saved up $25,000 or less for retirement!  How will people catch up?  Many will not given that roughly 10,000 baby boomers will retire each day for the next 19 years.  Is it any surprise that net worth figures look bad for both young and old alike?

If you enjoyed this post click here to subscribe to a complete feed and stay up to date with today's challenging market!