The modern day Gilded Age – in 2010 top one percent captured over half of all income gains. From early 2009 the S&P 500 is up 109 percent but home prices are at new lows falling almost 34 percent.
Most Americans derive their net worth from the equity built up in their homes.  This has been the case for many decades.  As the stock market races upwards to stratospheric highs it is hard for many average Americans to understand why it is that economically they are stuck in the same place.  New tax data reveals that Americans are living in a modern day Gilded Age.  The massive income inequality has only been exacerbated in the recent grand recession.  Many Americans with a per capita annual wage of $25,000 have a hard time saving any sizeable amount of money once the cost of living is extracted from their income.  This trend has only continued and IRS tax data reveals that the gap between middle class and wealthy is only getting bigger.  This is why even in spite of a stunning stock market run, we have a record 46,000,000 Americans receiving food assistance and working class families are seeing very little growth in their real wages.
The seeds of a modern day Gilded Age
Some stunning recent data reveals that most of the income gains in 2010 went to the top one percent in our country: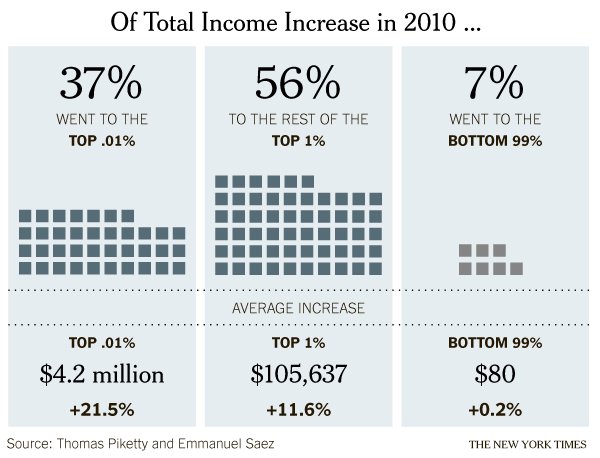 Source:  New York Times
The top 1 percent saw an 11.6 percent increase to their income in 2010.  This is a significant increase.  But what is more astounding is the top .01% saw a 21.5 percent increase.  The bottom 99 percent realized a paltry $80 real gain in 2010.  Think about that.  This amount is so tiny that it was likely eaten up in one or two weeks with the rise in energy costs.  This trend isn't something new but has been ongoing for many decades: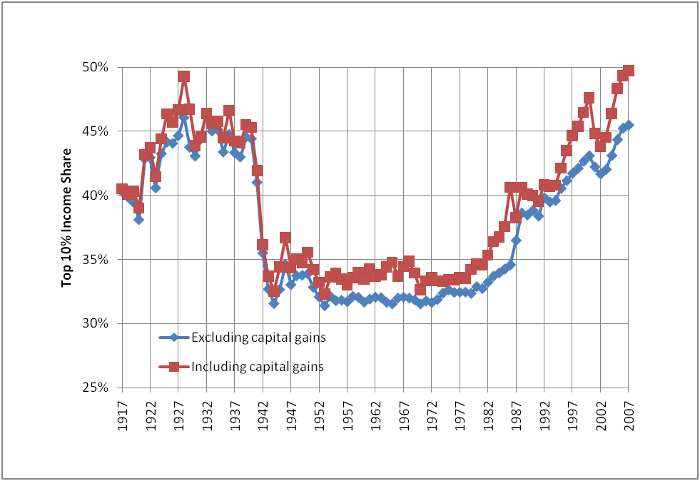 Source:  RD Wolff       
What you see is that income inequality in the United States is now higher than it was in the years prior to the Great Depression.  The top 10 percent now take in roughly 50 percent of all income in the United States.  This is an astounding figure.
The incredible stock market rally from 2009 also highlights how the working and middle class are not benefitting from the gains in the financial markets.  Part of the gains actually comes because they are not doing so well.  Since the lows in 2009 when the government and nationwide taxpayers stepped in to save the banks via the Federal Reserve, the market has rallied 109 percent.  During this time jobs were being lost and the savings of most families were being depleted.  As we mentioned before, Americans typically derive their net worth from their home equity.  While the market has had one of its strongest rallies thanks to massive bailouts, the number one asset for Americans continues to fall: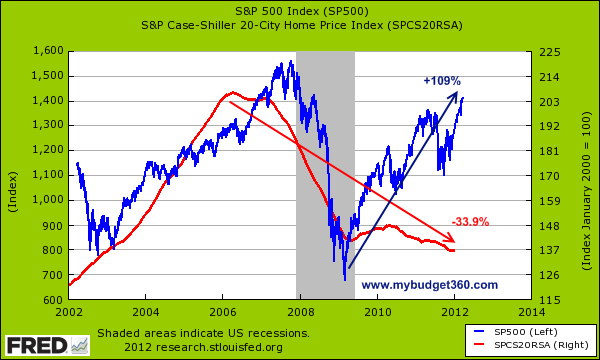 Home prices are now down 33.9 percent from their peak reached in early 2006 (6 years ago).  This is why when Americans are surveyed they are not feeling the outsized gains directed to the financial sector.  Many companies are leveraging the recession and have cut wages and hired workers at lower overall costs while the gains are flowing obviously to one side.  There is more to a bottom line than simply what is brought in.
Part of the American Dream involved a strong middle class.  It is hard to have a middle class when there is less and less of a middle.  Just look at the food stamp chart: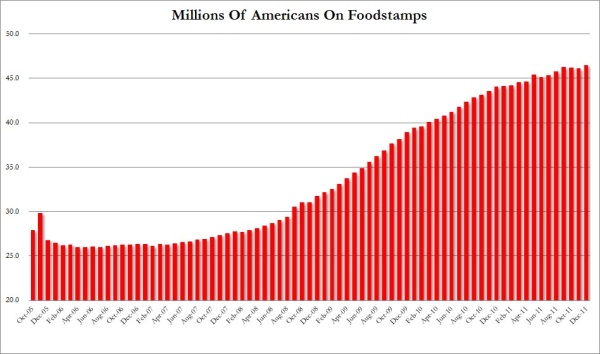 Source: ZeroHedge, SNAP
Since the recession hit food stamp usage is up 84 percent.  This is occurring while the stock market is up 109 percent and the housing market is down almost 34 percent.  The modern day Gilded Age is brought on by politicians providing very sizable subsidies to the financial sector while forcing austerity measures down onto the public.  Bailout after trillion dollar bailout went into the banking sector while households were forced to painfully deleverage.  $80 might not be enough to make a family feel much better about their overall economic situation.  Not a bad consolation price given 56 percent of all income gains in 2010 went to the top one percent.

If you enjoyed this post click here to subscribe to a complete feed and stay up to date with today's challenging market!