How subprime loans keep the bubble going: Subprime auto loans continue to grow as credit worthy customers drop out of the market.
Low interest rates create an environment that encourages debt based spending.  In regards to monetary policy, this is how you grease the wheels to get the economic engine spinning.  As part of your financial arsenal this can be used in moderation but the Fed has been using maximum credit leverage since the economy imploded and this short-term fix is now running into its seventh year.  The outcomes are expected with inflation running rampant in credit heavy items like housing, cars, and college tuition.  But with housing, big banks and investors have crowded out regular buyers thus pushing the homeownership rate lower.  So credit based spending has been in full effect with auto loans and student debt.  As many credit worthy Americans were deep in debt, the temptation to go into subprime loans has accelerated dramatically.  Subprime auto debt is running rampant.  Student debt is now the most delinquent debt class in America.  Subprime debt is once again super charging the debt fueled market.
Subprime debt is back in a big way
Over the last seven years courtesy of the Fed's low rate policies, auto and student debt has surged in dramatic fashion.  While the shrinking middle class is unable to purchase homes with inflated values, many are still chasing the dream by going into debt for cars and college.
The debt growth in these markets is nothing short of fantastic: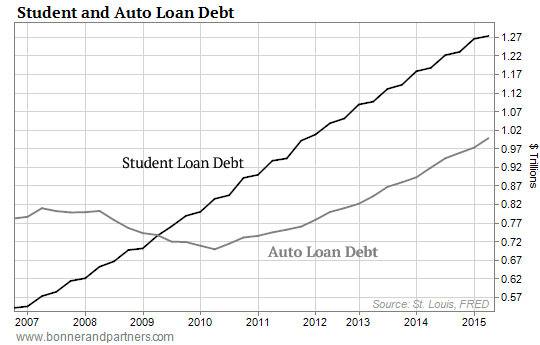 This right here is the manifestation of low interest rates and the impact it has had on consumer spending.  We've essentially allowed Americans to buy cars on borrowed money and go to college on big debt while making it tougher for them to purchase homes.  Inflation is real if you look carefully.
What is scarier about this sudden growth is that much of the debt is being made to people that are having a difficult time paying it back.  Take a look at subprime auto debt: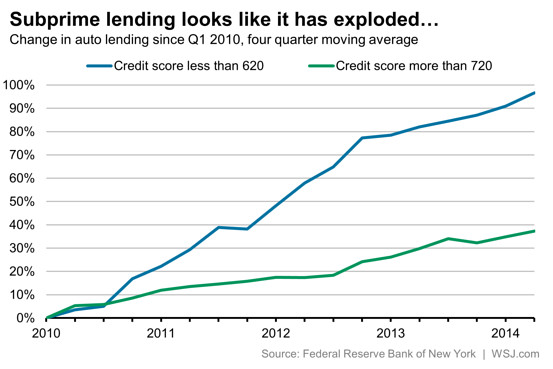 This chart tells it all.  For auto loans since 2010 the growth in lending has come to consumers with credit scores of 620 or less.  Those with higher credit scores of 720 have seen modest growth.  Those with lower scores have seen nearly a 100 percent increase in loans while those with better scores have seen less than a 40 percent increase.  In other words, the bulk of new cars are being bought with financing with those having trouble managing their current debt.
With cars costing $30,000 and higher, this is no small price tag.  Any tiny little hiccup in the economy and this is enough to send their auto purchase into repossession.  Do people remember the cash for clunkers and auto industry bailouts?  These things did not happen too long ago.  It appears that we are setting ourselves up perfectly for another kind of these scenarios.
The results of prolonged artificially low rates is that the market is now fully addicted to this environment.  The Fed is backed into a corner and they really have very little ammo left.  Speculative lending is already dominating the market.  You can see the subprime booms very clearly:
I would argue that many college loans are subprime especially if they are made to students going to for-profit paper mills.  At least with subprime auto debt, you are getting a tangible item in a car.  With a for-profit, you are getting nothing, not even an education.  The only education you are getting is the shady under belly of subprime student loans for a subprime degree.
The economy is clearly slowing down.  Recessions happen.  And once again we have saddled a large enough group of Americans with debt where the pain will be deeply felt when the correction hits again.

If you enjoyed this post click here to subscribe to a complete feed and stay up to date with today's challenging market!