The American Dream deferred: Looking at the 4 horsemen of middle class destruction. Student debt, household income, low wage jobs, and FIRE economy dominance.
The angst that is being manifested in the political arena is largely being brought on by economic uncertainty.  There is a general underlying anxiety of living in a United States with a weakened and invisible middle class.  We are heading directly into that scenario with both eyes fully wide open.  Many of the new jobs added since the Great Recession ended have come in the form of low wage employment.  Low wage jobs are largely made up by lower wages of course but also, a lack of employment security and rising healthcare costs are forcing families to shoulder a larger financial burden as employers shift costs directly onto them.  The problem with rising costs is reflected by stagnant income growth for households.  Adjusting for inflation, American families are making what they did in the 1980s.  Our young workers looking for better opportunities go to college but then leave with an insurmountable level of student loans.  This debt burden delays household formation and puts a clamp on consumer spending.  Finally, it would seem for the last couple of decades, the only segment of the economy thriving is that of the financial and banking sector.  In other words, the American Dream that once rewarded hard work in mass is becoming a mere mirage in the midst of crony capitalism and financial speculation.
Young struggling with student debt
It is no exaggeration but we have a crisis when it comes to student debt.  Total outstanding student debt is now up to $1.36 trillion.  This figure should seem high to you because it is.  Student debt now makes up the largest non-mortgage consumer debt.  Young Americans between 18 and 22 are saddled with backbreaking debt before they even start their working life.  And many are finding work in lower wage jobs.
Just take a look at the growth in student debt: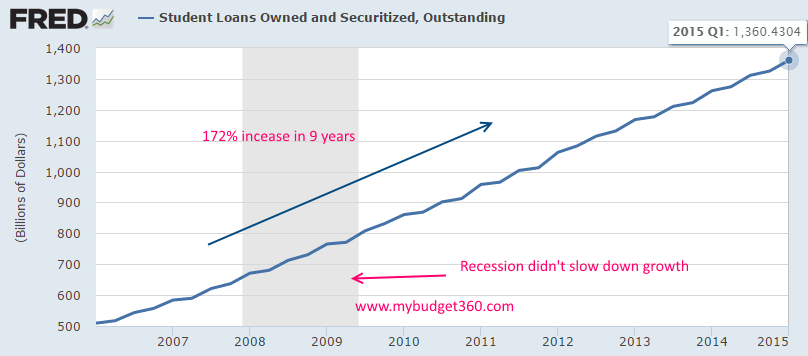 In the last 9 years alone student debt has risen by 172%.  We went from $500 billion outstanding to $1.36 trillion.  This is not a healthy trajectory.  And we now know that 7 million students in debt are simply not making payments.  And then we wonder why younger Americans are not buying homes, a symbol of what used to be the American Dream.
Stagnant household income
Household income is the best indicator of a rising standard of living.  However household income adjusting for inflation is back to levels last seen in the 1980s: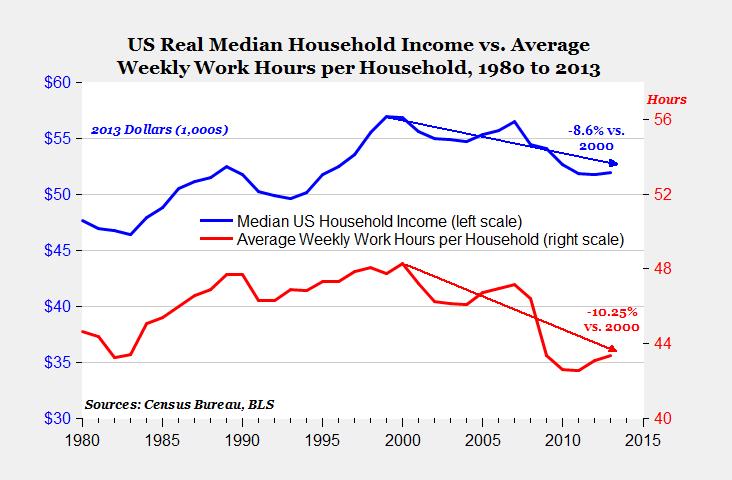 There are numerous reasons for why this is happening.  Unfortunately the financial system bailouts largely went to protect the financier class in the United States while punishing American families.  While millions were losing their homes through the foreclosure process banks were receiving billions of dollars to maintain the status quo until they could polish up their balance sheets.  What was afforded to the banks was not afforded to American workers.  The end result is a deeper and more entrenchment financial power base while American families struggle.  And you can see how the game works: any big ticket purchase now requires a big debt burden which of course is financed by the FIRE system – college, housing, and cars.  The days of diligently saving to purchase one of these items is largely going away.
Low wage jobs
Many of the new jobs added since the recession ended have come in the form of low wage jobs: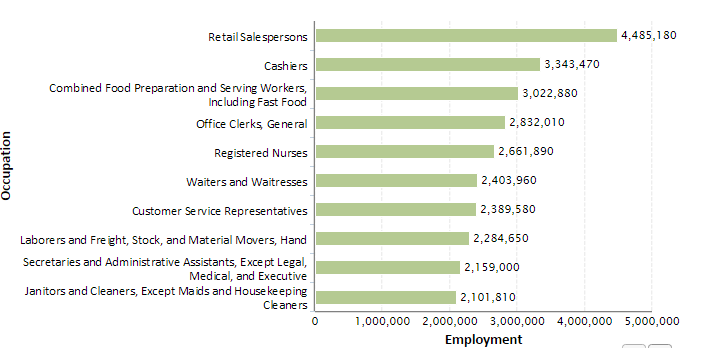 The top four employment sectors in the US pay less than $10 per hour.  With all the talk of making the minimum wage $15 per hour, what do you think will happen in these industries?  Costs are simply going to be pushed onto consumers.  In other words already bad inflation is going to get worse.  If you believe BLS inflation figures, we don't have much of an issue with inflation.  Did you just see the chart on college debt?  Does a 172% increase in student debt seem like a moderate amount?  Does the household income chart look positive?
More and more Americans are working in low wage jobs with little job security.  That is why for many retirement looks like working until you die.  There is one segment of the economy that is doing well however.
FIRE economy dominance
We have massively increased the number of workers employed by the financial system while completely obliterating those in the manufacturing sector: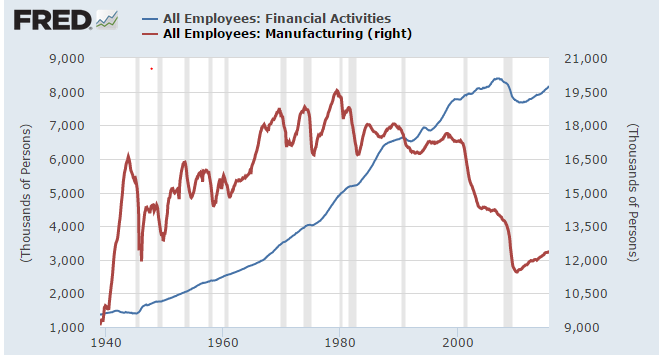 We went from having 1 million workers in the FIRE sector of the economy in 1940 up to over 8 million today.  Manufacturing went from 9 million to a peak of 19.5 million in 1980 all the way down to 12.3 million today.  In essence we have 7 million fewer manufacturing workers today than we did in 1980.  Conversely, we have 7 million more working in the FIRE sector of the economy since 1940.  Yet many of these jobs simply serve to grease the wheels of a new rentier class.  For example, with the bailouts and low rates many banks and hedge funds purchased single family homes in order to turn them into rentals.  Single family homes are the number one item for net worth growth for most households.  So what you had happening is banks subsidized by bailouts and Fed policy crowded out regular families from the one item where most people build wealth.
It is rather clear that the American Dream is being deferred if not outright eliminated for many families.  This is why 2016 is going to be an election dominated by middle class issues.  The question to be addressed is how much influence money will have on the overall population.

If you enjoyed this post click here to subscribe to a complete feed and stay up to date with today's challenging market!