You Cannot Afford a $250,000 Home with a $50,000 Household Income!
People are still surprised why new home sales remain anemic and new home building is simply not materializing.  The latest Census data shows that the typical new home sold for $281,000.  At the same time we also realize that your typical U.S. household is making about $50,000 per year.  The reason home sales remain weak is because the vast majority of Americans simply cannot afford to purchase homes!  The minority category of Millennials that are doing well are coming from rich parents – the data backs this up.  You really don't need a Ph.D. in Physics to figure this out but a household making $50,000 a year simply cannot afford a $281,000 home!  Let us be generous and look at the figures for a home costing $250,000.  We'll provide you a full household budget so you can see the numbers at work.
You cannot afford a $250,000 home with a $50,000 household income
The banking sector has followed down a path of low interest rates trying to revive sales in homes, cars, and consumer spending in other areas. Low interest rates are tied to mortgage rates and the lower the rate, the more a household can afford even if incomes are stagnant.  Instead of realizing that the standard of living is becoming compressed, banks are trying to get consumers deeper into debt with low interest rate magic.  The biggest debt taken on by most households is mortgage debt.
It might be helpful to note that the homeownership rate has plunged in the last decade.  Home prices are up primarily for a couple of reasons – low inventory and investor demand.  The typical traditional buyer is simply not to be found.  Millennials are now in the perfect home buying age range yet many are unable to buy because they are stuck with student debt and low wage jobs.
Let us assume our typical U.S. household is looking to buy a new home in Texas.  We'll even be generous and assume no student debt and no car payments.
Let us break down the numbers here: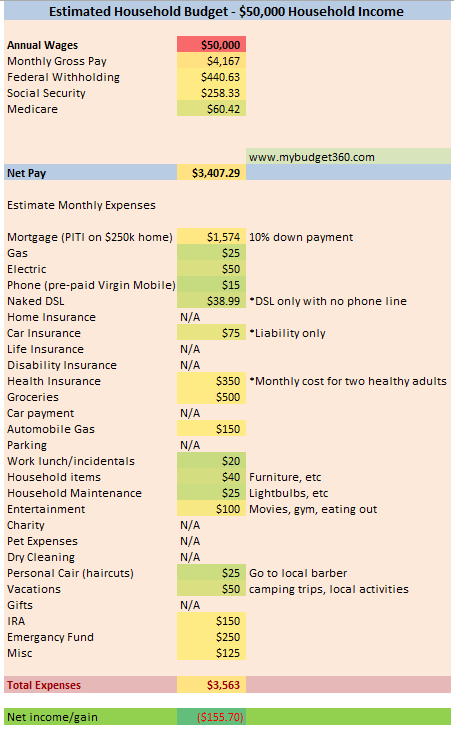 The most important line item is net income.  This is how much the household has to spend on expenses per month.  We find that the $50,000 a year household has $3,407 per month to spend on expenses.  Texas has no state income tax so we are in a very favorable climate.
So we ran the numbers here very carefully.  When you usually read articles online about what you can afford they rarely provide you a hypothetical budget.  But this is how people live.  This is where the rubber meets the road.  And this is why half of the country is living paycheck to paycheck.
So let us now move on to the biggest line item, the housing expense.  We are assuming this household purchases a $250,000 home with $25,000 down (10 percent).  This is reasonable given the price of new homes: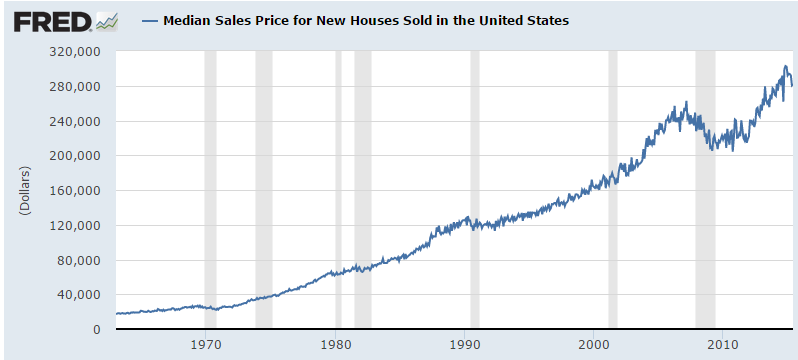 The typical new home in the U.S. now costs $281,000.  We'll go with $250,000 here.  The total principal, interest, insurance, and taxes per month will run at $1,574.  This is the monthly payment here.  Also keep in mind that the $25,000 down payment is hard to come up with for many families.
We are being extremely low with our monthly gas bill at $25, electric bill of $50, and using low speed DSL at $38.99.  We are also assuming this household is using basic pre-paid cell phones.  Again, the point here is to show this family is not living the high life.
We are assuming this is a married couple and will pay $350 per month in health insurance (for two healthy adults).  Groceries are at $500 per month.  I think this is a middle of the road approach here.  Cost conscious but not extravagant.  We're also assuming this couple has no car payment (many Americans carry two car payments per month).  We are budgeting $150 for gas per month and this assumes this couple is close to their work.
We'll allocate $20 for work lunch (they are brown bagging it), $40 for household items, $25 for household maintenance (this is low), and $100 for entertainment.  Personal care of $25 per month for haircuts, and $50 for one annual vacation (save up to $600 per year).  We assume they want to save a bit for retirement so they are putting away $150 per month into an IRA.  They stash away $250 per month for an unforeseen emergency.  And $125 for random items (say the engine goes out in the car).
The end result?  This couple is running a deficit of $155 per month and they are being more frugal than most Americans here.  No wonder why credit card debt is growing once again.  Throw in a kid here and the numbers get thrown fully out of whack (i.e., child care could eat up $600 to $1200 per month depending on where you live).  So in short, there is no way a household making $50,000 a year will be able to afford a $250,000 home.
What are your thoughts on these numbers?

If you enjoyed this post click here to subscribe to a complete feed and stay up to date with today's challenging market!