The Federal Reserve and U.S. Treasury Determined to Sink the U.S. Dollar in 2009. Why Gold and U.S. Dollar went up in 2008.
2008 will go down in history as the worst global market for countless investments since the Great Depression.  It was significant even with the late rally which occurred after the November bottom.  What this signifies is that market volatility a sign of a very unhealthy marketplace will continue in 2009.  Yet the more important point to consider is that the Federal Reserve headed by Ben Bernanke and the U.S. Treasury which will be under new leadership soon, have been showing no signs that they are interested in preserving the value of the U.S. Dollar (USD).
This isn't simply a conjecture but is based on facts.  When Ben Bernanke was quoted as throwing dollars from helicopters what he meant is he had no regard for maintaining the actual value of the USD.  What he was discussing is battling the menace that is deflation.  Bernanke is an expert regarding the Great Depression.  I'm not sure that when he took the Federal Reserve chairman position did he realize he was actually going to have to face a situation which would put his theory into practice.
What we are facing is deflation and we have not seen prices drop this fast since the Great Depression: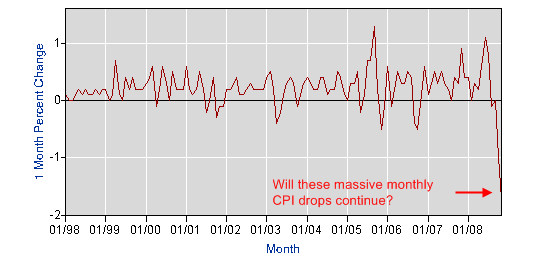 That is why we are already dealing with the prospect that this recession will have deep impacts like nothing we have seen since World War II.  The fact that consumer prices have been falling over the past 4 months is significant.  This is not a one month event.  We have seen incredible drops over this time:
August 2008:              -0.1
September 2008:         0.0
October 2008:             -1.0
November 2008:         -1.7
The major question is will this continue.  Most of the recent historical drops have to do with the bubble in oil bursting and automotive sales simply falling off a cliff: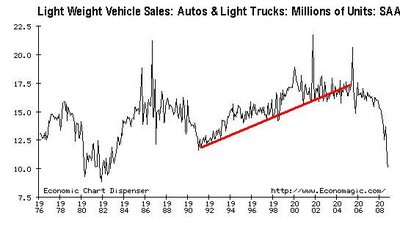 *Source:  Suddendebt.blogspot.com
The above chart in automotive sales is extremely telling.  Sales have fallen off a cliff.  What has occurred is we have spent our future today.  That is, we have enough cars floating in the marketplace to satisfy years of demand.  That is something that is being missed with the auto bailouts.  One part is yes, American automakers have missed the boat in creating cars people want to buy.  Yet the bigger problem is people simply have no money to buy any additional cars unless more unhealthy credit is extended.  This is something that the U.S. Treasury and Federal Reserve would love to see happen.
Every action they have taken comes at the cost of individual financial success.  They are purposely making it useless to save money.  At least, that is the psychological warfare they are trying to do.  How so?  First, you drive interest rates so low that it is almost pointless to save: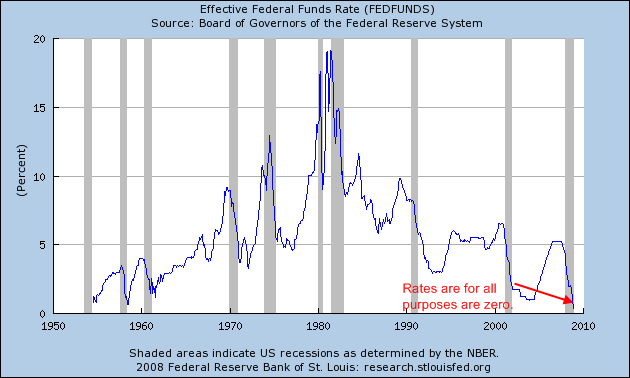 The Federal Reserve has kept interest rates at historical lows for this entire decade.  Alan Greenspan was the first to take rates to historical lows and was only beaten by his predecessor in Ben Bernanke.  This is problematic.  One primary reasons the housing bubble took off for so many years was the fact that credit was flooded into the system.  This of course came at the expense of the U.S. Dollar: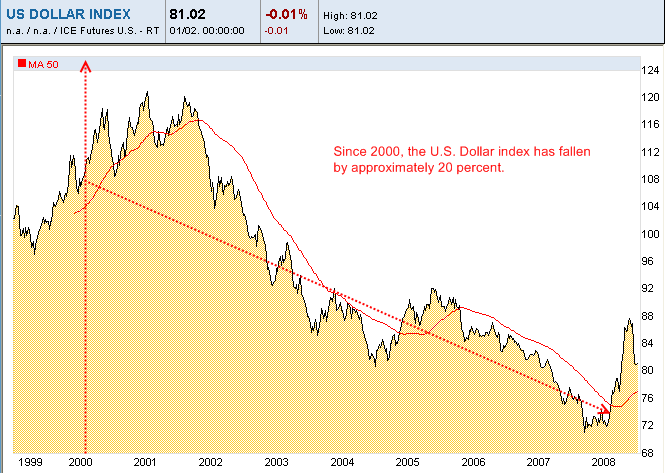 Since 2000 the USD has fallen by nearly 20 percent.  That is significant in terms of a country's currency.  As you will also notice in the chart above, we had a bounce from recent lows that has increased the value of the USD by roughly 10 percent.  Why the sudden jump?  The fact that the USD was up in 2008 is by no means any help by the Federal Reserve or U.S. Treasury.  The reason the USD rallied last year was the destruction of the decoupling myth.  What it turned out was other countries around the world had equally bad or even worse balance sheets than the US.  So a flock to safety occurred.  In dire times the USD still holds that throne.
Even with negative rates on treasuries, people still felt the need to store their money in the USD.  During this time Ben Bernanke manipulated the effective funds rate to go from 3.94 percent in January of 2008 to our recent zero percent.  We have never seen it this low since the Great Depression.
Keep in mind that it would be very simple for our government agencies to increase the value of the USD.  All they would need to do is to raise rates to attract more capital in the system.  Capital, not devaluing the currency.  But that is the least of their worries.  What they want is for people to spend more and more.  That is why credit and debt is flooding the system: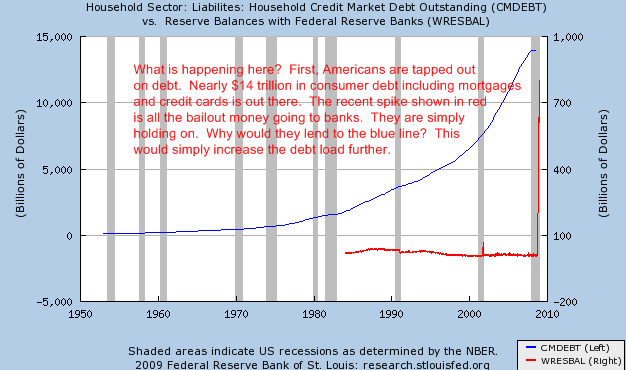 This is an important chart.  First, the U.S. consumer is tapped out.  They are carrying roughly $14 trillion in debt with auto loans, student loans, mortgage debt, and credit card debt.  The spike highlighted in red above is banks keeping additional funds in excess reserves.  This is money that they can lend without putting their reserve limits at risk.  Yet they are not.  Why?  Look at the blue line.  If you were a bank, would you lend to a consumer market with nearly $14 trillion in debt?  Of course not.  Yet the Federal Reserve somehow thinks this is the solution to our problems.  Give banks which were at the center of creating this mess access to more funds at the expense of taxpayers.
The Fed is already pushing the limits on its own books putting nearly $3 trillion of questionable assets on its books.  This housing bubble has its roots in 1979 and only took off starting a decade ago.
From every early indication we are getting, the Fed is determined to keep this gig going.  What this means, is hard assets like gold will probably have another positive year.  By the way, gold was another winner in 2008 even after tanking.  The reason for gold is more basic.  Where else will people store their money.  In zero percent treasuries?  Globally?  Under the mattress?  It seems like gold will be one of the few last spots.  The Fed and U.S. Treasury seem to indicate further policies that will slam the dollar.  Yet here is another problem.  Other global central banks are doing the same thing which almost negates our own actions.  The race to zero interest rate policy has started.
The U.S. Treasury and Fed which have a responsibility in protecting a stable dollar are set to destroy it.

If you enjoyed this post click here to subscribe to a complete feed and stay up to date with today's challenging market!