Low wage jobs dominate as waiters and bartenders will soon outnumber manufacturing jobs: Latest jobs report highlights continuing trend in low wage employment.
The trend to low wage employment continues as the latest jobs report shows that wages are being eroded by inflation. Of course, the public is told that inflation is muted but simply looking at your paycheck versus housing costs, healthcare costs, and food would tell you a different story.  Americans went to vote with economic frustration in their hearts.  That was the guiding energy driving the electorate.  The vast majority are frustrated with the current state of the economy contrary to a record in the stock market which is largely going to a very small portion of our population.  People want good jobs.  Good jobs are truly at the essence of the middle class.  So it should not come as a surprise that we will soon have more waiters and bartenders than actual manufacturing workers.  Those that serve drinks to calm away the struggles of a tough economy are in high demand apparently.
Manufacturing and food services
The loss of the U.S. manufacturing sector can be felt deeply across the nation.  In places like the Rust Belt it is directly in your face.  Old factories line the landscape as if out of an apocalypse film.  People once living as middle class now struggle to get by to pay basic bills.  Good paying jobs with benefits are eliminated and are filled with lower paying jobs that have absolutely no benefits.
Take a look at this ominous trend.  We will soon have more waiters and bartenders than actual manufacturing workers: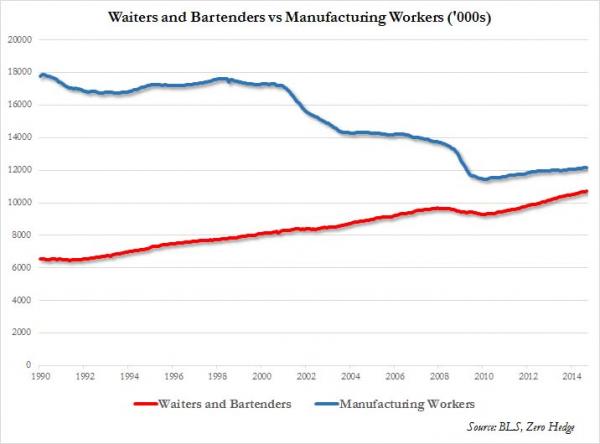 This is not a good trend for most Americans given how many people occupy each of these fields.  Back in 1990 which wasn't exactly a booming time, we had 3 manufacturing workers for each 1 waiter or bartender.  Today, we now have nearly a 1-to-1 ratio.
This is also reflected in the nature of how many hours people are working: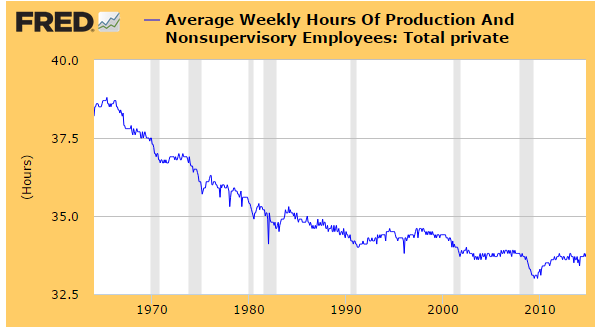 The above chart highlights the move away from what we would consider full-time employment.  People try to blame random things but the truth is, the middle class is being hollowed out by both political parties.  This is a corporatacracy dominated by money in politics.  Many firms were able to boost their profits by slashing wages, benefits, and ultimately hiring new workers at much lower tiers.  This even happened in the manufacturing sector.
It is hard to see where we will have actual solid economic growth.  Most people today are entering an economy of freelance work and waiters and bartenders are the perfect example of this.  They exist to serve an immediate need.  Managers can hire and fire at will since it is an industry with a low barrier of entry and also adjusts with the whims of local clientele.  You can watch some of the cooking shows where they go to struggling restaurants and you will see what an economic contraction will do to a business.  Restaurant after restaurant will recount the good days and discuss how tough it is today with lower traffic.  Many times, their first action is to fire waiters.
You also have 1 out of 3 working Americans supporting the other two-thirds.  The young largely dominate the food services industry and you can only imagine how many are serving cocktails with college degrees.  We already know that nearly half of recent graduates with degrees are working in fields that don't reflect the area in which they studied.
It is troubling to see that we are moving to this kind of low wage economy.  Many poorer countries have massive food and service industries because this is something you can't export and caters to tourist.  We are far away from that but the trend is rather clear.  Voters want their economic circumstances to change.  Let us see what happens over the next couple of years but don't hold your breath.

If you enjoyed this post click here to subscribe to a complete feed and stay up to date with today's challenging market!