100 million credit card accounts are gone since 2008 – Credit card balances decline by 22 percent since their 2008 peak.
Credit cards have been used as a lifeline and a way to live beyond one's means in the United States for many years.  Yet the current environment of deleveraging is hitting credit cards hard.  The outstanding balance on credit card debt has reached a level last seen over a decade ago.  This is positive since many were simply using credit cards as a method of spending money they did not have.  Yet with access to debt becoming more restricted for households, how many people that once had credit cards have shifted to safety net programs like food stamps?  It is impressive to see how the epitome of American debt spending in the credit card is contracting in this current environment.  Americans are simply in the process of deleveraging and credit cards are one of those items that signal that debt growth does have a maximum tipping point.
Credit card balances contract
The latest government data shows a significant decline in the balance owed on credit cards: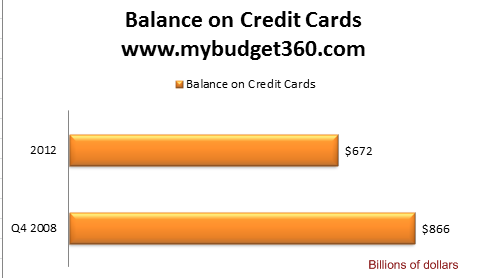 This is a sizeable drop of 22 percent since the peak was reached back in 2008.  The good news is this debt is moving lower but behind the numbers is also the fact that many have pushed this debt aside via bankruptcy.  Just like mortgage debt has fallen courtesy of millions of foreclosures we have to read between the lines and look deeper than the headlines.
The number of open credit cards has also declined significantly:
2008:                     496 million accounts

2012:                     383 million accounts
This is a drop of over 100 million active accounts.  Many of you probably recall during the boom the phone book level of mail coming in courtesy of credit card companies.  I remember at one point I was getting about 5 offers each and every day!  This went on for a solid two years.  The amount of credit sloshing around in the system was amazing and obviously many of you had similar experiences during the peak days of the credit bubble.
Revolving debt has pulled back in a strong fashion from the peak as well: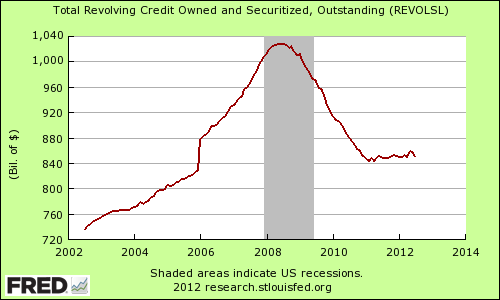 Over $1 trillion in revolving debt is now closer to $840 billion in debt.  This is still a large amount given the average interest rate on credit cards is still exorbitantly high.  Keep in mind this figure is for all revolving accounts, and credit cards are the largest segment of this debt.  The typical interest rate on credit cards is around 12 percent.  Given that the Fed is handing out money to member banks at near zero percent, the spread is fantastic for those who have access to the Federal Reserve.  Most Americans realize that 12 percent is way too much for going into debt especially when banks are offering 0 percent on savings accounts.
So what does this tell us about the overall nature of our economy?  The massive drop in credit card balances is likely another signal of the compression of our middle class.  The large balances were more of a part of the middle class living beyond its means and we are seeing this being exposed in the current environment.  With credit standards hitting Americans hard, many lower income Americans are being shut out of the credit card market altogether.
Those days of 5 offers in the mail?  They are gone.  But the offers that do come in are more for balance transfers with high fees since banks are trying to generate revenue on paying clients.  Yet many of those with good credit are likely to carry smaller balances.  Either way, the massive decline in credit card balances shows us that Americans are simply unable to spend like they did during the bubble days.

If you enjoyed this post click here to subscribe to a complete feed and stay up to date with today's challenging market!