The 35 year drought in real wages for American workers: American workers really haven't had a raise since 1979.
Economic recoveries take on a variety of shape and sizes.  With stock markets reaching new highs you would expect that some of the fruits of this boom would trickle down to American workers.  But some of the booming trends are continuing on the path of low wage labor and certainly, of turning people into contract workers.  Think of a business like Uber that turns regular people into taxi drivers if they wish to become one.  For some, the pay is good but the benefits are non-existent.  For the founders of Uber, an untapped world of wealth is the reward.  This seems to be a big trend with technology.  Outsourcing many good paying jobs that bring wealth to a few but displace millions of workers.  Maybe this is simply unavoidable.  When we look at the top 10 occupations in the US, we see all of them in the low wage service sector outside of nursing.  It is hard to outsource janitorial services or someone making your food at a local restaurant.  A recent EPI study found that in the overall scheme of things, the American worker really hasn't had a real raise since 1979.
The stagnant growth of wages
Inflation is insidious because it plays tricks on your financial mind.  Say you get a 2 percent raise.  You feel great about this.  But say the overall inflation rate is up by 3 percent.  In reality, you are now behind the curve by 1 percent.  Compound this over the years and you see how the middle class can fall behind.  And that is actually what has happened.  More money is being consumed by housing, healthcare, education, and food because of this disparity between wage growth and the cost of living.
Take a look at data from the last few years: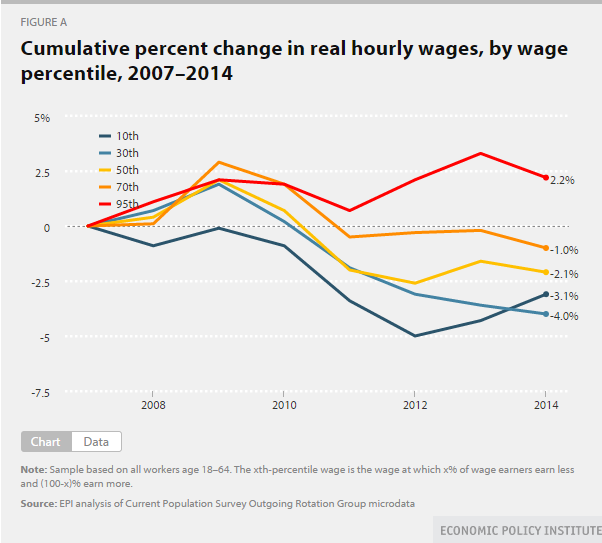 Since the Great Recession hit, every category of worker has seen their real wages fall.  The only group that saw real wages increase here were those in the top 95th percentile of wage earners.  This also helps to explain why luxury brands are having a great year at the same time that we are seeing a massive boom in dollar stores catering to the massive number of low wage workers.    
We often hear about the benefits of a college education.  It is hard to argue with education.  This is why we now have $1.2 trillion in student debt outstanding.  But with over 4,000+ colleges you need to be a savvy consumer.  Why would you pay $20,000 or even $30,000 a year for a subpar education from a poor quality school?  We have an entire industry with for-profit colleges going after low income Americans and using predatory tactics to basically give many a subprime education. But this is one tiny portion of the pie.  We have many others going to reputable schools but getting degrees with little market demand.  Just look at wage changes for those with college degrees: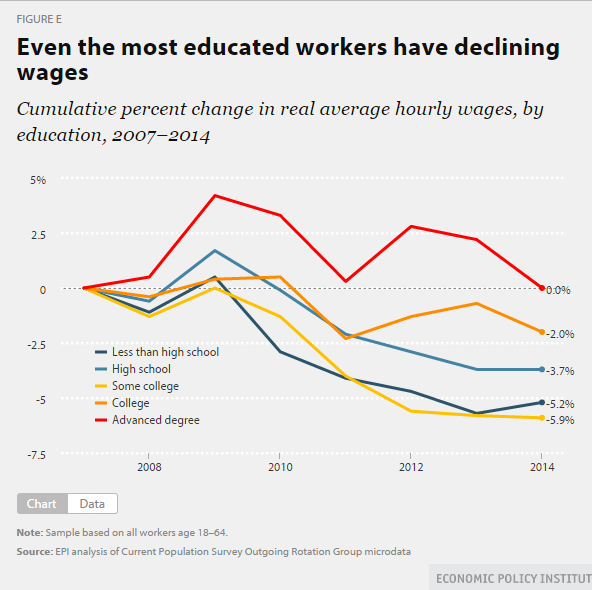 Even a college degree is no guarantee of wage growth.  The only college degree that held steady was those with advanced degrees (meaning more costs and possibly more debt).  The ultimate definition of the Red Queen's Race: running faster and faster just to stay in the same spot.
Household income has remained stagnant for nearly an entire generation: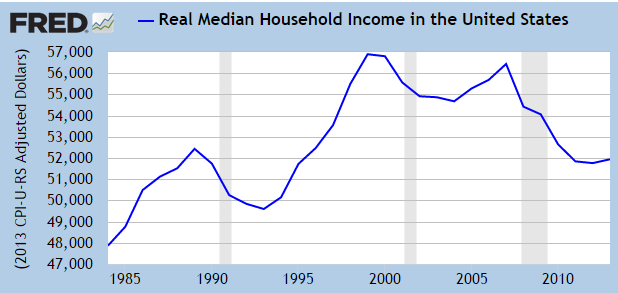 This is why the use of debt is booming.  The only way for people to hold onto their vision of a middle class lifestyle is to go into massive debt.  Even the subprime debt industry is booming yet again.  Why do Americans feel poorer?  Not getting a raise for 35 years will probably make your wallet feel lighter.

If you enjoyed this post click here to subscribe to a complete feed and stay up to date with today's challenging market!