American Gerontocracy: Since 2009 2.7 million jobs for those 16 to 55 have been lost yet 4 million jobs were added for those between 55 and 69.
It is still a tough time to be young and looking for work in the United States.  With the steady destruction of blue collar industries with living wages, many have to pursue a college degree for any chance at becoming middle class.  Yet higher education has become a debt plagued mess where students have to enter selective schools or pick in demand degrees to have any fighting chance in the economy.  The rest go into deep debt for what is now worthless paper.  Yet it is understandable for young Americans to take this risk given the weak prospects in the market for those without a college education.  The recent jobs reports are more proof of the great divide that is happening in our nation based on age.  Since 2009, the economy has lost about 2.7 million jobs for those between the ages of 16 to 55.  However, the offset has come from adding 4 million jobs in the age range of 55 to 69.  Welcome to the American Gerontocracy.
The young and old divide when it comes to jobs
There was a startling chart that I saw over the last week.  It shows added jobs based on two age segments: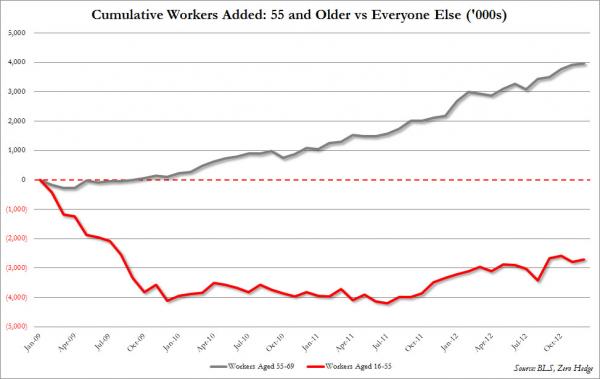 Practically all job growth has occurred in the 55 and higher age range.  Keep in mind where wealth is concentrated in this country.  Young Americans are largely broke and many are massively in debt: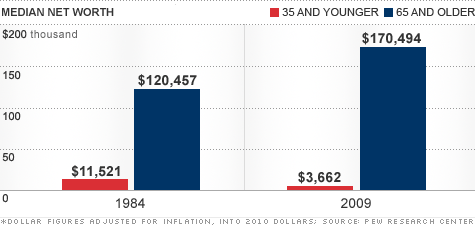 Source:  CNN Money
Americans under the age of 35 have a median net worth of $3,600.  What are you going to do with $3,600?  This is not going to buy any political favors where most of our representatives in Congress are millionaires.  The voice of many young Americans are lost in the political battles that play out.  So the continuing growth in jobs is largely not helping them out while many are pushed into pursuing college degrees that are becoming more and more expensive.
There are very few avenues to making it into the middle class without a college education.  The facts highlight this trend.  Yet keep in mind what is happening.  Many of the more affordable state schools are becoming incredibly competitive to get into courtesy of their lower price point.  Costs have soared at state schools as state budgets have collapsed.  Most cannot get in but they still want to get an education.  So they go into the for-profit market or private market where the cost of college can range from $20,000 to $50,000 per year.  Yet the quality of education amongst these schools can go from a worthless piece of paper to having name recognition but no higher chance of landing a decent job.
Data highlights this trend: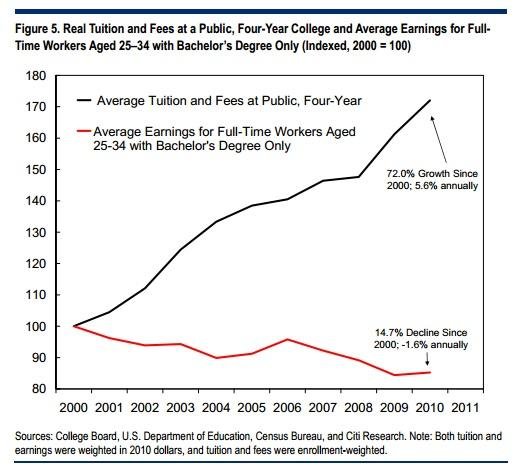 "This is probably one of the more telling charts.  Since 2000 average tuition and fees at public institutions has gone up by 72 percent while earnings for those with a college degree between 25 and 34 has fallen by 14.7 percent.  This is the age group that is carrying the heaviest burden of the $1 trillion in outstanding student loan debt."
But back to that net worth chart.  The median net worth of those 65 and older has gone up to a median of $170,494.  Adjusting for inflation, older Americans are much better off than they were in the 1980s while younger Americans are much poorer.  Yet the media fails to account for all these changes and rarely highlights this important change.  This is why in the recent fiscal debates the politicians were careful not to touch Social Security while at the same time acknowledging that many 20 to 30 year old Americans are likely to see major cuts in this program.
You see these issues playing out in places like Greece, Spain, and Japan where an older entrenched system is catering to the needs of wealth and is largely ignoring their younger populations.  This is why there is little major talk on the hill about the absurd $1 trillion and more in student debt and the massive defaults we are now seeing.  Virtually every other sector of debt is contracting while student debt is ballooning.  This is why we are seeing a clash of generations occurring.
For the moment however, the irony is, that older Americans are doing slightly better than young Americans but at a cost.  Many older Americans have little wealth as well and the zero interest rate policy of the Fed is crushing fixed income investments.  Higher home prices because of low rates hurt first time home buyers (young Americans) but help boost the bottom line of older Americans that currently own homes.  It is unfortunate that this is the situation we now find ourselves in but it is important to look at the numbers more carefully.  It is still a tough employment market for young Americans.

If you enjoyed this post click here to subscribe to a complete feed and stay up to date with today's challenging market!