California is land to the $100k minimum wage state worker: 220,000 highly-compensated state employees cost the public $35 billion.
There is one thing to discuss the minimum wage for servers and many others that work in the low paid service industry but it is another thing to discuss "underpaid" state workers.  That statement cannot be said for California's state employees.  In a country where the median household income is $52,000 California seems to be the land of largesse.  There is this narrative that state workers take on jobs that pay much less than the private sector but the data in California shows something very different.  In fact, there are armies of highly paid state workers.  There was a study that looked at state workers and the number of people earning six-figures is somewhat mind boggling.  Let us look at the figures.
California, land of the minimum wage $100k state worker
There was an analysis of state worker data that dramatically refutes the notion that state workers are underpaid.  If you dig deeper into the figures, what you find that this rarely applies to new younger hires that are getting grilled like many younger workers but you find older baby boomers that are simply milking the system for every penny they can get.
Take a look at the below chart: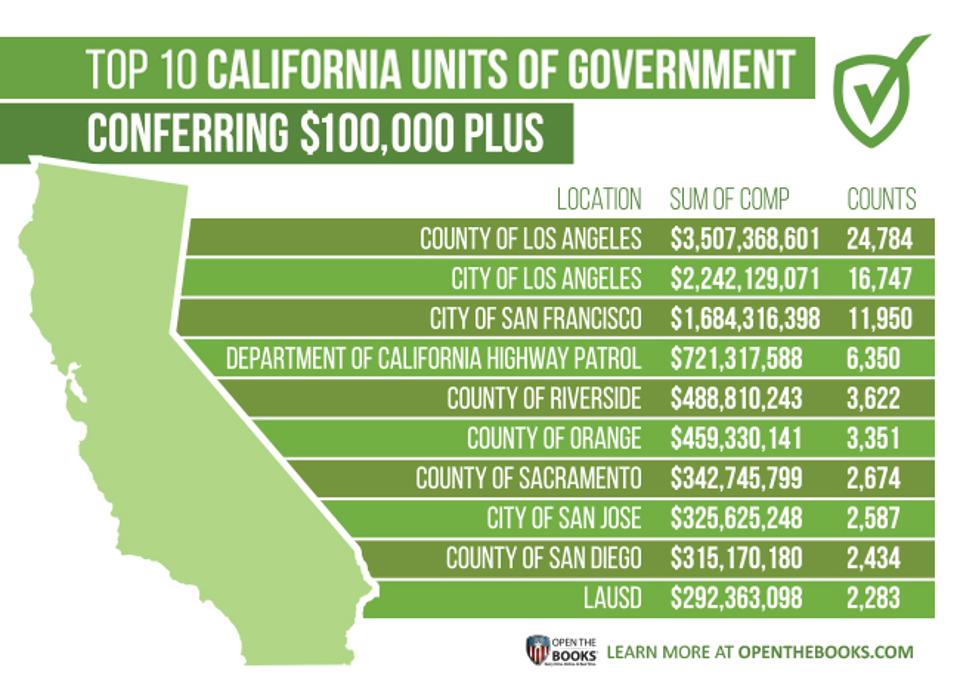 "(Forbes) In many states, public service has little to do with serving the public and everything to do with using the public's money to serve politicians. Whenever we open the books, California is consistently among the worst offenders. Recently, we found 'animal collection curators' making $110,290; city librarians earning $222,320; public utility commission bosses at $550,028; and county hospital doctors making $1.274 million."
Keep in mind this is for salaries and does not include the future pension costs that will come from massive pension systems like those offered by CalPERs.  The fact that there are 220,000 people in the state of California that earn a minimum of $100k and cost the state $35 billion is telling.  Again, this is for one single wage earner in a country where the median household income is $52,000, or half of what a "poor" state worker is making whereas the regular US households has two working stiffs trying to cobble up $50k.
And $100k is the low range for what some are making.  Take a look at this chart: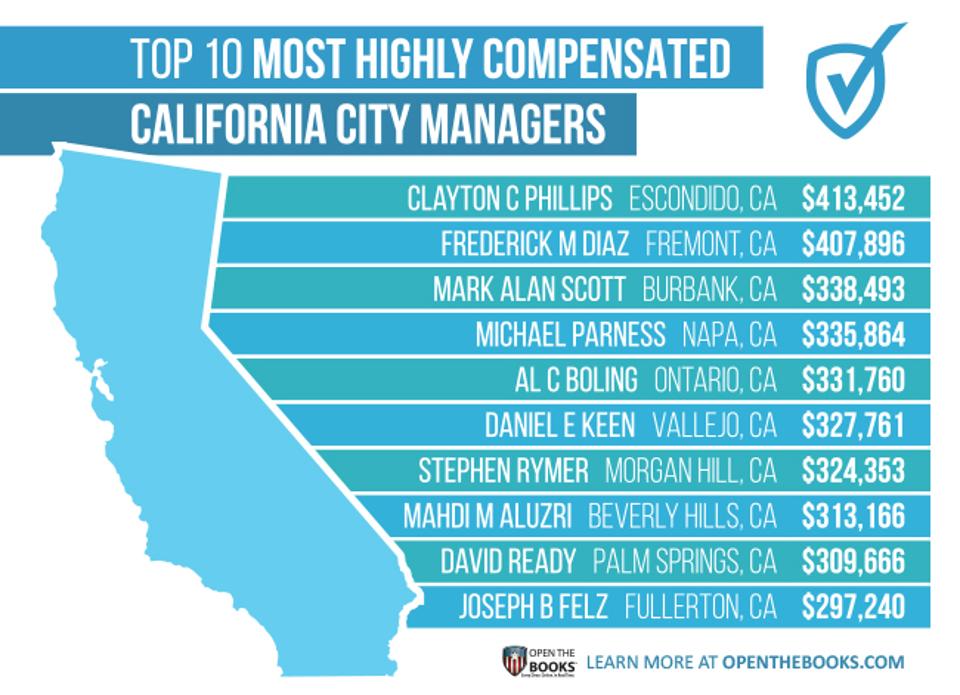 Does this fit into the narrative of the state worker that is doing the public good and foregoing a higher salary in the private sector?  We see this in places like community colleges where some staff are locked into tenure like positions but are really not the best for the job.  Yet there is little competition to be better once they are locked in.  Now I understand tenure for people that do controversial research in labs for example but a staff worker trying to get people to register for classes?  And we are talking about tens of thousands of people.  Then we wonder why many states have massive budget issues.
"California community colleges, serving the strivers – students eating ramen noodles and working two jobs – are absolutely crushing the public pay system: 13,086 community college employees earn more than $100,000, including 178 who made more than $200,000. One of those highly compensated administrators, Thomas Fallo, retired last year after community outrage regarding his $346,895 comp plan."
Even a graduate from an Ivy League school with massive student debt is never going to earn what some of these community college administrators is going to earn.  For now, things seem okay because the state heavily depends on the whims of the stock market and real estate and all is good on that front.  But what happens when we have our next inevitable recession?  Who would have thought that $100k minimum wages for state workers in California would be a problem.

If you enjoyed this post click here to subscribe to a complete feed and stay up to date with today's challenging market!