Welcome back debt! Total household debt rose by $63 billion last quarter pushing total household debt to $12.35 trillion. More than half of the debt increase came through auto loans.
The appetite for debt is now back in a furious way.  Total household debt was up $63 billion last quarter driven largely by auto loans.  Auto loans increased by $32 billion and the amount of auto debt outstanding is stunning.  There is now a total of $1.14 trillion in auto loans floating in our economy.  We've discussed that a large part of the growth has come in the form of subprime auto debt and that trend seems to be continuing.  While Americans in many cases are too broke to afford a home, they are now able to purchase depreciating assets that lose value the minute they roll off the lot.  This is unfortunately a bad omen since many families are trying to keep up the pretense of being middle class by buying cars that they cannot afford on credit.  Debt is back and it must feel like a comfortable old shirt.
We're brining debt back
The desire to take on debt is now filtering throughout the entire economy.  Total household debt is now back up to $12.35 trillion.  Student loan debt at least measured by the Fed is up to $1.3 trillion and auto debt, which is actually a really bad form of debt is up to $1.14 trillion: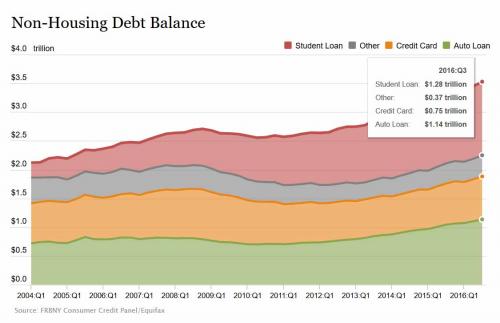 "In essence we are driving up household debt through cars and college."
And in many cases, students are going to college and pursuing degrees that simply do not produce any measurable jump in their pay once they enter the workforce.  That is a very big problem.  But at least with a college education, you would assume you are advancing your potential to earn more with knowledge.  What is the argument for going into big debt for a car?
Those subprime auto loans are now coming back to bite in a big way.  Auto loan delinquencies are now at their highest level since the Great Recession: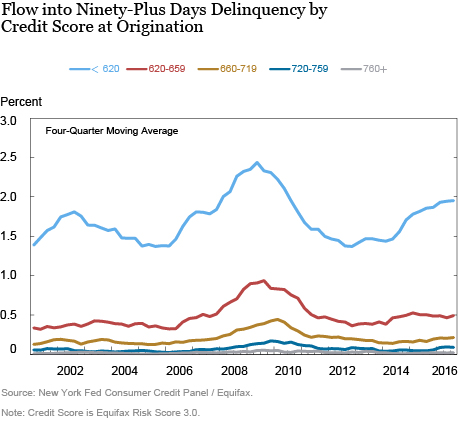 What is more troubling this time around is that on paper, all is fine with the economy:
-Record stock market

-Soaring real estate values

-Low headline unemployment rate
So why in the world are people defaulting in mass on auto loans?  Well unfortunately while we have a mountain of fake news swirling around the internet, official data from various sources isn't exactly tracking what it should.  We have over 94 million Americans of adult age that are not in the work force.  That is a big issue.  We also have a younger population that is making less money trying to support an older retiring generation.  Sadly, there is nothing fake about that.
So debt seems to be one way to bridge the gap between low wages and wants.  The problem of course hits when your monthly servicing requirements supersede your net income.  It is an issue of solvency.  In a simplified way, that was the core of the problem with the Great Recession.  People took on too much debt based on their cash flow.  And here we go again repeating a very similar scenario.  Trying to keep up the notion of being middle class on plastic and loans.  These scenarios rarely end well.

If you enjoyed this post click here to subscribe to a complete feed and stay up to date with today's challenging market!