The coming deleveraging for Canada – Unit labor costs in manufacturing above US labor costs and household debt-to-income at 160 percent.
Our neighbors to the north in Canada are going to face a serious deleveraging shortly.  This isn't hyperbole or some off the wall call but based on evidence of what happens when economies get into too much back breaking debt.  If the largest trading blocs, the US and Europe had to have their day of reckoning how is it that Canada will be immune from the same economic forces of debt?  Bubbles do not pop in perfect harmony.  They pop in a disorderly and loud fashion and momentum picks up once the unraveling begins.  Canada has one of the biggest ongoing housing bubbles and contrary to the rhetoric we see, they have households deeply in debt.  In other words, they are leveraging to the hilt just to keep this charade going.  Yet this can only go on for so far.  Obviously bubbles can last for a very long-time (i.e., US housing from 1997 to 2007) and can surprise many people.  Let us take a look at a couple of reasons why Canada is going to face a heavy deleveraging.
Canadian household debt
Canadian households are deeply in debt: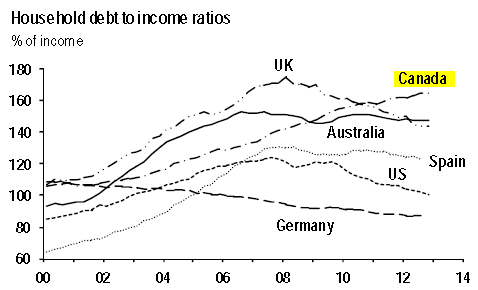 At the peak of the US housing and debt bubble, US households had something close to 120 percent debt-to-income ratios.  Canada today is above 160 percent.  So they are fully into uncharted territory.  Household debt is incredibly high largely because of the massive Canadian housing bubble.  Housing is the biggest expense in both the US and Canada.  Contrary to what we hear, it is not different this time.  In fact, given the massive debt we see, it is likely that the deleveraging event in Canada will be even more painful.
Canada's labor costs are much more expensive than US labor costs: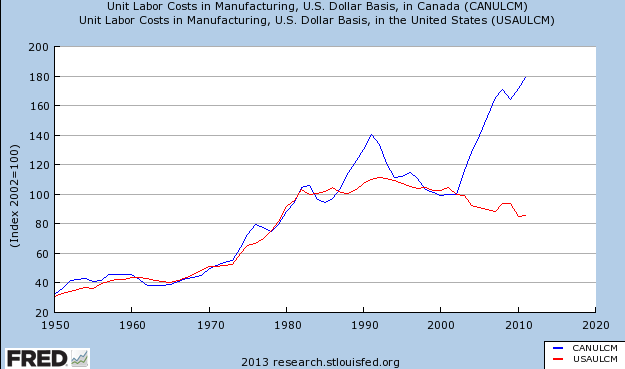 This is problematic in a world driven by low wage labor.  Households in Canada are maintaining their current spending via debt.  This was a common experience that was had in the US as households were trying to maintain a middle class lifestyle while wages were stagnant or even falling.  Canada has massive household debt relative to income and labor costs are also very high.  The global markets are punishing.  Look at places like Spain with high labor costs and big housing bubbles.  It will take years if not decades to get to a more balanced out economy.
Canada is also losing an edge when it comes to maintaining a lion share of exports to the US: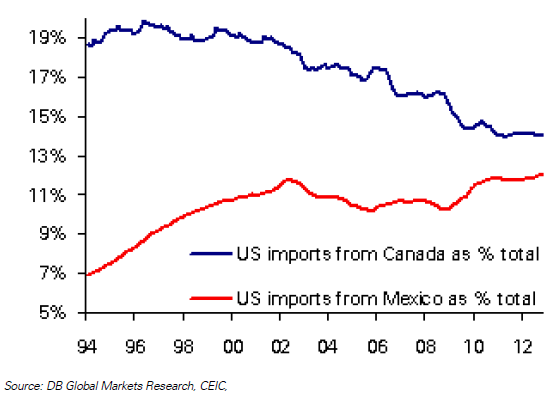 You can see that over the last 20 years, Mexican imports have narrowed the gap.  This is largely driven by the low wage nature of our current global economy and the aforementioned high wages in Canada.  Something will give and is giving.  But like any bubble, things get wilder at the very end:
"Bloomberg: – Canadian housing starts unexpectedly increased for a second month in March and building permits rose in February, evidence that low borrowing costs are supporting construction.

Starts were 184,028 at a seasonally adjusted annual pace during the month, up from a revised 183,207 in February, the Ottawa-based Canada Mortgage & Housing Corp. said on its website today. In a separate report, Statistics Canada said building permits rose for a second month in February on a rebound in non- residential projects.

Construction has been supported by some of the lowest mortgage rates in decades, along with historically cheap borrowing for businesses, even as the government tries to tighten the mortgage market amid concern prices in some cities have become inflated."
Low rates and cheap borrowing.  Of course it will be different this time around.  Right? 

If you enjoyed this post click here to subscribe to a complete feed and stay up to date with today's challenging market!