Commercial Real Estate, Construction and Finance Employment: How Commercial Real Estate will drag the California Economy Deeper into Recession. 32 Percent of California Construction Jobs Gone.
California is heavily dependent on real estate.  That should be of little surprise to you but many have a hard time understanding how devastating the housing crash is to employment in various sectors.  California for 30 years relied on housing even though in many years, it was in a bubble.  That is why in 2009 the state has had to patch up some $60 billion in budget deficits.  You might think the housing industry is big but in Southern California alone, the housing industry contributed some $24 billion in revenue (enough to patch up our last budget).  With the massive over building we have assured ourselves that construction will not be leading California out of any sort of economic slump like it had in previous recessions.
Take a look at the unemployment rate and construction employment for California: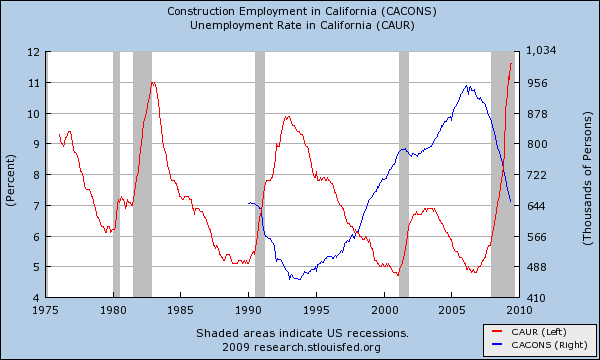 In the span of approximately two decades, growth in construction has gone up nonstop.  You might ask what is that drop from the late 1980s to early 1990s.  That had to do with another housing bubble in California.  That drop cost 25 percent of all California construction jobs.  These are typically good paying jobs.  Certainly higher paying than retail work.  But you'll notice something in this chart.  First, the unemployment rate overall is the highest in record keeping history for the state coming in at 11.6 percent.  But you'll notice that already the contraction in construction employment is deeper than that of the late 1980s (we've lost already 32 percent of construction jobs).  And this is only the start of the contraction.  As we know, the California housing market is contracting massively.  But now we are starting to see the massive commercial real estate bust that will hit the nation with $3 trillion in uncertain loans.
For example, there is a retail area in Corona, California called Promenade Shops at Dos Lagos that defaulted on a $125 million loan.  These projects take years to build and they were built at the peak: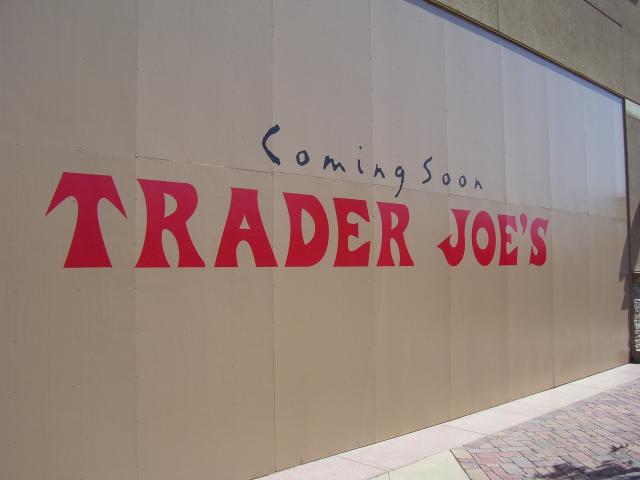 Source:  MyCityCorona.com
Now why would a place like this default?  Well first, Corona is located in Riverside County that has seen home prices drop for the entire county by over 50 percent from its peak.  The unemployment rate in Riverside County is 13.9 percent.  So any retail spaces are going to have a tough time making it especially when many were basing business models on peak housing valuations.  The problem with California is that it also relied too heavily on construction on the way up with valuations that were never realistic: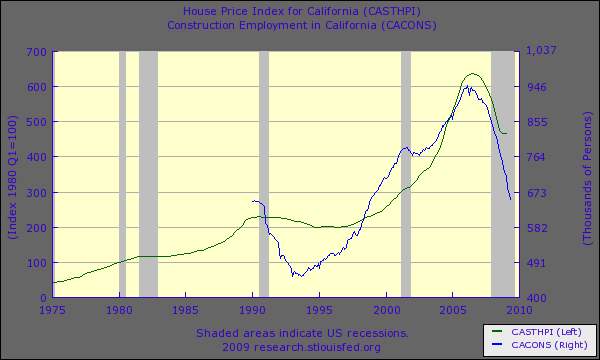 It shouldn't be a surprise that construction employment collapsed at the same time prices did for the state.  The only problem is from our 18 million labor force some 1 million people depended on the construction industry.  And that doesn't include those working in the finance industry that relied heavily on housing as well: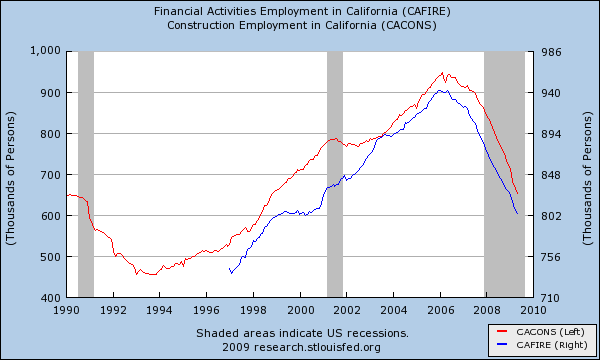 With these two industries alone, you will find the bulk of layoffs and these are high paying jobs.  That is why commercial real estate will be an albatross for California for years to come, not a leading source of recovery.  Take a look at the early 1990s recession above.  It took nearly 4 years for construction spending to even move up after it hit a trough!  We have yet to hit a trough in either the finance or construction industry.  Given the magnitude of the California housing bubble, it may be the case that these jobs are not coming back.  Certainly you don't need construction jobs when the vacancy rate is still rising: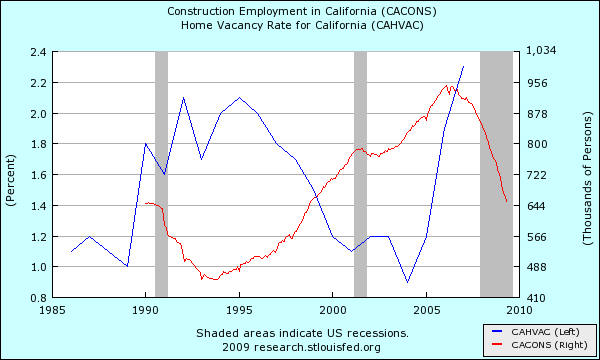 Now some are pointing to an increase in permits that things are getting better.  Let us look at that increase: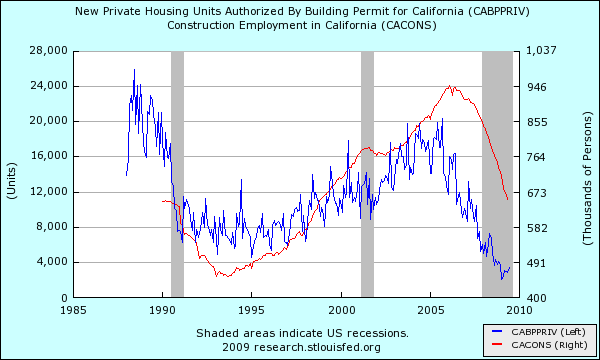 Does that look like a massive increase?  We are looking at new private construction permits.  At the peak of this bubble, we had some 20,000 permits flying out there.  We hit a low at approximately 2,000.  In 3 decades of data we have never been that low.  I mean how much lower were people expecting this to go?  Zero?  So this isn't a sign of a recovery (certainly not by the two industries that rely on real estate the most) so this is more of a bottom but we can see permits squeak up and balance out for over a decade.
If you think of this equation, you can understand why the U.S. Treasury is secretly considering options like "Plan C" to preemptively bailout the commercial real estate market.  The problem with that of course is that there are some $3 trillion in commercial real estate loans in the country.  You like that $125 million for a mall in Corona?  You can multiply that scenario out hundreds of times over in Nevada, Arizona, and Florida as well.  There really is no economic reason to bailout these loans.  As much as I cringe about bailing out homeowners, at least you can make an argument that you can keep people in their homes.  How do you feel about bailing out 5-star luxury hotels?
"(Costar) Hotel owners are under enormous economic pressure, especially those carrying a lot of maturing debt. The St. Regis Monarch Beach Resort in Orange County, CA, this week became the latest luxury hospitality property to be taken over by its lender when Citigroup Inc. seized the 400-room hotel after it fell into default on a $70 million mezzanine loan."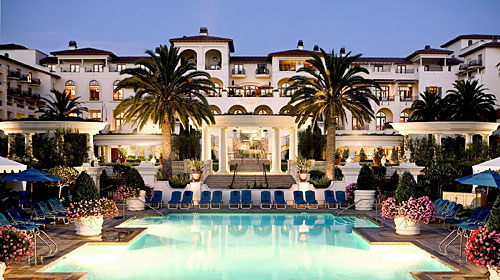 This place is probably better known nationwide for the $440,000 party thrown for AIG executives.  Keep your eyes peeled on that CRE bailout because this has the potential for being a gigantic boondoggle for the American taxpayer.  And you know the U.S. Treasury and Federal Reserve love those bailouts.

If you enjoyed this post click here to subscribe to a complete feed and stay up to date with today's challenging market!