Detroit files for bankruptcy while S&P 500 hits record high: The bifurcation of the American economy and the long decline of the American manufacturing base.
The US is full of economic dichotomies.  The DOW hit a peak when food stamp usage peaked.  Incomes for the wealthiest are reaching record levels while the median household income has fallen back to levels last seen in the mid-1990s.  And today, the once manufacturing powerhouse of Detroit is filing for bankruptcy at the exact same time that the S&P 500 reaches a record.  The symbolism cannot go unnoticed especially as a reflection of our so-called recovery.  We have offshored our blue collar workforce and this has helped a small group at the top at the expense of the working and middle class.  The low wage capitalism race is full speed ahead and Detroit is merely another bystander in the way.  How is it that we can offer lifeline after lifeline to banking giants while Detroit is left to contract and suffer a painful demise?  This isn't to say that something should be done but it offers a bifurcated method of how we are operating today.  The financial giants are bailed out with corporate food stamps while the working class is left to fight the global forces of low wages on their own.  What else does the bankruptcy of Detroit tell us?
An American manufacturing icon files for bankruptcy
Sadly, I saw this posted on Twitter:

While this headline scrolled across my screen this other headline hit as well:

Detroit during the 1940s was the fourth largest city in the United States and a manufacturing behemoth: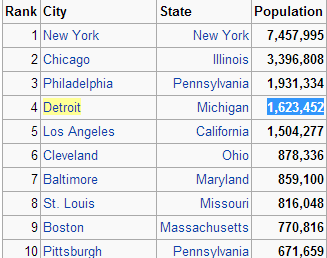 As of the 2010 Census Detroit now ranks number 18 of the most populated cities in the United States.  Detroit was a powerhouse when it came to manufacturing and the US auto industry.  These have taken painful hits in the last generation.  Even with the stock markets rebounding Detroit has not been able to recover.
A city in decline
The trend is rather obvious: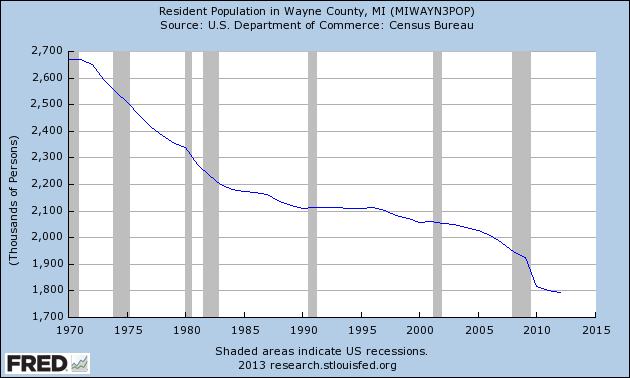 Not only is Detroit's population on a continual downward slope but the entire surrounding area is falling dramatically as well.  This brings up many challenges for the area.  Business and politics have run the city into the ground.  Yet bad business and politics occurs in many other cities and they do not face the wicked challenges being experienced by Detroit.  Some are pointing to home prices rising as some sort of big turnaround but this is more a reflection of funny math thanks to the Fed's QE easy money bazooka: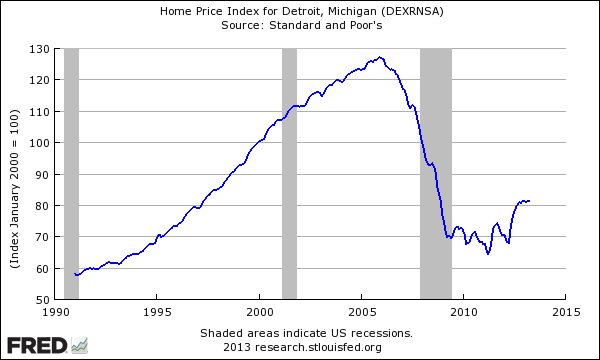 The rebound is largely being driven by cheap money.  Even with this easy money market, you can find some incredibly cheap real estate in Detroit (no shock):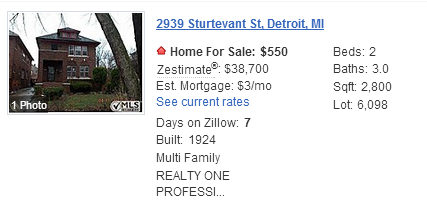 Looking for a home for $500 bucks?  There you go.  You'll need to figure out where you will work and also the massive maintenance, management, and upkeep for something like this.  When prices reach these kinds of low levels, an areas is simply falling apart.  Livability is important.  Work is important.  Community is important.  It is a very telling sign that as the S&P 500 hits a peak a stalwart of American manufacturing is filing for bankruptcy.
Detroit has been on a long-term contraction.  At what point does it reach bottom?  The city is redesigning itself at a snail's pace for a smaller population but we are talking about the 4th largest city in the US in the 1940s.  This isn't some little boomtown that sprouted up around a California goldmine.  Peak food stamps and peak S&P 500 aligned with a giant US city filing for bankruptcy.  A good summary of the current recovery.

If you enjoyed this post click here to subscribe to a complete feed and stay up to date with today's challenging market!