Diving into the fiscal economic mess – Fiscal cliff a reckoning for decades of poor financial management and massive debt based spending.
The media is making it appear that the fiscal cliff is a sudden event.  Like a countdown to a New Year's party.  Yet this cliff was as predictable more than a decade ago as we spent more than we took in as an economy.  The challenge is real because our spending is so much more that what is coming in.  Sure, we can go into deeper debt and allow the Fed to issue trillion dollar bailouts to the banking system yet what we have gotten in return over the last five years is now a low wage economy.  We now bask in reports that show unemployment rates falling not because of substantial job growth but because people are dropping out of the economy like flies hitting the light.  The fiscal cliff can really be summed up in one major chart.
Fiscal cliff in one chart
The fiscal cliff has been a quickly approaching development similar to clouds over the horizon for a couple of decades but when this recession hit, our spending far outstripped our revenues: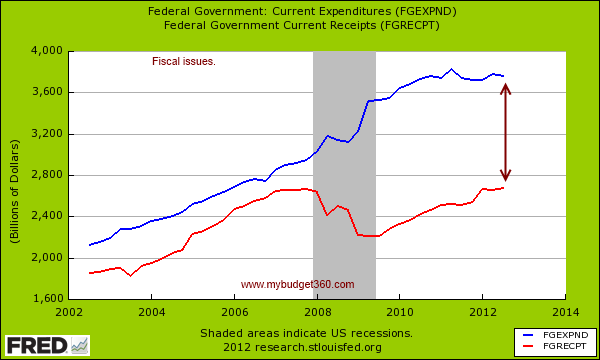 This of course is not unusual for government spending to go up during a deep and prolonged recession.  But keep in mind we went out of recession "officially" in the summer of 2009 and we are still spending as if we were in the midst of a crisis.  Actually, the spending has only accelerated if you look at the above chart.  We are seeing revenues now back to pre-recession levels but government spending is up by over $1.2 trillion.
While this might seem unwieldy this does not give the entire picture.  Total credit market debt is at record levels: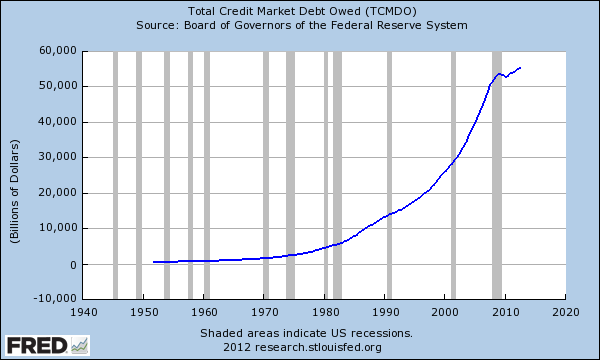 This is an even more troubling aspect of our current system because we are now largely a debt based system that focuses on bailouts and market manipulation to keep people spending money they don't have.  We obviously want all the luxuries of high spending but don't want to pay for it.  This is similar to a household spending money it doesn't have to make up for decades of poor financial decisions.  These policy moves are largely pushed by the Federal Reserve from the banking side of the equation to aid in propping up large member banks.
Banks have used the Fed balance sheet as the "toxic bank" and have shifted poorly performing assets there.  Again, the Fed balance sheet is operating as if we are still in full recession: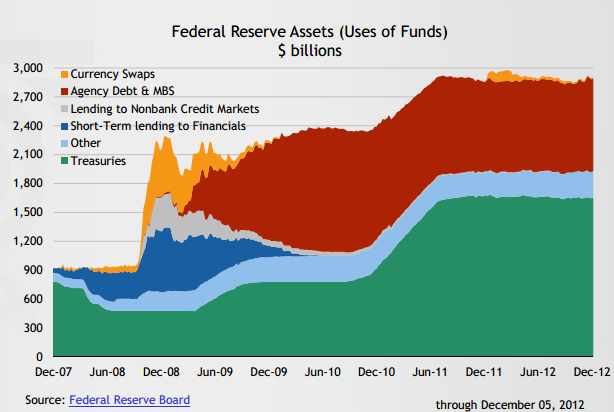 Ultimately the public is not being told the entire story.  The narrative now is about the fiscal cliff being a sudden and unexpected turn of events.  This was predictable more than a decade ago when we decided to spend more than we earned and thought this kind of deficit spending was somehow never going to catch up with us.  Yet now it is.  The young in our country are already experiencing their version of the fiscal cliff.  We are putting the bill on younger Americans who now face the following:
-Massive student debt

-Lower wages and weaker job prospects

-A weakened Social Security System

-Much higher healthcare costs

-Higher housing costs courtesy of low interest rates
The reality is realized when we look at the employment figures on a basis of our civilian-employment population ratio: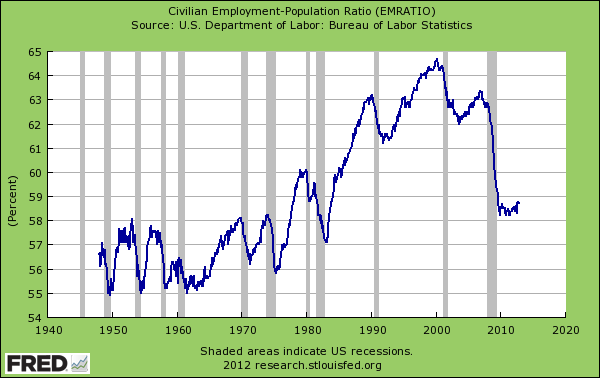 No doubt, what we face is urgent.  But don't think this countdown came out of the blue.  Similar to people believing wrongly about the Mayan calendar, once reality sets in we are left with dealing with the real world.  A fiscal reckoning is happening and politicians are simply aiming to blame each other or continue spending with money we are not willing to pay.  Just remember that most members of Congress are millionaires so think about how that might bias their policy decisions.

If you enjoyed this post click here to subscribe to a complete feed and stay up to date with today's challenging market!