Fiscal Situation of 50 States: Combined Budget Gaps Estimated at $350 Billon for 2010 and 2011.
It is simply stunning that 44 states are facing shortfalls either for this fiscal year, or will come up short in 2010 or 2011.  This puts virtually the entire country in a difficult financial situation.  It is hard to understand how the media feels that the federal government is somehow better able to get money from people than states.  The federal government's largest income source is the federal income tax; yet this is income from employees in those same states were fiscal problems are running deep.  The government is also going to have a challenging time taxing someone with no job right?
The combined budget gaps for the remainder of this fiscal year and then those of 2010 and 2011 are a stunning $350 billion.  This number is simply jaw dropping and Wednesday's horrific retail sales numbers tell us that this recession is already going to be the worst since World War II and possibly since the Great Depression.  First, let us take a look at the situation on a map: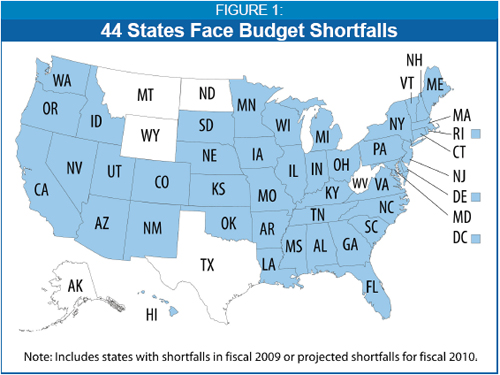 Source:  Center on Budget and Policy Priorities 
You'll notice that the only state with a sizable population without a budget shortfall is Texas.  The rest of the country is virtually in the same predicament.  You also need to remember that many states project these figures.  That is, many are probably too optimistic in their assessments.  The retail numbers that came out today tell us that many states are going to be dealing with a horrible budget situation.  That is why in the upcoming fiscal stimulus package there is a large portion dedicated to state relief.
Looking at the data, it looks like many states are just too optimistic and are betting on the 2nd half recovery which will not happen.  This crisis runs deep and the actions taken by the Federal Reserve and U.S. Treasury put our U.S. dollar at risk.  If there is a run on the dollar, it will leave us as a nation with very few options.  State and local governments stand to receive $160 billion in federal aid with the new stimulus plan.  But you have to ask where is this money coming from?  Printing money.
I've combined the state data into a list to make it more viewable.  Let us break down the problems by state for the 2009 fiscal year:


First, 4 states with the most dire housing markets those of California, Arizona, Nevada, and Florida made the top 12 on the list.  In fact, the number one state and most populace state in our nation California has the most troubling housing market in the nation that won't see a bottom for many more years.  Florida has a similar makeup to California in that it went down the path of toxic mortgages that are now going to be setting on new terms at the most dire time in our fragile economy.
Even should the states receive $160 billion from the historical stimulus plan, that will only address this current fiscal year.  As analyst estimate, we are expecting additional fiscal shortfalls in 2010 and 2011 which will be on par or even worse than the current situation.  Is the federal government prepared to do another major fiscal program when this occurs?
States with Highest GDP and Largest Population in Worst Shape
In a previous article I discussed that 40 percent of our country's GDP comes from 5 states.  Most of the population lives in these states as well but the important thing to note is that most of these states are also running with the deepest budget problems including California and Florida.  Here is a look at employment situation in these states: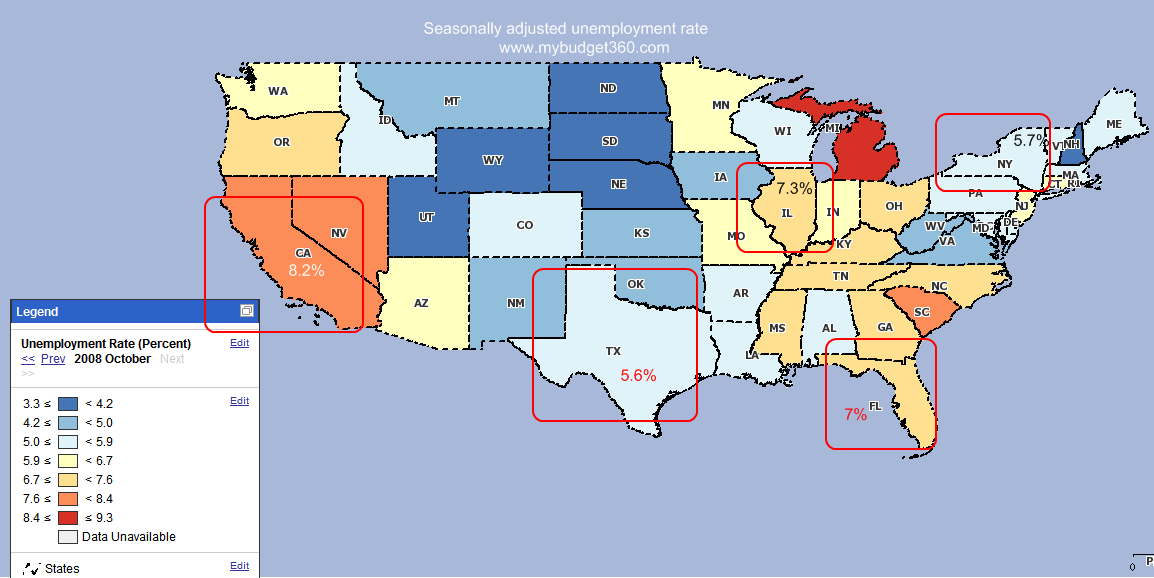 What people tend to forget is that these states have large consumers.  So with retail sales falling off a cliff, how is this going to impact workers across state lines that ship merchandise to these locations?  We are all connected.  In fact, that is why $50 trillion in global wealth has evaporated since this financial crisis started.
Here are more estimates put out with the assumption that the economy improves in the second half of 2009: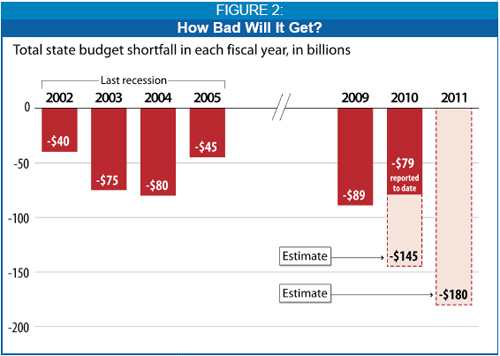 Source:  Center on Budget and Policy Priorities 
I really don't see the stock market popping back up and we are now off 9% in only 6 sessions.  This again reinforces the notion that market volatility is supremely high in unhealthy markets.  Until market volatility stabilizes, we can expect more of the same.  Keep in mind that many states rely on state income taxes which many people are gearing up for in the next few months and states are going to find the following:
(a)  Drop in personal state income tax revenues
(b)  Capital gains falling off a cliff
(c)  Continued weak sales revenue
This is going to stun states on the downside.  Expect states to have a fuller picture by the end of April.  In addition, many states are already exhausting unemployment insurance so instead of money coming in, it is going out.  This is a recipe for a long and prolonged recession which will be more like a minor depression.
State Income Taxes
Some states have no personal income tax which on a plus side draws more employers but also puts a noose on services for their population.  In challenging times these states have fewer revenue sources to draw upon.  Here is a list of those states with no personal income tax: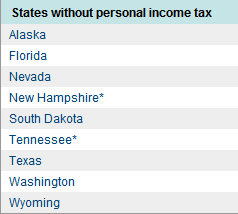 *Source:  CNN Money
Then you have states with high sales taxes and these states normally bet on good times always remaining.  These states will face major gaps as we now see that retail sales falling for 6 straight months and by big drops is going to choke off another revenue stream: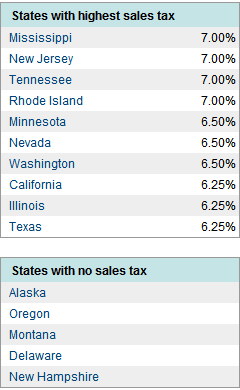 So here you'll see a state like Texas with no personal income tax but a relatively high sales tax.  With retail sales faltering even more resilient states will start feeling the pinch.
The bottom line is the places to find money are running out.  We will need to cut back as a nation.  We simply have no choice.  Sure the U.S. Treasury and Fed can run the printing presses but this will do little good.  The fiscal situation of most 50 states are deeply troubling.  The aggregate of the 50 states is our country.  You will need to prepare for a challenging few years.  Simple things you can do is stay away from debt, think twice about common mainstream investing ideas, and save money.  These are simple steps.  Our government is still in that spending mode even though they are asking of you to be prudent.

If you enjoyed this post click here to subscribe to a complete feed and stay up to date with today's challenging market!