The great deleveraging – US households see access to debt diminish. Housing affordability and reversion to the home price to family income ratio.
Households in the US continue to face a painfully slow process of austerity via debt deleveraging.  In a debt based system like the one we live in access to debt is viewed by many as access to money.  That is, your ability to finance a car, home, vacation, or even a college education is largely contingent on your ability to access debt.  With the markets reaching a peak debt situation households have been in a major process of deleveraging since 2007.  In fact, household debt obligations are now back to levels last seen in the early 1990s and similar to levels of the mid-1980s.  Most of this debt removal has occurred via the painful process of millions of mortgage foreclosures.  Say someone bought a home and took on a $400,000 mortgage. The home is now worth $200,000 and unable to pay the bills, the home is taken back by the bank.  The bank instead of having a $400,000 "asset" now only has a $200,000 line item but more importantly, the home buyer is freed from the massive debt albatross.  Multiply this millions of times over and you get a clear sense of the deleveraging many Americans are undergoing.
The reversion to the debt-to-income mean
When too much debt is taken on, an inevitable flushing out of the system will occur: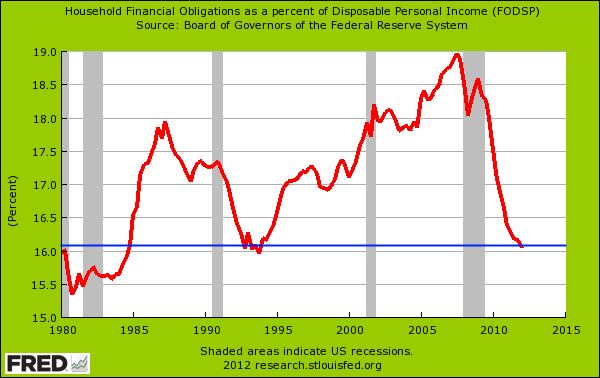 Household debt to disposable income levels are now back to levels seen three decades ago.  In a way this is also a reason why we are not seeing rampant inflation in the market.  Even with the Fed bailing out banks and injecting trillions of dollars into the system this money is not making its way into the hands of average Americans.  Most Americans have seen their incomes and wealth crushed in this recession: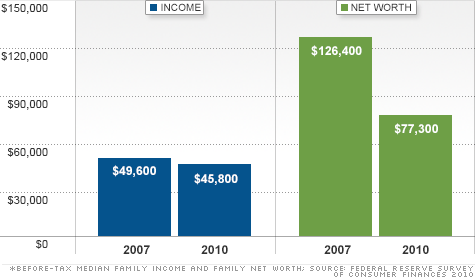 Source:  CNN Money
The deleveraging is occurring because incomes derived from production have fallen significantly and access to debt has been severely curtailed.  Many households are unable to access debt in the current markets.  Many have shaky incomes and jobs that have very little security.  Many younger Americans burdened by the only large growing class of debt, student loans actually are more cautious about purchasing a home even if they qualify.
Housing affordability because of the crash in home prices and access to cheap debt is now looking good across the nation: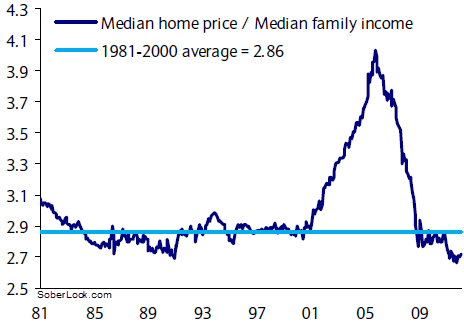 Source:  SoberLook
We've worked through the numbers before and it is interesting that the "3 multiple" for housing seems to work:
Median home price / Median family income = 3 for a healthy range (lower better for buyer)
The ratio is now at very low levels.  Yet family income has also fallen since the recession hit and many markets continue to have inflated prices.  The reason the above reversion has occurred is that housing is one asset many households are willing to fight to save.  When a home is purchased with enough of a buffer, many households can weather a financial storm.  Yet when people go into massive leverage a recession like the one we are living through will be enough for households to lose their home in foreclosure.  Household wages have been weak and falling and many have no money saved and live paycheck to paycheck.  This deleveraging process is occurring for most US households.  The only group continuing to leverage up are younger Americans going into massive student loan debt with the running higher education bubble.

If you enjoyed this post click here to subscribe to a complete feed and stay up to date with today's challenging market!