With a recovery like this, who needs a recession: 62 percent of Americans don't even have $1000 in savings.
The stock market just hit another record high.  Yet only half of Americans actually own any stock.  Real estate prices are ebbing closer to their previous bubble peak.  Yet the homeownership rate is down.  The unemployment rate is down dramatically but we have over 94 million Americans not in the labor force.  This recovery seems so contradictory in many ways.  One glaring example of this is by how little Americans have saved for a rainy day.  Another survey was recently released showing that 62 percent of Americans don't even have $1000 in savings.  In other words, most people are one small emergency expense away from being on the streets.  What this means is that many will simply rely on credit cards, friends, or family should an emergency arise.  With a recovery like this, who needs a recession?
The dwindling savings rate
The survey although surprising simply correlates with other data we are seeing.  Nearly half of retirees depend largely on Social Security as their primary source of retirement income.  Financial planning for all the hype that it is given isn't really something many Americans apply.
Take a look at the survey results: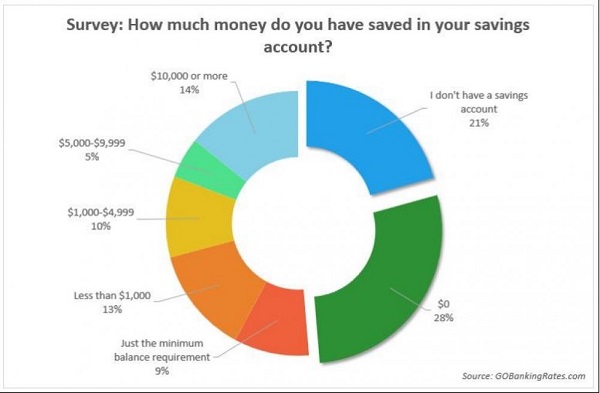 Let us walk through this:
-1.  21% don't even have a savings account

-2.  28% have zero dollars to their name (month-to-month)

-3.  9% have the minimum requirement

-4.  13% have less than $1,000
In fact, only 14% have $10,000 or more saved.  Keep in mind this amount is small in the larger picture when you consider a basic new car costs $30,000 and many minor surgeries will costs many times more than that amount.  So it is no surprise that we have a massive trend of going into debt: college debt, auto debt, mortgage debt, and credit card debt.  That doesn't seem like a solution.
Given the widespread information about saving money, it is more likely that Americans are simply having too many expenses given their stagnant income.  When the end of the month comes, there is nothing left over.  So saving becomes secondary to living daily life.
When I see surveys like this it also helps to explain the discontent being felt by the vast majority of the public versus what we see portrayed on the media.  While the stock market hits a new high and real estate values soar, very few Americans are participating in this upward trend.  They are being bystanders to the American dream.
It reminds of being a bank teller.  Tellers do not make high incomes.  Yet they are the front facing aspect of a bank.  They need to dress and act the part.  Yet the real money is being made behind the scenes on Wall Street far from the view of the public.  The teller is no closer to the money in the vault than you are.  In many cases they are trapped in the endless cycle of debt as well as things inflate thanks to banking policy that interestingly enough, has caused interest rates to plummet.  So who really has an incentive to save money when they have a 0 percent savings account to look forward to?  Many would rather spend it and with normal inflation, your purchasing power is eroding anyways.

If you enjoyed this post click here to subscribe to a complete feed and stay up to date with today's challenging market!