Disappearing US labor force and goodbye to retirement – Adding 146,000 jobs while 542,000 drop out of the labor force. Understanding the changes in the unemployment rate.
The recent drop in the unemployment rate was largely due to the number of people dropping out of the labor force.  I've noticed that more people in the press are picking up on the important nuances when it comes to the employment figures.  For example, in the last month those "not in the labor force" increased by well over 500,000.  This is a big figure and given that 1 out of 3 Americans has no savings to their name, many are hitting retirement age but are still likely to be working.  There is an idea that with 10,000 Americans hitting retirement age each and every day that they are now all spending their time sipping Margaritas and playing cards on some crystal blue beach.  Yet net worth has been slammed and most Americans have seen their net worth plummet by roughly 40 percent since the crisis hit.  Let us take a closer look at the employment numbers to see what is really going on.
Dropping out of the labor force
One of the more stunning realities is how many people are falling out of the labor force: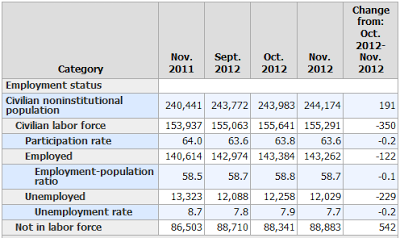 Here are some key stats:
-In last year civilian noninstitutional population went up by 3.7 million

-In this time span, the labor force only went up by 1.3 million

-Those not in the labor force increased by 2.3 million
So this big jump is being pushed by more than baby boomer demographics.  Many are simply not retiring and you will see this in the economy where you will find much older Americans working jobs that were usually standard for younger Americans.  You have this compression occurring where many older Americans simply cannot afford to retire while younger Americans are fighting as hard as they can to simply land a job in the tight economy.
The market added 146,000 jobs in the establishment survey which is positive but we need at least 125,000 a month just to keep up with population growth.
Back to 2006
We've been adding jobs since 2010 and now we are back to employment levels last seen in 2006: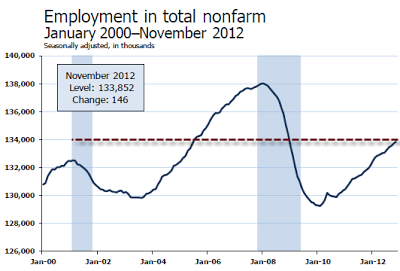 At the same time, our population has increased and we are having larger portions of Americans not in the labor force.  This is key in understanding the continuing drop in the unemployment rate that you hear about in the media.  There are a couple of surveys to pay attention to and people are now starting to become more aware of the differences.
A big rise during these months has to do with retail hiring for the holiday season: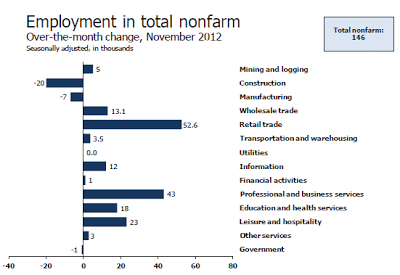 What is concerning above is the drop in construction and manufacturing.  These are blue collar positions and given the importance of housing to the economy, these signal something else.  Sure, the Fed has pushed rates lower yet this has largely created a refinancing boom yet construction for new housing is still weak.
It will be important to keep our eyes on these numbers moving forward since the seasonal changes are big during the holiday season.  Also, next year we will see changes because of the fiscal impacts that will happen.  Those that think that high levels of debt relative to GDP don't matter need only look at Europe.  Again, it is important to understand the differences in the employment figures.

If you enjoyed this post click here to subscribe to a complete feed and stay up to date with today's challenging market!