Las Vegas city has 3 times the rentals of Los Angeles city and L.A. has 6 times the population – U-Haul rate trends and home sales higher in Las Vegas than peak months of the bubble driven by absentee investors.
Posted by mybudget360 in bubbles, debt, economy, Employment, foreclosure, housing, Las Vegas, leverage, nevada real estate, real estate, recession
The Las Vegas housing market expanded and popped the quickest and highlights the gambling euphoria that engulfed the housing bubble.  The housing market in Las Vegas has served as an albatross to drag the state of Nevada down to the point that now the desert state ranks as number one in unemployment nationwide.  One of the interesting trends going on in Las Vegas right now is that home sales are actually happening at a faster pace than anytime during the housing bubble.  Yet these are low priced foreclosure re-sales being fueled by speculators of a different sort.  Prices have gotten low enough in the market that investors are plowing in like baseball players on teammates after winning the World Series.  It is a big bet that the economy will turn around soon enough to justify either rental prices or re-sale values.  The economy hasn't responded so let us examine the details of the Las Vegas market.
Housing values are down by 58 percent since the peak but clearly home sales are up: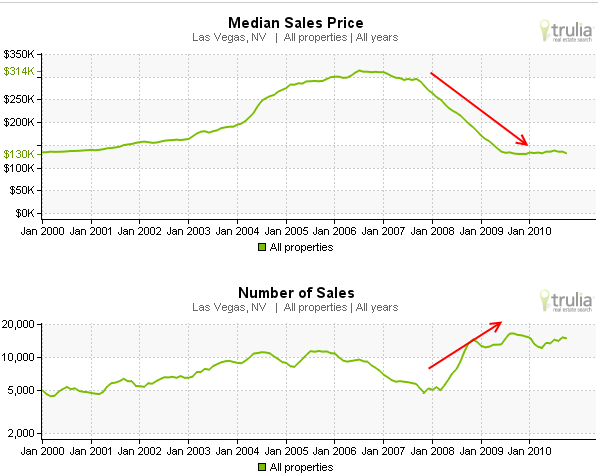 Source:  Trulia
The big bet is that with such low prices that either this is a bottom or that the economy will turn around quick enough to justify a price that will turn a profit.  Now I know many investors are jumping in using data from the boom days and assuming rentals will come back at those levels.  Yet the market is flooded with apartments that rent for $300 to $400 a month and these are probably the places where those with low income are heading to, not the big McMansions that once sold for $500,000 but now are renting for $1,500 a month.  You can find basic home rentals for $500 to $600 a month and the key here is the economy in the area is in tatters.  You can only rent out properties by what the local economy can support.  Keep in mind that low prices sometimes are justified like in Detroit.  We can even view U-Haul rates that show the migration patterns based on demands:

Source:  Marginal Revolution
In 2005 during the boom it cost nearly 3 times to go to Las Vegas from Los Angeles but today it is now nearly the same price either way.  This is a good way to gauge the pulse of movement into the area.  After all, the cost of gas should be the same going either way so pricing power is based on demand and in 2005 you had many people heading out to Las Vegas to make it big.  The demand in large quantities came from California and now both state economies are mired in deep problems from the crashing housing markets.
Las Vegas has years and years of problems to work through when it comes to the economy and housing.  Just look at basic MLS data:
Las Vegas – November 2010

MLS (non-distressed housing) –                                13,335

MLS + distressed housing –                         51,624
This is the key issue here.  The foreclosure pipeline is completely overflowing with properties and yet the supply is only growing.  Sure, you have people buying places up but unless you are going to live in the area, you'll either deal with vacant homes and a market that is not going to see price appreciation for years.  The problem inventory is three times the actual regular inventory and these typically sell for less than market rates thus pushing prices even lower.
And it is absolutely clear that it is investors that are buying these homes, not local demand.
"In September 43 percent of all purchases were done via absentee buyers."
In other words, these are people not planning on living in the homes but either flipping them or renting them out.  Again, the question is whether demand will return in a few months or years down the road?
Here is an interesting data point.  In Los Angeles proper, a city with 3.6 million people there were over 1,100 rentals listed on the MLS.  For Las Vegas proper, a city with 560,000 people there were 3,571 homes for rent on the MLS.  Speculation is back in Las Vegas just not with big leverage but with people looking to buy cheap assets to rent out but will a state with the highest unemployment rate return fast enough to fill these homes?  People will find out soon enough.

If you enjoyed this post click here to subscribe to a complete feed and stay up to date with today's challenging market!