Oil has Crushed the Suburban Homeowner Dream – How $75 a Barrel Oil no longer Supports New Home Construction in Distant Areas. Case study of Riverside and San Bernardino Foreclosures and Housing.
The peak of $147 for a barrel of oil seems to be a long gone memory.  Yet oil per barrel is still up over $75, a long cry from the $20 barrel many became accustomed to.  I have been mulling this issue over for a few months because few people are even considering oil prices in relation to the value of housing.  With the current economic crisis, there has been nearly an obsessive view that if we only manage to solve housing prices, then all will be well in the economy.  Clearly this is not the case given that unemployment is still at peak levels.  Home prices have fallen drastically in many areas across the country.  But if we look at areas that are less economically diverse and merely serve as suburb hubs, these areas are getting a dual correction.
First, these areas have commercial real estate developments that assumed continuous urban growth that relied on cheap oil.  Cheap oil seems to be a thing of the past.  Second, these areas were built around the notion that many people would be willing to drive into a city hub in order to purchase cheap and plentiful housing.  Well this only would work with cheap oil.  Let us look at the oil chart first: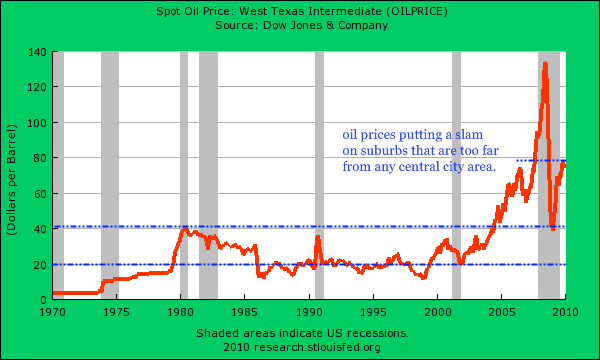 Putting aside the 1970s oil spikes, we had over 20 years of stable and cheap oil prices.  So fuel was only an afterthought in building suburbs that were miles away from any city center.  The idea was that there would always be enough people willing to drive any distance for a piece of the American dream.  That of course is largely not the case anymore.  And at closer examination, many of these areas are seeing real estate prices crash at a higher rate than areas closer to employment centers.  California is a perfect example of this phenomenon.  We already know that the overall California housing market is in deep trouble.  Yet if we look at areas like San Bernardino and Riverside Counties, prices have corrected much quicker than counties closer to population and employment hubs.  These two counties known as the Inland Empire to people in Southern California had massive bubbles that have largely corrected.  Many in the area think that these areas will see prices go up but that is a large assumption.  If energy costs remain high, there is little reason to believe this.  Let us examine their values over the last decade: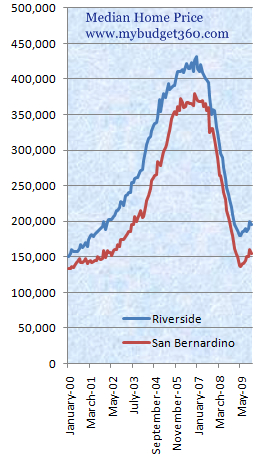 The correction in these two counties is fierce.  Riverside is down 54 percent from its peak value and San Bernardino is down by 59 percent.  These are deep cuts in values from peaks that were clearly unsustainable.  Did oil push these values down faster than the overall market?   I would say that it did.  We need to also remember than many people that bought out in these areas also had lower incomes than those that were able to afford higher prices near prime areas.  So by default, they had a smaller buffer to withstand any external shocks from the market.  Next, the cheap oil era fueled growth since long commutes didn't really matter aside from the time spent commuting back and forth.  With higher fuel costs, this ate into the budget of many families that were already stretching to get by.
So even though oil is now at $76 a barrel and not $147, it is certainly not at $20.  That is a big difference.  Plus, many of these areas require central cooling and heating for the summer and winter given their variable temperature climates and this also relies on energy prices.  The Inland Empire resembles the dynamics of Arizona and Nevada much more closely than say beach front property in Malibu.  Now for these areas, they have seen a lost decade in home values both nominally and in real terms.
Part of the long-term issues in these suburb areas is also based on their troubled employment base.  Take a look at the unemployment rate for these areas:
California:                            12.3

Riverside:                            14.6

San Bernardino:                13.8

Source:  Employment Development Department, CA
And California's unemployment and underemployment rate is closer to 22 percent so you can imagine the rate for these two areas.  In California you are seeing many investors buying up these properties thinking that prices will go up once again.  But this bet is being made on the cheap oil notion.  In fact, if the U.S. dollar keeps on declining oil will go up just by default.
Even though we may be facing drops in demand, the world certainly isn't: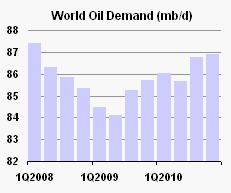 When you add the above, it makes you wonder how well these areas are going to cope with sustained higher energy prices.  Many of these areas weren't planned well either so it isn't like a self sustaining community.  Many were betting on easy back and forth access to big city hubs.  Is there the infrastructure to support a local population base?  Maybe.  Yet the deep hits in prices causes one to wonder whether these areas are functioning on a model that is now outdated.  It is also the case that these areas have the largest amount of foreclosure activity: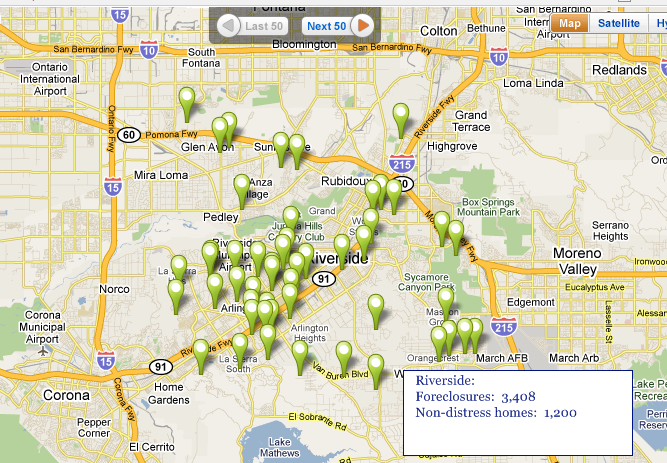 You have one normal home sale for every three foreclosures on the market.  This is data as of this week so problems are still occurring in these areas.  The average American trying to make it on a long commute is going to need to get used to high energy costs.  Short of the dollar staging a massive rally and world oil demand collapsing, this seems to be the new calculus of the market.

If you enjoyed this post click here to subscribe to a complete feed and stay up to date with today's challenging market!