Canada Housing Bubble Pops and Looks Similar to US Housing Bubble: Canada's Largest Alternative Mortgage Lender Crashes in Dramatic Fashion.
The Canadian housing market is now facing a crisis like moment as the United States did in 2007.  While the U.S. housing market did undergo a correction, the Canadian housing market just kept moving up.  Canada has one of the largest housing bubbles ever witnessed in North America.  People may recall that in the U.S. we had mortgage lenders like toxic junk pusher New Century Financial that imploded in grandiose fashion because of their corrupt and mathematically dubious products that they were peddling to the market.  Well in Canada, the tip of the iceberg is now being exposed.  Home Capital Group tanked by 60 percent after announcing that it needed emergency liquidity.  Of course this is just the start of the correction for our neighbors in the north.
The Canadian housing market begins its inevitable correction
That which is unsustainable will eventually correct.  This is self-evident and should be obvious.  But real estate creates a large number of delusional bulls that can see no other option aside from things going up.  And the stock action in Home Capital Group is very telling: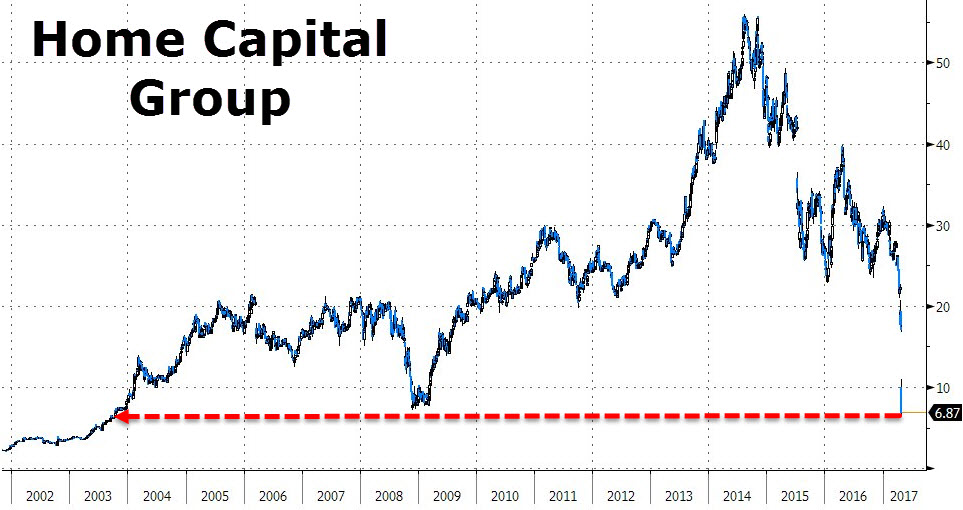 "(ZH) Some more details on HCG's emergency source of funding: Home Capital will pay 10% interest on outstanding balances and a non-refundable commitment fee of C$100 million, while standby fee on undrawn funds is 2.5%. The initial draw must be C$1 billion. The loan has an effective – and very much distressed – interest rate of 22.5% on the first C$1 billion, declining to 15% if fully utilized, according to a note from Jaeme Gloyn, an analyst at National Bank of Canada.

Home Capital said the credit line is intended to "mitigate" a sharp drop in Home Trust's high-interest savings account balances, which sank by $591 million from March 28 to April 24, at which point the total balance was $1.4 billion. Home Capital warned on Wednesday that further outflows are anticipated."
And home values in Canada are flat out ridiculous relative to incomes.  All of this is being funded by debt and foreign money.  Take a look at these two charts: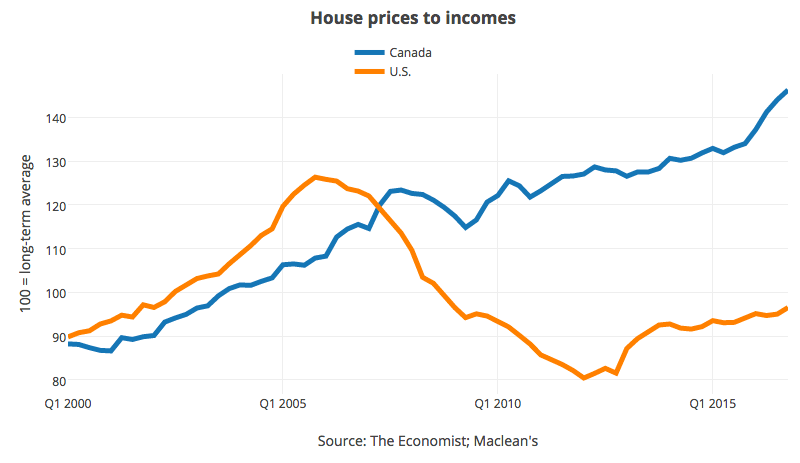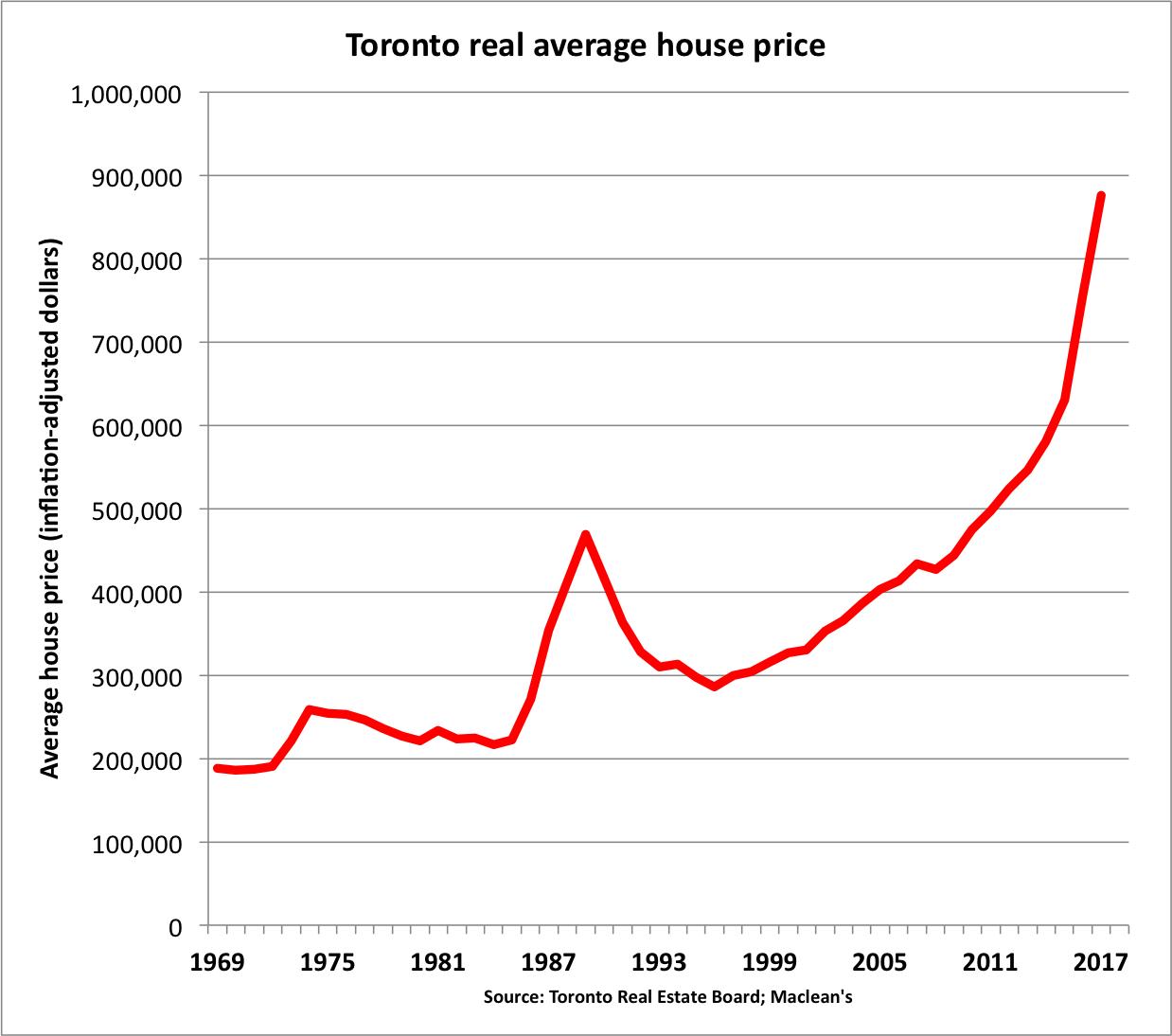 And this is happening at a time when values are hyper inflated and people are going into massive debt simply to purchase a home.  People are stretching their budgets to incredible levels to afford these obscene prices.   But Home Capital Group is the canary in the coal mine.  You have this happening too: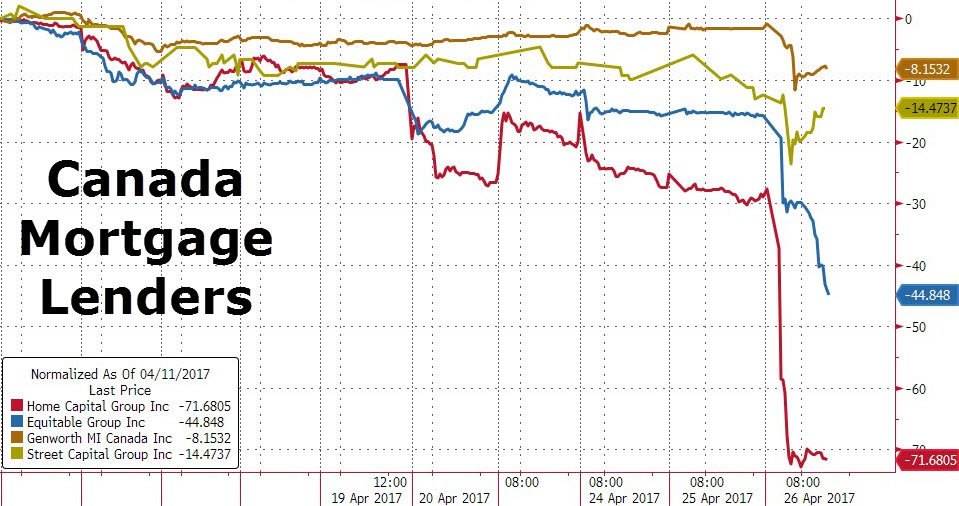 In the U.S. many families are too broke to afford a home. Yet we did have a correction as the chart above highlights.  Canada has faced no such correction and income growth in Canada has been on par with U.S. income growth.  So there is no real reason for home prices to continue moving besides massive speculation and a gravitas that "this can't happen here" which of course means it will happen there.
You also have new rules and regulations adding tax restrictions to places like Vancouver and sales have been impacted since a large portion of buyers are coming from China.  Local families are being massively priced out or are taking on too much debt or dubious loan products built on home prices only going up.  We know how this tale ends.

If you enjoyed this post click here to subscribe to a complete feed and stay up to date with today's challenging market!