Credit Card Monopoly: Top 5 Issuers Hold $550 Billion in Credit Card Debt Taking up over 60 Percent of the Entire Credit Card Market.
As Americans rush out to shopping centers around the country on Black Friday many retail outlets have their fingers crossed that consumers will spend money that is clearly not on their balance sheet.  The average American is maxed out.  In fact, the typical American family has been subsidizing a decade of stagnant wages with credit cards and housing bubble equity.  Credit card companies are turning the screws on average Americans even after taking trillions in bailout money that was supposed to be used to increase the flow of credit.  Nothing is further from the truth.  As we will see credit card companies have willingly taken taxpayer money while upping onerous fees and removing credit from the economy.
Many card companies use a Proctor and Gamble approach to marketing.  That is, many shoppers believe there are many brands of cards out there but in reality, only 5 issuers control 60 percent of all outstanding debt.  Similar trends are seen when we look at the 8,000 banks insured by the FDIC.  It should come as no surprise who the top 5 credit card debt holders are: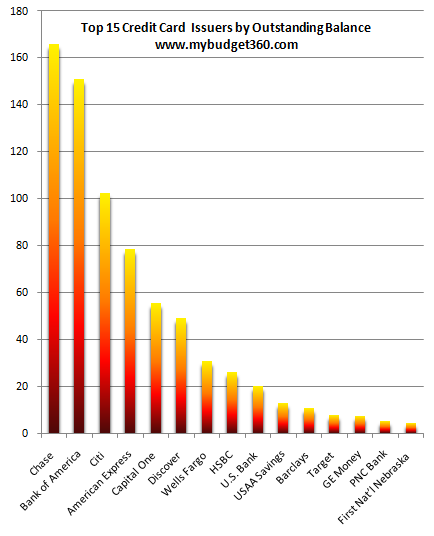 *In Billions of $USD
What a shock that Chase and Bank of America, the two largest banks are also the two biggest players in the credit card game.  The top 5 is rounded out with Citi, American Express, and Capital One.  These five institutions hold 60 percent of all outstanding credit card debt in the U.S.  When you hear that the "credit card industry" is pushing legislation it virtually means that these five are spearheading anything they want.  These companies hold $550 billion of the $889 billion in outstanding credit card debt.  They are also the biggest recipients of taxpayer funded bailouts.  You would think that these banks would be helping the average American who is in economic pain and actually, saved them during their turmoil.  Nothing could be further from the truth: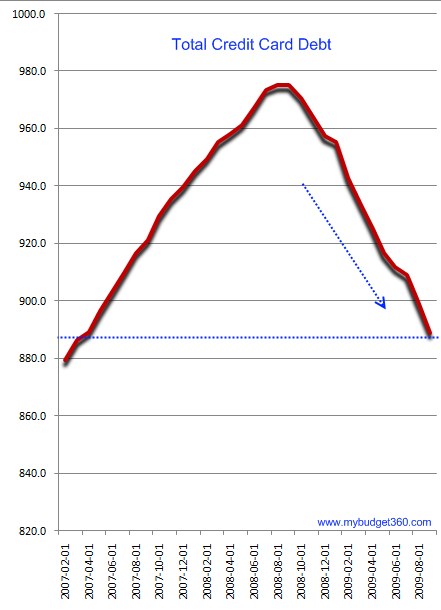 Source:  Federal Reserve; In Billions of $USD
Since July of last year, some $86 billion in credit card debt has been removed from the system.  At the same time, these banks have sucked up trillions in taxpayer money to fix their troubled balance sheets.  In a hypocritical twist, the banking lobby is now issuing a threat that credit card rates are spiking and fees increasing because new legislation is now going to get tougher with banks.  These institutions have the gall to say this after receiving more money than any institution in the history of humankind.  The U.S. Treasury and Federal Reserve issued a massive warning that without bailing out the banking sector all would be lost.  What wasn't specified is that all would be lost for the banks that played on a corrupt structure of crony banking and illicit practices that would make loan sharks blush.
The pretense was bailing out the banks would allow lending to continue.  This was the biggest bait and switch in history.  In reality, banks needed the money to stay alive and patch up their horrific balance sheets with troubled mortgages and horrific commercial real estate debt.
What is even more astounding is the average credit card interest rate has gone up while the Fed has slashed its funds rate to near zero.  Banks claim that this is to make up for the new added risk.  How convenient for them now that they have taken the trillions from taxpayers.  Are Americans going to stand for this?  Many are taking to the streets for bills that will cost a few hundred billion while trillions have already left the bank.  Where is the outrage for the biggest wealth transfer in history?
Revolving credit has never contracted on a year over year basis since data started being kept back in the 1960s, until now: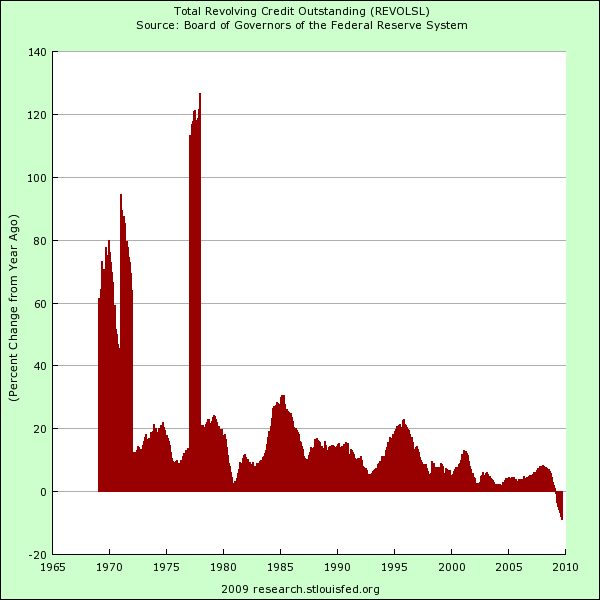 This without the bailouts would make sense.  Banks need to protect their balance sheets so they need to tighten up their standards.  Yet the bailouts were supposed to provide some access to average Americans who are struggling with 17.5 percent unemployment and underemployment. Otherwise, what was the point of bailing out the banks?  To let them charge 79.9 percent interest rates on customers?  To allow them to charge $39 overdraft fees raking in billions from those least able to pay for it?  To allow banks to set financial fee traps that will make consumers pay fees from every corner?  We are now over two years into this crisis and no substantial reform has occurred.
Credit card debt is only one part of consumer debt.  We also have non-revolving debt that includes auto loans.  Throw that into the mix and the contraction is wider: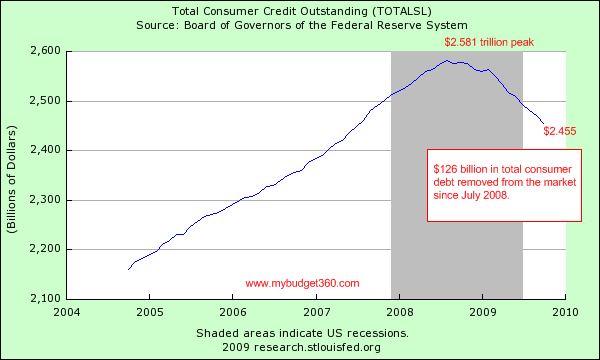 $126 billion in consumer debt is now out of the system since July of 2008.  Those that can are paying debts down and those that can't are filing for bankruptcy in larger numbers.  As people hit the shops on Friday, many will once again go into deeper debt on credit cards that have more potential pitfalls.  Banks realize that they can't squeeze blood out of a turnip so now they are going after good standing card holders to make up for the difference.  Don't use your credit card?  You might get a charge.  Not using your credit line?  Let us reduce it for you even though this will hurt your credit score.  Credit card companies are operating like loan sharks and have no remorse in what they are doing.  In fact, many think it is funny.  You see the leeches send their representatives to talk to the public.  Dressed in tailored suits they tell the public how wonderful it is for them to gouge you financially.  It is a game of no risk for them.  These people need to be handcuffed and thrown into prison for the robbery they are doing.  They laugh at the laws on the books since they were created by their own friendly lobbyist.  When will this change?
There might be thousands of credit cards out there, but don't be fooled.  Five big banks hold 60 percent of the market.  When they talk about the "industry" it really means the big gatekeepers.  When you see people shopping on Black Friday just remember that many are going into debt with the big five credit card pushers.

If you enjoyed this post click here to subscribe to a complete feed and stay up to date with today's challenging market!