Can you live in California on a $60,000 a year household income? Living the middle class lifestyle in California on $60,000 a year.
Can you live comfortably in California making $60,000 a year?  It really depends on what you define as comfortably.  We should note that the median household income in the US is $50,000 and in California it isn't much higher.  California gets a notorious rap of being an expensive state but this is if the entire focus is on coastal regions.  There are many areas where homes are actually affordable given current interest rates.  Yet many people struggle to get by.  You have many households pulling in $100,000 or more a year and they speak as if it were an act of poverty.  Yet they choose to live in areas like San Francisco and spend up to their income levels.  It is very feasible to live in California on $60,000 a year but not how many would expect.  People are feeling the withdrawals of our debt based addiction and California is a prime example of this.
California income breakdown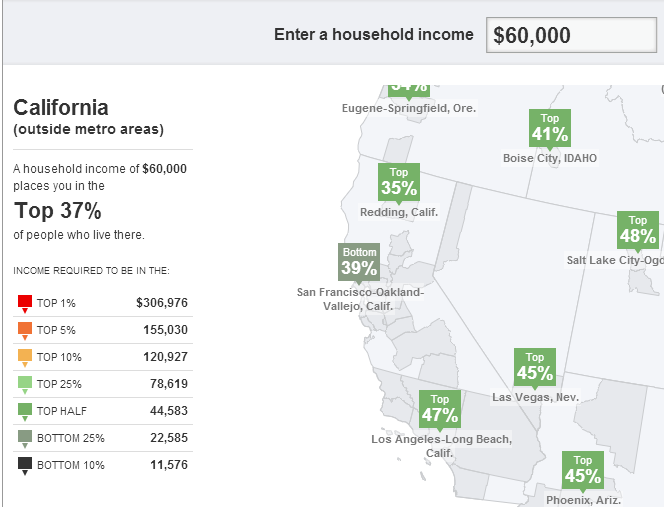 Half of the households in California are barely pulling in $50,000 a year similar to what we see across the US.  Yet if you live in the Bay Area, $60,000 a year will put you in the bottom 39 percent of all households.  Rarely do we see financial articles actually try and breakdown a budget of how it would be to live on this kind of income.
Budgeting is such an important item for any households.  But most households live on a motto of earn it and spend it.  They suddenly get a raise or come into more money and they find other means of spending this funding.
Below I've broken down a sample budget of a family making $60,000 a year and living in California: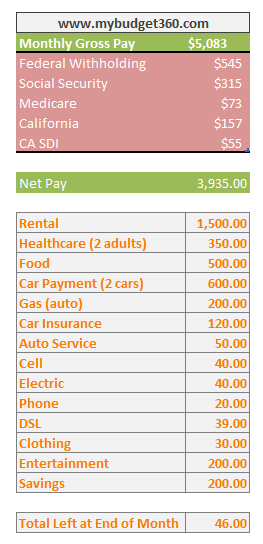 Let us walk item by item here.
Net pay:  After taxes and other mandatory expenses, your net pay will likely be $3,935 or close to $4,000.
Housing:  You can certainly find a rental for $1,500 a month.  Depending on where you live, this might have to be a one bedroom but you can certainly find something like this in any metro area if you spend some time scouring Craigslist.
Healthcare:  We're assuming two working adults here.  Relatively healthy people in our example and the cost should be about $350 a month.  You can do a little research on places like eHealthInsurance and find similar health plans.
Food:  You can get by on $500 a month with food for two people.  California is home to many dollar stores and you can find a good amount of cheap vegetables there.  You will also have room for meat at your local grocery store.  Buy toothbrushes and soap at dollar stores for example.  Seriously, a $7 toothbrush does the same as one for $1.  You do not have golden teeth.  I recommend non-big name stores for discounts.  Go to Costco to buy bulk items and plan meals out.  But if you go to Costco, go with a plan and don't go lurking since you will blow your entire budget there.  I know how tempting these places can be.
Car payments:  Unfortunately living in California you will likely need to drive a lot.  We're assuming two cars with car payments of $300 a month.  This will get you a Civic or Focus.  Excellent cars.  Cars that would have made our parents go bananas and feel as if they were in a real life version of Star Trek.  We're talking middle class here, not a Lexus on $60,000 a year.
Car Insurance:  $120 a month should cover two of you.  Places like Mercury Insurance offer very low rates.  You will get discounts for anti-theft devices or having a good driving record.
Auto service:  Oil changes and regular wear and tear.
Cell:  Seriously, no need for the $100 a month contracts.  What are you, JayZ?  Get a Virgin Mobile plan for $35 a month and save hundreds of dollars a year.  They even offer 4G services.  Be smart and add on Skype or Google Voice and use the network to save on minutes if you need to.  $100 a month for cell phones is nuts.  You can also get prepaid plans for much cheaper like $20 a month.
Electric:  Self explanatory.  If you are living in a $1,500 rental you will not spend much here.
Phone:  $20 is on the high mark but we'll just add this here for another cell plan.
DSL:  You can get dry loop internet for about $40 a month.  Get rid of the nonsense cable.  Go for Netflix and use your internet to stream content.  You can even purchase a Roku player and add various channels like TED that actually teach you something instead of the mind numbing mainstream programming.
Clothing:  $30 a month is really all you need.  You can get by with this even if you work in an office environment.  Why are you shopping at Nordstrom's every weekend anyways?
Entertainment:  $200 a month is enough.  You can have a couple of meals out, a movie, or grab some food and go for a hike in many of the nice areas outside of the city.  A bike ride is free and it is one of the best things you can do.  $200 a month is plenty here.  But many people want to go out to fancy restaurants and drop this much in one go around.  That is living as if you were making $200,000 (see chart above) and many are not.
Savings:  Need to build that buffer.  Sock away $200 in an emergency fund.
So what are we missing here?  What about retirement savings?  That will be hard to come by on this budget.  What about sending your kid to college?  Well in California you can send them to an affordable community college followed by a state college.  Healthcare?  We already factored that in above.  Housing?  If you live in areas in the Central Valley or San Bernardino you can have a nice home for $1,500 a month.  In big expensive metro areas expect to rent or go for a condo.
So it really does depend what you would think of as middle class.  In California, we have two nice cars, cell phones, DSL, Netflix, the ability to eat out, and also the ability to send a kid to a state school.  In the first half of the 1900s this would have been very luxurious.  Today it might seem constrained because instead of the Civic, you want the Mercedes.  Instead of sending your kid to the local city college you want to send them to a private $50,000 a year school.  It is very doable to make it on $60,000 a year in California but people need to adapt expectations.  The Fed is already juicing the economy to make debt very accessible again.  Yet this only feeds into the constant need for more and more and look where that got us?
Is $60,000 a year a middle class income in California?  By definition it is but quality of life means different things to different people.

If you enjoyed this post click here to subscribe to a complete feed and stay up to date with today's challenging market!