The Great Inflationary Lie: How you've been lied to about inflation and the cost of living since 2000.
You've been lied to about inflation.  That is the truth.  The banking apparatus wants you to believe that there is little to no inflation so they can continue with their money expanding ways but all you need to do is look at your spending and income and you will realize that yes, life is getting much more expensive.  Media pundits operate in an enclosed bubble of information and have a hard time imagining that half the country is living paycheck to paycheck.  Exit polls continue to "shock" them when people state that they are angry about the economy.  "But housing is up and so are stocks!"  Sure, but homeownership is down and half the country doesn't own stocks.  There is serious inflation going on.  All we need to do is look at 2000 as a starting point.
The big inflationary lie
Central banks need to show that inflation is under control to continue their money expanding ways.  Of course, this is more financial trickery than real wealth creation.  I mean think about it, if this were so simple why not give every American $100,000 directly into their bank account?  Life as usual comes with tradeoffs.  All the bailouts and programs implemented by the Fed have gone to help the small elite class in our society.
Here is how you play with inflationary data: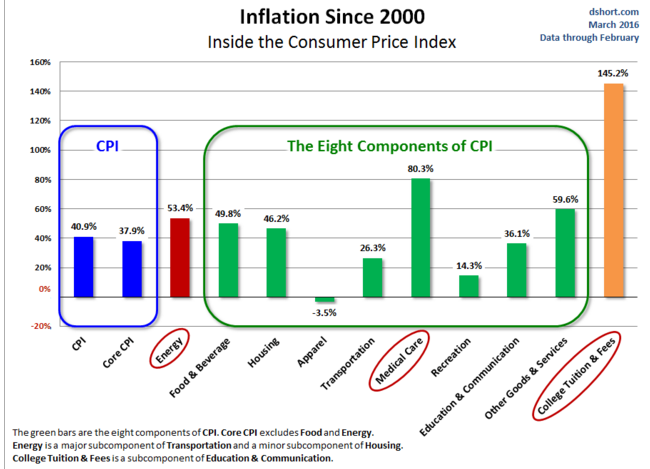 Based on the CPI, prices have been going up across the board.  Housing is up 46% since 2000 and this is the biggest expense for Americans.  But let us look deeper here: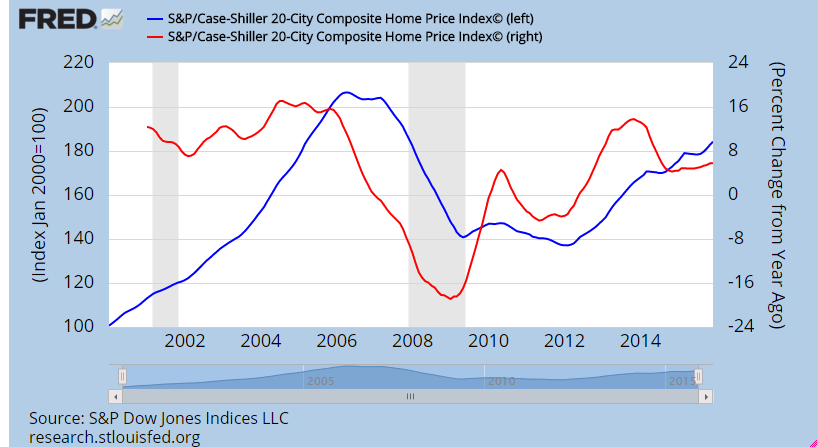 According to the Case Shiller Index, a much better indicator of home prices the cost of a home has gone up by a whopping 84%.  But what about the CPI measuring it at 46%?  Well let us explain the math here and you decide what makes the most sense:
CPI:  Gets home values/costs by owners' equivalent of rent (aka, what can you rent your house out for today – which of course is speculative and doesn't address the actual cost of the home).
Case Shiller Index: looks at repeat home sales.  In other words, measures the same home sold over time.  That is, you are looking at real sales data here.
Of course the CPI missed the last housing bubble because of this and the Fed continually points to this measure to justify more quantitative easing and other such expansionary policies.  Right off the bat, the biggest monthly expense isn't even being calculated correctly.
Moving on to other categories.  Medical Care is up 80% since 2000.  With an aging population this is a major deal.  With most older Americans following the "work until you die" retirement plan, rising medical expenses are going to cause big problems.
Look at college tuition and fees.  College tuition and fees are up a stunning 145% since 2000 alone.  This is why we have more than $1.3 trillion in student debt outstanding.  The problem with the CPI is that college tuition and fees are a small portion of the basket of goods.  For many young Americans college IS the major expense.  So what you get with the CPI is a measure that simply does not reflect reality.  According to the stock market and housing values, Americans should be thrilled.  They are not.
You also have the sham of the unemployment rate.  We have an army of 94 million Americans that are not counted in the labor force.  You can read more about how this glosses over the true employment situation.  Voters are angry because they operate in reality and not a market with pseudo figures derived from odd metrics.  Of course, the banking system simply wants to flood the system with debt and bankers make their money in this process.  But the market for this is tight and that is why we have subprime auto debt expanding as many good credit customers are gone.  In other words, we are back to creative financing.
Is inflation real?  Absolutely and it is understated.  Household incomes are stagnant while prices are up.  Low interest rates allow for prices to stay high to keep monthly payments low but the overall cost of goods is still high.  Also, you can't push rates lower than zero and that is the predicament we now find ourselves in.

If you enjoyed this post click here to subscribe to a complete feed and stay up to date with today's challenging market!