How inflation is purposely underreported as a justification to maintain low interest rates: Two specific examples with housing and college tuition.
Inflation is largely misunderstood by the public at large.  People for the most part think that inflation is the natural economic order and that prices go up naturally.  Official inflation figures play a much bigger role influencing cost-of-living adjustments for things like Social Security but also serve as cover to maintain low interest rates.  The CPI is largely underreporting inflation.  For many young Americans the cost of college tuition is a big part of their budget yet the CPI allocates a small percentage to college tuition and fees.  Another big problem with the measurement is how it looks at housing costs.  You would think that the biggest expense for Americans would be reflected accurately in the official measurement of inflation but it isn't.  This is how you end up with the middle class becoming a minority yet in some way, we had continual reports that inflation was nicely controlled.
Inflation since 2000
It is worth looking at the buckets in the CPI to see where costs have risen since 2000.  Rising costs have driven deep impacts into the wallets of Americans.  Your dollar simply does not buy as much as it once did.  Part of this has to do with inflation simply eroding purchasing power.  The ability to finance purchases with big debt has simply inflated the underlying item.  Think of college, automobiles, and housing.  It is important to provide reasonable access to debt but we've crossed a line into debt addiction.
Take a look at CPI components since 2000: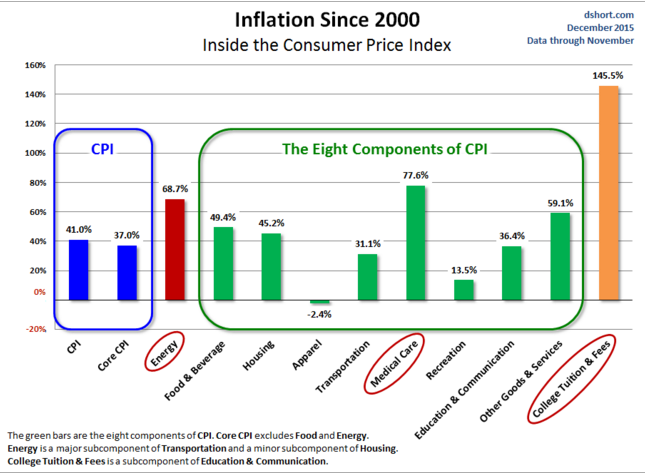 These are official figures derived from the CPI.  Even with these official figures you can see that some categories are outpacing the overall average.  In that category you have college tuition, medical care, and housing.  The good news is that clothing is now cheaper.
The first item I would like to draw your attention to is housing.  According to the CPI, housing is up 45 percent since 2000.  A simple measure would be looking at the actual cost of buying a home today: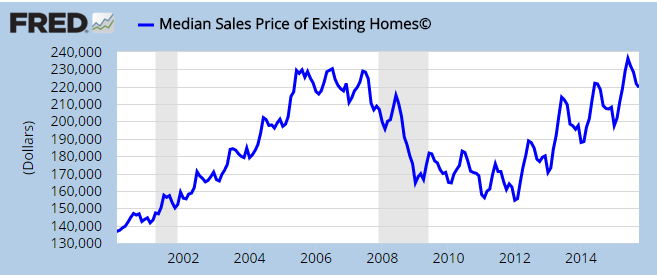 This is interesting.  According to the actual cost of a home, prices are up roughly 60 percent.  This is a 15 percent differential between the CPI and the current median cost of a home.  Most Americans own their homes although this figure is now dropping since affordability is becoming a challenge thanks to investors purchasing homes in their desire to chase yield – a byproduct of low interest rates.  But what about rents?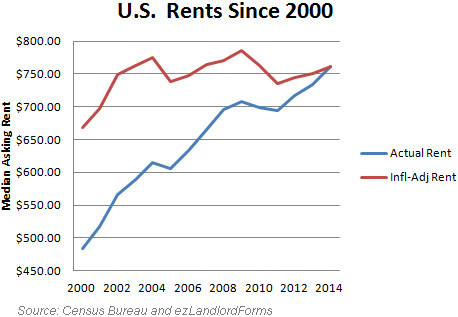 Rents are up about 60 percent since 2000 as well.  The CPI simply does not do a good job at tracking the true cost of housing for Americans and that is one reason why we are dealing with a major housing crisis.
Another area that is being underreported is with college tuition.  Although the CPI shows a big change here it is only a small percentage of the bucket.  The problem is that current and recent college students are spending a large portion of income on tuition and this is what is driving policy.  The CPI has college tuition and fees going up 145 percent since 2000.  Let us look the largest public college system in the country to see how that compares: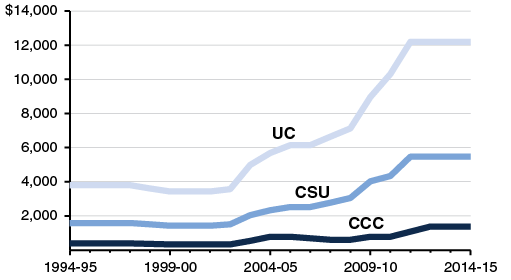 The above shows the California public college system.  The UC and CSU are the 4-year institutions in the state of California.  The CSU is the largest 4-year system and in 2000, college tuition there was around $2,000.  Today it is close to $6,000 (a 200 percent increase).  The UC had a similar 200 percent increase.  These are much higher than the stated CPI figures.
No inflation figure measure is going to be perfect but housing is the biggest expense and the CPI continues to underreport it.  This was also a problem during the housing bubble when prices were clearly in a bubble yet the CPI kept looking at owners' equivalent of rent (OER) and continued to provide cover for lax lending and generous interest rates.  Keep in mind in monetary policy interest rates are used as spigots for the economy and we had them fully open (we never shut them off).  Inflation is a serious issue and this is a big reason as to why regular families have seen their purchasing power erode.

If you enjoyed this post click here to subscribe to a complete feed and stay up to date with today's challenging market!