The Average Net Worth by Age: The massive financial chicanery brought on by housing equity figures and the new real estate bubble.
The best indicator of wealth is your net worth.  Take you assets and subtract out your liabilities.  It should come as no surprise to most Americans that half of this country is living paycheck to paycheck.  One third of Americans have zero dollars for their net worth or in many cases for young Americans, have a negative net worth thanks to mountains of student loan debt.  The latest data from the Census and Federal Reserve show skewed views on net worth figures.  First, the recent housing bubble led by investor money buying single family homes isn't really helping most Americans.  In fact, the home ownership rate has fallen for about a decade now.  Investors are thrilled as they leverage cheap funds to boost their own net worth but the main driver of net worth building, housing, is now being held by fewer Americans.  The bull market with stocks has also pushed wealth figures up but it should be noted that only half of Americans actually own any stocks outright.  Let us look at net worth figures by age ranges.
Net worth scorecard
For the typical American most of their net worth is locked in their property (if they own).  This is why you might have someone having a paid off house worth $200,000 still struggling to put food on the table as a retiree.  Most retirees rely on Social Security as their primary source of income.  But what about owning your home free and clear?  You still have taxes, insurance, and maintenance costs.  The home is not throwing off any income.  You simply don't pay rent (one line item of expenses).  But you still need enough cash flow to pay for all items associated with the home plus food, health care, and other costs of daily living.
Take a look at net worth figures by age: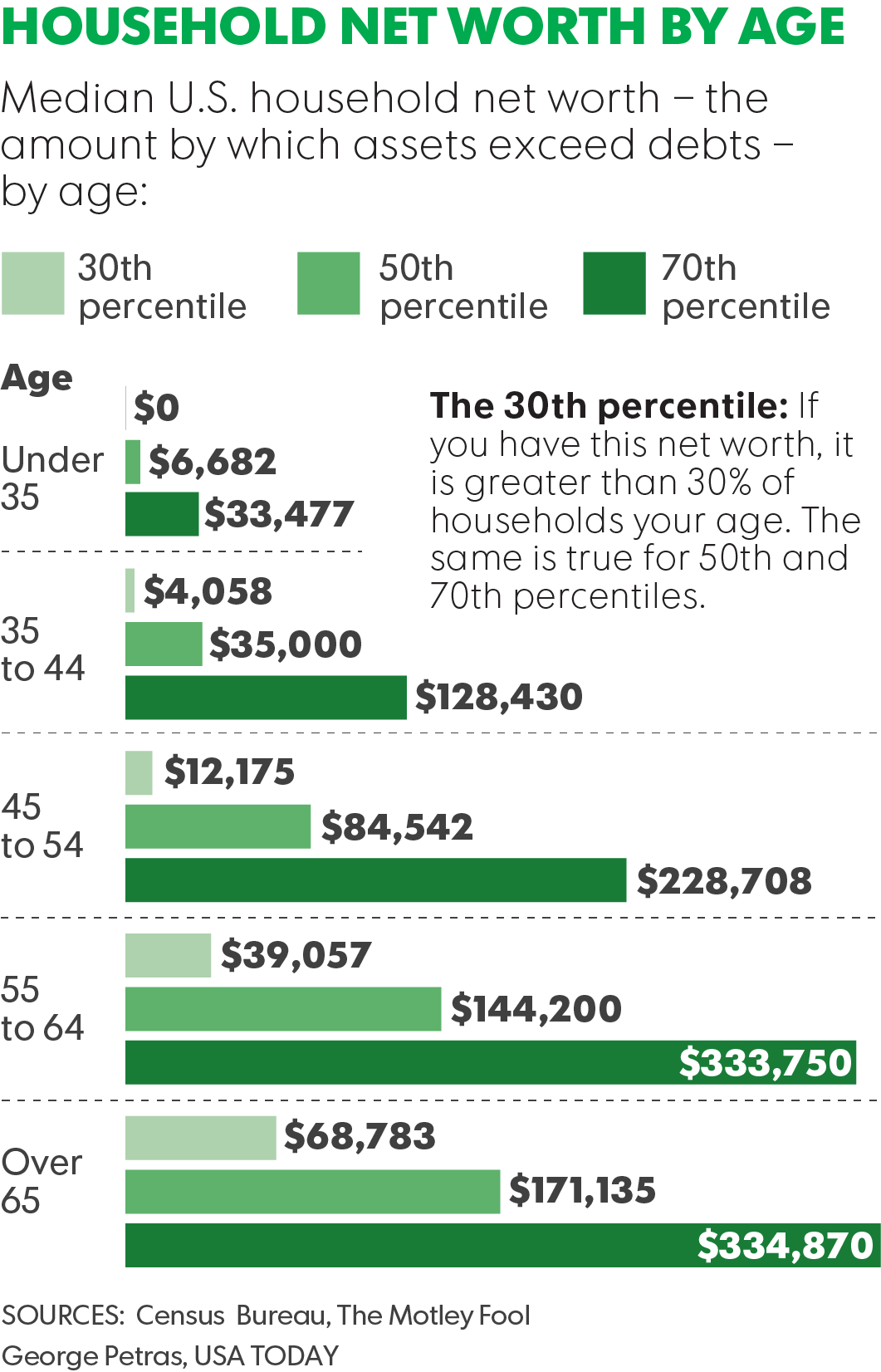 This is shocking when you think of the wealthiest nation in the world.  For those 35 or younger the typical net worth amount is $6,682 (enough for two months of expenses in any large metro area).  For those between 35 and 44 the mid-range is $35,000 (enough for a new car).  Between 45 to 54 it jumps to $84,000 (enough for four years of college tuition for one kid).  From 55 to 64 it jumps to $144,000 but this is largely due to housing (the same goes for the over 65 age range with the typical net worth figure jumping to $171,000)
The housing illusion of wealth in net worth figures is enormous.  The housing industry uses this as the default answer as to why everyone should buy a home.  But you can't afford a $250,000 home on the typical $50,000 household income!  I rarely see financial analysts making this connection.  They usually talk about net worth figures as if this was easily accessible liquid funds.  They are not sitting in your bank account ready for access.  If it is locked up in housing equity, you will need to sell the place before unlocking the funds.  This means finding another place to buy or rent.
Here is some clearer data showing net worth figures with and without housing equity: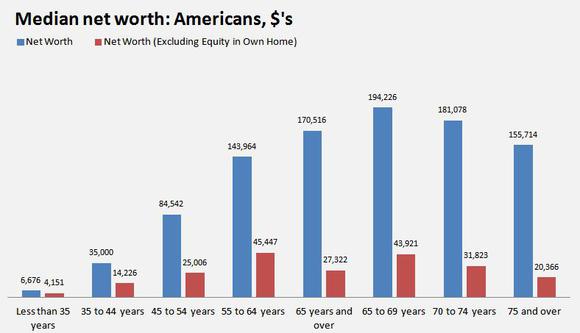 This is critical here and also shows why the Fed is trying to boost the housing market at all costs.  Of course the unintended (or intended) consequence is that now more homes are owned by big investors boosting their bottom line and only accelerating the destruction of the middle class.  Homes are more expensive to buy yet this is really the typical way most Americans build wealth.  If you look at the chart above, you realize that without housing most Americans have very little liquid wealth.  Even the 55 to 64 year old crowd only has $45,000 to their name once home equity is removed.
For those 35 and younger, the Millennial crowd is largely unable to buy without the help of rich parents as studies are finding.  What the results show is that most Americans are one medical emergency away from being flat broke.  And this is data as of now with a frothy stock market and a resurgent investor driven housing bubble.  Just imagine what will be the case when the inevitable correction hits.

If you enjoyed this post click here to subscribe to a complete feed and stay up to date with today's challenging market!