FDIC Insures $4.7 Trillion in Deposits with a $13.6 Billion Deposit Insurance Fund. This is Like Going into a Hurricane with a 99 Cent Store Umbrella.
On Friday, three banks failed and the FDIC took them over.  Now this isn't the big news necessarily.  What it significant is that one of the banks taken over was Silverton Bank of Atlanta, Georgia.  Silverton bank has $4.1 billion in assets and will cost the FDIC $1.3 billion from their dwindling insurance fund.  This will be the costliest bank takeover since U.S. Bank took over Downey Savings and Loan in November of 2008 for a cost of $1.4 billion to the FDIC Insurance Fund.  So how much is left in the fund?  Not much.  In fact, if we throw in Citigroup and Bank of America, two banks that have failed without government support and massive intervention, the fund would be broke.  But let us set those two banks aside and start running the numbers.
As of December 31, 2008 the FDIC fund had $18.9 billion in it.  Already in 2009 we have seen 32 bank failures, above the 25 bank failures for all of 2008.  And with commercial real estate and residential real estate still facing record foreclosures, we can expect that more money will be drained from the fund.  Now most of the times, you will get bank failures that cost a few million but every once in awhile you'll get a moderate sized bank like Silverton that will cost the fund $1.3 billion.  Let us first take a tally of the 2009 bank failures: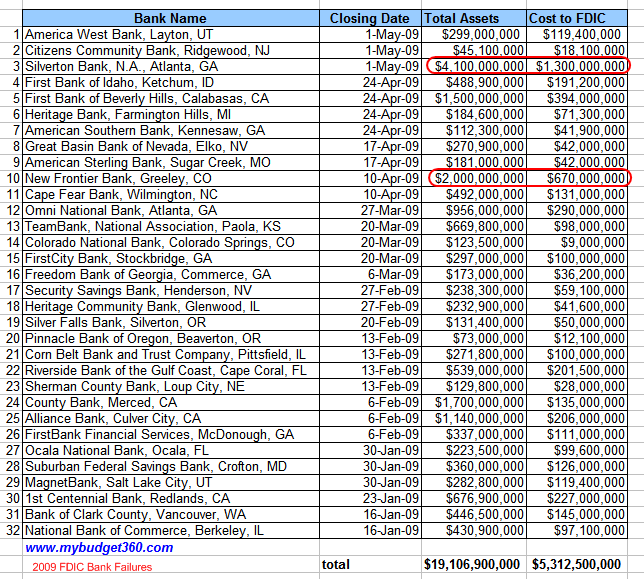 Looking at the list above, you can see that only 2 of 32 bank failures of 2009 actually cost the fund more than $500 million.  Silverton by itself took out the same amount from the FDIC fund as the first 11 bank failures of 2009.  In the age of mega banks, we are no longer in a depression era local banking system where bank failures impacted the immediate community.  Our banking system is now interconnected that a bank failure in Georgia with Silverton 1,400 client banks in 44 states and has six regional offices impacts a larger geographic area.  Many people never heard anything about Silverton until this Friday.
Let us refer to the 32 bank failure list I put together from the FDIC again.  So far in 2009, the total estimated cost to the FDIC's fund is going to be $5.3 billion:
$18.9 billion in fund as of (Dec, 31) – $5.3 billion in 2009 bank failures = $13.6 billion left
And many of you may remember the failure of IndyMac bank back in July of 2008.  When IndyMac was taken over by the FDIC it had $32 billion in total assets being managed.  Initially the FDIC had an estimate that the cost to the fund would be anywhere from $4 to $8 billion.  A sizeable number.  Well after many months, this information was released on March 19, 2009:
"IndyMac Federal sustained losses of $2.6 billion in the fourth quarter 2008 due to deterioration in the real estate market. The total estimated loss to the Deposit Insurance Fund is $10.7 billion. No further payments on receivership claims for uninsured funds from former IndyMac Bank, F.S.B. will be distributed as a result of this transaction."
Talk about missing on your estimate.  It went from a lower end estimate of $4 billion to a finalized cost to the fund of $10.7 billion.  Of course IndyMac was heavily reliant on one of the largest real estate bubble economies here in California.  But with only $13.6 billion (estimate, could be lower) the fund would be virtually exhausted with one more IndyMac size failure.  The FDIC already has its hands full trying to deal with the public-private investment program that will put them in the business of putting out non-recourse loans for the U.S. Treasury's toxic asset program.  The fund initially will have $500 billion in loans to make available.  Of course, this program is still in the works and is a major rip off to taxpayers.  If the majority of the public understood the details of the program, they would be out in the streets protesting right now.
With approximately $13.6 billion left in the Deposit Insurance Fund (DIF), the FDIC realizes that it will be emptied out in 2009.  That is why they have been lobbying for more money to be allocated to the actual fund.  They've won concessions such as raising the deposit limit to $250,000 per individual account.  Much of this was probably spurred by the failure of IndyMac where many clients had over $100,000 in accounts.  The government didn't want anymore photo ops of people standing in lines outside of banks ala the Great Depression in 2008.
The FDIC with their 4th quarter report of 2008, stated that FDIC-insured institutions reported a net loss of $32.1 billion which was the first quarterly loss since 1990.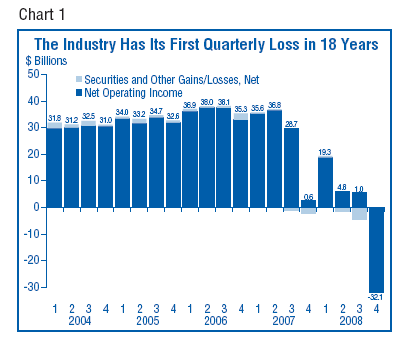 Even though we all know that most of the nation's banking is in a monopoly with the 19 large banks, there is still trillions not owned by these big banks.  Here is the data:
-The FDIC insures more than $4.7 trillion in deposits
-8,300 U.S. Banks and thrifts
-In 75-year history, not one penny in insured deposits has been lost
-4,900 person staff (and growing)
Now of course, the operative word is with insured deposits.  So if you put your money in a mutual fund with Bank of America, that money isn't protected from the shellacking the market took in the last year so make sure you know what is covered and what isn't.  There is all the reason to believe that the 8,300 banks and thrifts are going to see continued pain in 2009.  In fact, troubled loans keep on increasing: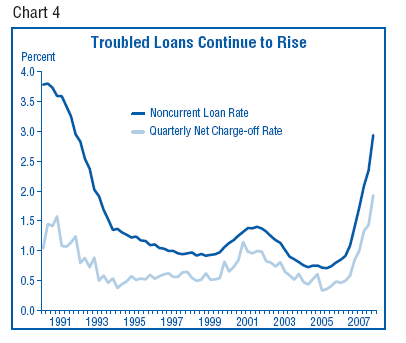 And of course, the DIF is facing a declining amount which is putting pressure on the coverage ratio: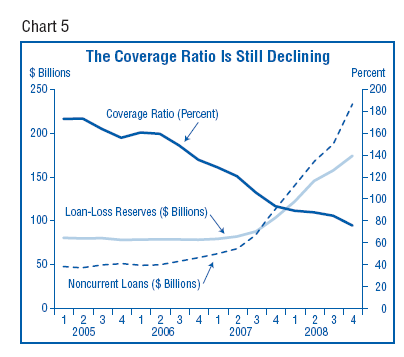 The bottom line with the FDIC is that the Deposit Insurance Fund will be exhausted in 2009.  The fact that the FDIC will be intimately involved in making non-recourse loans with the public-private investment program tells us this agency is where much of the money is going to be floating through.  It is time for the FDIC to gear up and make sure that one government agency does their due diligence and protects taxpayer's money.  It is our last line of financial defense at this point.

If you enjoyed this post click here to subscribe to a complete feed and stay up to date with today's challenging market!